The federal government is cutting payments to 30 Georgia hospitals for high levels of infections and patient injuries.
Of those hospitals, 16 were penalized last year for the same problems.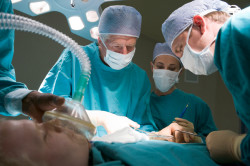 The new Medicare crackdown on hospital-acquired infections and preventable injuries is similar to the existing federal penalties on excessive numbers of readmissions of patients within 30 days after discharge.
Overall, 758 U.S. hospitals are getting the new penalties, which means they will have their Medicare payments lowered by 1 percent.
The Georgia hospitals receiving the penalties include some of the largest and best-known facilities in the state, from metro Atlanta, Augusta, Macon and Savannah to rural hospitals around the state. (Here's a link to the complete list.)
The fines are based on the government's assessment of the frequency of several kinds of infections, sepsis, hip fractures and other complications, Kaiser Health News reported Thursday. In total, Medicare estimates the penalties will cost hospitals $364 million.
The penalties were created by the Affordable Care Act. Exempted from the medical error penalties are hundreds of hospitals that provide specialized treatments such as psychiatry and rehabilitation or because they treat particular types of patients, such as children or military veterans. Small "critical access hospitals" located in rural areas are also exempted.
This second round of the Hospital-Acquired Condition Reduction Program was based on the government's assessment of the frequency in 2013 and 2014 of infections in patients with central lines inserted into veins, urinary catheters and incisions from colon surgeries and hysterectomies, Kaiser Health News' Jordan Rau reported.
The rest is based on eight other complications, such as surgical tears, collapsed lungs, broken hips and reopened wounds between July 2012 and June 2014. Most of these complications were part of last year's penalties, but the infections from colon operations and hysterectomies were added to the calculations this year.
The penalties have come under fire from hospital industry officials and researchers.
A paper in the Journal of the American Medical Association examined the first year of the program and found that the hospitals that were penalized were more likely to have characteristics usually associated with quality. Kaiser Health News noted. These included accreditation by the Joint Commission, the presence of the most extensive types of trauma centers, and having more nurses per patient.
Dr. Ashish Jha, a Harvard researcher, told KHN that the penalties are only based on a fraction of the types of medical problems patients can experience.
"The most common cause of problems in hospitals is medication errors, which remain absent from this program," he said. "Ultimately unless we get to clinically based, validated measures of patient safety, we're not going to be able to move the needle."