Free clinic visits and heavy use of "health coaches.''
That's part of the pitch made by a new insurance plan debuting in metro Atlanta. It says it offers a different model of care, with a strong emphasis on primary care.
Minneapolis-based Harken Health is launching in Atlanta and Chicago with some deep pockets behind it. Its main investor is health insurance giant UnitedHealth Group.
Harken is opening six primary care centers in metro Atlanta, getting ready for its Jan. 1 start-up. The centers are located in Austell, Brookhaven, Decatur, Duluth, east Cobb County and Roswell.
This accent on primary care and wellness reflects a new dynamic in health insurance brought on, in part, by the Affordable Care Act.
Due to the ACA, people with pre-existing conditions can no longer be denied coverage. So health insurers can't try to limit potential costs by avoiding customers who are medically "risky." The new paradigm to maximize revenue is to manage risk and care after consumers have signed up.
"Insurers have to find a way to control costs after the plan is sold,'' says Bill Custer, a health insurance expert at Georgia State University. Plans like Harken, he says, "hope to be more cost-effective [through] a heavy primary care benefit."
This kind of patient-centered model "can reduce the number of people who need catastrophic care," he adds. "A lot of insurers are trying to encourage this."
Harken's leaders are touting its format as a "very relationship-based model," meaning that a patient gets a high level of personal interaction with his or her care team.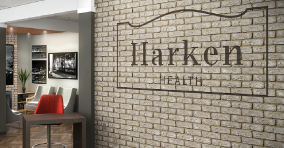 If consumers enroll in Harken, they will get unlimited visits to the Harken Health centers free of charge – with no copay or co-insurance. Patients won't have to meet a deductible first, either.
Each member will be greeted at the center by a health coach, who will guide the patient through the visit and follow up with the patient afterward.
Some coaches will have clinical backgrounds, such as in nursing, but that's not a requirement. They will focus on managing the members' experience within and outside the centers.
Tom Vanderheyden, CEO of Harken Health, says coaches are being hired for empathy and relationship skills.
A health coach is "the secret sauce'' to the model, he says. "We're giving people the quarterback" for their care.
Why choose Atlanta and Chicago for the rollout?
"We want Harken to play to Middle America,'' says Vanderheyden, who adds that both Atlanta and Chicago have big markets for individual insurance and small-employer plans.
Doctors will be employed by a physician group that's dedicated to Harken Health, Tom says.
Members will also have 24/7 access to a doctor via phone, email or text. "It's unfettered access to care,'' says Vanderheyden, who says he hopes for 20,000 to 30,000 enrollees the first year.
The health centers will offer free classes on nutrition, yoga, cooking and overall fitness.
"Our goal is to simplify and improve the health care experience," Vanderheyden says.
The word "harken" means to listen, he says. "And to harken back to a time to when a care team knew you."