Kansas City Chiefs safety Eric Berry, a Georgia native, had an emotional day Thursday.
Part of that came from some unexpected visitors who arrived prior to the Chiefs' game against the Denver Broncos.
Berry was surprised at the Chiefs' hotel by oncology nurse Stephanie Jones and other staff members of the Winship Cancer Institute at Emory University in Atlanta.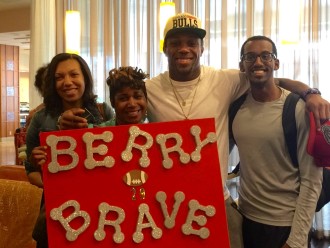 Jones was the main nurse who took care of Berry when he received treatment at Winship for Hodgkin's lymphoma.
Berry, an All-Pro player, was diagnosed last year and underwent chemotherapy in Atlanta. He was declared cancer-free this summer and was cleared for practice.
The athlete's parents and his agent, Chad Speck of A3 Athletics, had been tipped off that the nurses were coming, but Berry himself was kept in the dark, USA Today reported. It was a special moment when Berry saw the nurses, Speck said.
Back in July, when Berry spoke at a news conference marking his return to the field, he made an emotional mention of what the nurses, and especially Jones, meant to him.
"I had some great nurses. Nurse Stephanie, who is the real MVP. Of all. Of everything," he said, according to a report from KCTV in Kansas City.
"To hear him say that in the press conference, I was just so honored. For him to give me that shout-out, I was really, really honored," Jones said.
Berry grew up in Fairburn in south metro Atlanta and went to the University of Tennessee, where he was an all-American. He starred as an All-Pro safety with the Chiefs before his diagnosis.
Thursday night marked his official home regular-season return after months of chemotherapy.
"Please join us in welcoming back Eric Berry," the public announcer said before Berry emerged from the tunnel. Chiefs fans gave him a thunderous ovation.
Of course, Berry isn't the only famous Georgian to get care at Winship recently. The center is also treating former President Jimmy Carter, who was diagnosed with cancer last month.