The Southeast has the lowest rates of kidney transplantation by region, and Georgia is at the bottom among states.
That dismal ranking led a group of researchers to study how often kidney dialysis patients in Georgia are referred to transplant centers.
Their study, published Tuesday in the Journal of the American Medical Association, found that just 28 percent of Georgia patients are referred to transplant facilities within the first year of dialysis treatment.
The low number of referrals came even though a transplant is considered the best treatment for most patients with end-stage renal disease (ESRD), which occurs when the kidneys stop working well enough for a person to live without dialysis or a transplant.
The study also found a big variation in the percentage of referrals among Georgia dialysis facilities – from zero to 75 percent.
The federal Centers for Medicare and Medicaid Services requires dialysis facilities to educate patients with ESRD about all treatment options, including transplantation. Referral to a transplant center to start the medical evaluation is the next step in the process.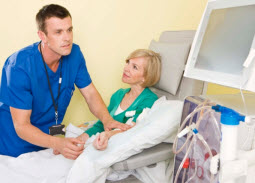 In the study, three kidney transplant centers in the state combined to share data on referrals of Georgians from 2005 to 2011: Emory Transplant Center and Piedmont Transplant Institute, both in Atlanta; and Georgia Regents Kidney and Pancreas Transplant Program in Augusta.
The lead author, Rachel Patzer, assistant professor of surgery in Emory University School of Medicine and Rollins School of Public Health, told GHN that "no one else in the nation'' had studied dialysis referral patterns prior to this research.
The results show the necessity of dialysis centers having the required talk with patients about transplants, and to provide more resources to these facilities, Patzer said.
The costs of transplantation over the long run are less expensive than dialysis, which costs $80,000 to $100,000 a year, Patzer said.
Georgia also has a long waiting list for kidney transplants.
It would take substantial changes to get Georgia "to the middle of the pack'' on kidney transplants, said Dr. Eric Gibney, a transplant nephrologist at Piedmont and one of the study's co-authors.
"The study is not meant to disparage the good people working in dialysis centers,'' he said. "We have a lot of work to do."
The study found that dialysis facilities with the lowest percentage of referrals were more likely to treat patients living in high-poverty neighborhoods, had lower numbers of social workers, and were more likely to be nonprofit.
Other factors associated with a lower referral rate included being older and being white.
"We were really surprised to find there was not a racial disparity" unfavorable to minorities in referrals from dialysis centers, Patzer said. But there are disparities in which people are put on a waiting list for a transplant, she added.
Insurance coverage is also a significant factor in the low transplant rates, she said. And if patients who had been uninsured had coverage earlier, they could have received an earlier transplant referral, Patzer said.
"Socioeconomic status factors were significant barriers to both referrals and wait-listing in this study; national policies, such as Medicaid expansion, could help to alleviate disparities,'' the study said.
(Medicaid expansion under the Affordable Care Act increases the number of low-income people covered by the program in a given state. Georgia has opted not to do it, citing the cost.)
Patzer said that if more patients were referred to transplant centers, "you could increase living organ transplants."
"Interventions [with dialysis centers] are important in the Southeastern U.S., where we have the lowest access to kidney transplantation in the nation," Patzer said.