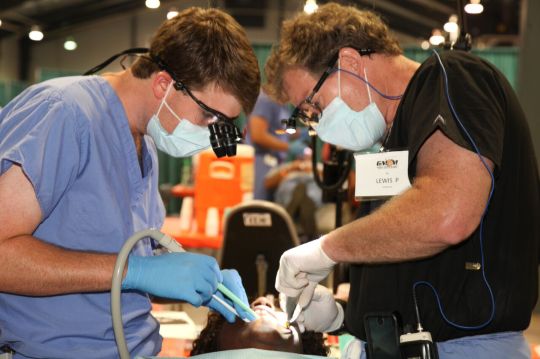 Doug Taffe of Fort Lauderdale, Fla., traveled hundreds of miles north to central Georgia over the weekend to work as a volunteer at a free dental clinic.
His volunteer stint at the event in Perry was a form of repayment.
Two years ago, Taffe was in a motorcycle accident and sustained severe damage to his teeth. He couldn't afford the extensive repairs. He heard about a Georgia Dental Association free clinic in Norcross, and traveled to the Atlanta suburb to see if he could get some work done.
"I looked like a homeless person,'' he told GHN. "I couldn't smile, had difficulty eating."

Dentists at the clinic pulled about a dozen of his teeth and gave him a denture.
So, out of gratitude, Taffe joined the volunteers in Perry delivering dental care to more than 2,000 people Friday and Saturday.
The Georgia Mission of Mercy is an outreach program of the Georgia Dental Association and its Foundation for Oral Health. It's held every two years.
This was the first time the clinic was held in Perry. Previous ones were in metro Atlanta.
"We're trying to move it around the state'' to reach more people, said Frank Capaldo, executive director of the Dental Association. One big plus for Perry is that it's near the geographic center of Georgia.
A lack of dental coverage
The services provided at the temporary clinic included cleanings, fillings and extractions. More than 600 dentists volunteered, along with 1,200 health care providers and community volunteers, including dental hygienists, lab technicians, pharmacists and local residents. And there were more than 100 dental chairs in use.
Each patient got a basic health check-up before being moved into one of the chairs.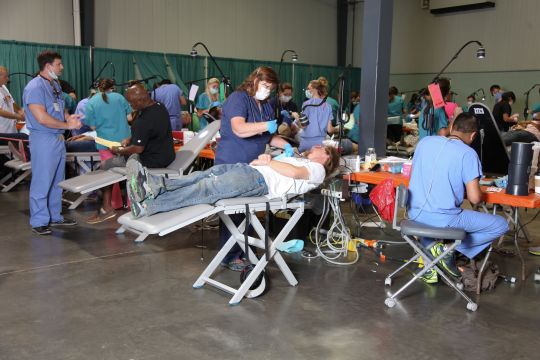 Taffe's volunteer work consisted of briefing and advising the patients who were getting partial dentures. "I explain to patients how to care for dentures, what you can and can't do," he said Saturday.
Chris Harris, a 40-year-old man from coastal Georgia, had to have 11 teeth pulled and was fitted Friday with a temporary, partial denture, the Macon Telegraph reported.
When he looked at his reflection and his new smile, Harris said, it almost brought tears to his eyes, according to the Telegraph.
Roughly 20 percent of Georgians have no health insurance at all. But a much higher percentage, including those who do have some insurance, lack dental coverage. It's increasingly common for health insurance coverage not to include dental care.
Oral health, however, is not just a medical side issue. Many people who skip the dental work they need will eventually wind up in a hospital emergency room.
In 2007, there were about 60,000 visits to Georgia emergency rooms for "non-traumatic" dental problems — oral health issues not caused by injuries. That cost more than $23 million.
The problem is not a lack of capacity in the system. Capaldo emphasized that most dentists in Georgia have the ability to see more patients in their regular practices.
Barriers to patients getting needed work, he said, include lack of money, lack of transportation, an inability to get time off from work, and the Medicaid program not covering regular dental care for adults.
"We have people calling in, asking for free care,'' he said. "We're trying to get that messaging out."
"The need for a dental home [for more patients] is great — no question about it."
The Georgia Dental Association has a toll-free number for patients to call, 1-800-432-4357. GDA also provides a list of charitable clinics offering care: http://www.gadental.org/ charitable-clinics.html
Patients can also inquire here to find a dentist: www.mouthhealthy.org/en/find- a-dentist.