As expected, Gov. Nathan Deal on Tuesday vetoed legislation that would have created a separate state agency devoted to older Georgians.
House Bill 86 had passed overwhelmingly in the General Assembly session.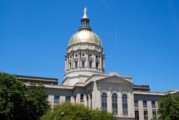 It would have moved the current Division of Aging Services out of the Department of Human Services. The new agency, the Adult and Aging Services Agency, would have been attached to the Department of Community Health.
Last week, Georgia Health News reported that the main sponsor of House Bill 86, along with health care experts, said they had been told a veto was coming.
The Aging Services bill was among 11 pieces of legislation vetoed by the governor.
In his veto message on House Bill 86, Deal noted that Community Health is responsible for the planning and delivery of health care to the citizens and employees of the state of Georgia, while the Division of Aging Services handles social services for seniors.
"This legislation attempts to merge two agencies with diverse missions and methods of service delivery while failing to align elderly services to the agency whose mission and scope is to deliver human services throughout the state,'' Deal said in his statement. "I welcome the opportunity to revisit the restructuring of Division of Aging Services in the future to create a more tailored alignment of services to agency mission."
Advocates for older Georgians said they were disappointed in the veto.
Kathy Floyd, executive director of the Georgia Council on Aging, said that after many meetings with the governor's staff over the last year on the proposal and one meeting with Deal, "we are discouraged by this turn of events."
Floyd added that Deal knows the importance of helping families deal with the aging issues because he and first lady Sandra Deal "took care of his mother and his mother-in-law in the last years of their lives."
"Legislators supported this proposed change on a bipartisan basis, as did aging advocates from across the state,'' Floyd said. "We look forward to working with the governor to find solutions that will better serve Georgia's seniors."
Ginny Helms, a vice president of Alzheimer's Association's Georgia chapter, said Tuesday that her organization "wants the state to get behind the aging initiative, to pursue [more] funding for aging services."
The votes for House Bill 86 in the Senate and House were 45-1 and 160-3, respectively.
State Rep. Tommy Benton (R-Jefferson), the lead sponsor of HB 86, told GHN last week that at that time, Deal's office had not contacted him about the bill. Benton, a retired teacher, said then, "I've heard in a roundabout way that it would be vetoed."
Benton declined comment on the veto Tuesday.
Speculation on reasons for a veto last week had centered on the potential budgetary impact of the bill, and that the Deal administration was seeking to focus on child welfare changes in the Department of Human Services.
Another rumored reason had to do with political payback — specifically, because Rep. Benton opposed a Deal-backed effort to create "Opportunity School Districts" to turn around failing schools in Georgia.
Proponents of the Aging Services Agency legislation have noted that more than 1 million Georgians — or roughly 1 out of 10 people in the state — are 65 or older. And over the next 30 years, Georgia is facing an estimated 143 percent increase in its senior population.
A separate agency would give more visibility and funding to issues involving seniors, the bill's supporters said.