Georgia has lower rates of heavy drinking and binge drinking than the national average, a recently released study found.
The study, published last month in the American Journal of Public Health, found that just 6.9 percent of Georgians are heavy drinkers, versus a national rate of 8.2 percent. Heavy alcohol drinking is defined as exceeding an average of one drink per day for women and two drinks per day for men over the past month.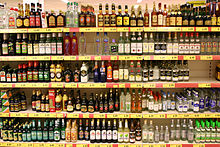 And Georgia's rate of binge drinking is 15.2 percent, versus 18.3 percent nationally. Binge drinking is defined as consuming four drinks or more for women and five drinks or more for men on a single occasion at least once during the last month.
Nationally, as well as in Georgia, heavy drinking and binge drinking have increased since 2002, according to Drinking Patterns in U.S. Counties from 2002 to 2012.
"Fortunately, we didn't see change within the [statistical group of] people who reported not drinking," says Ali Mokdad, professor of global health at the Institute for Health Metrics and Evaluation (IHME) of the University of Washington, one of the study's authors.
This is the first nationwide study to track trends in alcohol use at the county level. The study focused on Americans ages 21 and older.
Communities that are more affluent tend to have a higher drinking prevalence, "though this effect is somewhat less pronounced for heavy or binge drinking than for any drinking," says Rhonda Stewart of IHME.
Since 2005, heavy drinking has increased 18.8 percent in Georgia, compared to 17.2 percent nationally.
Georgia's county public health officials realize the burden of alcohol consumption and its impact on chronic diseases and birth defects, as well as DUIs.
Chatham County (the Savannah area) and Miller County in southwest Georgia posted the highest levels of heavy drinking in 2012 (9.7 percent of residents in both counties). Baker County, a sparsely populated southwest Georgia county, experienced the fastest rise in heavy drinking between 2005 and 2012, increasing 60.6 percent, according to IHME.
Chatham also had the highest percentage of binge-drinking residents (18.4 percent), and Baker County recorded the fastest increase in rates of binge drinking, rising 43.8 percent from 2005 to 2012.
IHME researchers say heavy and binge drinking are not evenly distributed among counties across the nation.
To check other Georgia counties: http://vizhub.healthdata.org/ us-health-map/
"It is interesting and important to note that alcohol consumption levels have remained fairly stable in Georgia," says Monica Swahn, a professor of epidemiology in the School of Public Health at Georgia State University.
Just 42.5 percent of Georgia women drink alcohol, lower than the national average of 49.1 percent.
But Swahn notes, "A substantial portion of the increases in heavy alcohol use in Georgia are seen among women."
"A key factor is the alcohol industry, which has been pushing hard with marketing strategies directly targeting women and with new alcohol products and packaging that appeal to women to increase their customer base," says Swahn.
"This research study is very important as it seeks to better understand how drinking levels vary by county," says Swahn.
"Few studies in the past have been able to examine alcohol patterns at the county level," she says. "But that is critically important to determine prevention and intervention strategies and also to examine if local policies are effective."
Nationwide and in Georgia, such strategies are important because so many serious problems are associated with alcohol consumption, such as automobile accidents, violence, and underage drinking.
In addition, the laundry list of health-associated problems includes birth defects, pre-term birth, heart disease, cancer, and related liver diseases (such as cirrhosis).
"It took a long time for tobacco [to be recognized by society as a health issue], and I hope it doesn't take that long for alcohol," says Mokdad.
The general message hasn't changed: If you choose to drink alcohol, drink in moderation.
Judi Kanne, a registered nurse and freelance writer, combines her nursing and journalism backgrounds to write about public health. She lives in Atlanta.