A health care company CEO says he was "speechless and stunned" when the feds asked Georgia to return more than $100 million in payments made to his firm's nursing homes.
Ronnie Rollins, CEO of Macon-based Community Health Services of Georgia, said in an interview Monday that company nursing homes had received the extra Medicaid funding in question for more than a decade without a problem. Then, this past December, a federal ruling declared the funding to be inappropriate.
A Dec. 8 letter and report from the federal Centers for Medicare and Medicaid Services said the "unallowable'' payments to more than 30 nursing homes were made in fiscal years 2010 and 2011.
But CMS also asked Georgia to return any similarly inappropriate payments for more recent fiscal years as well, pushing the total sought, according to state officials, to an estimated $248 million.
Rollins said Monday that the extra funding under "upper payment limit'' (UPL) regulations had been approved by state and federal agencies for his nursing homes since 2001.
Still, he said, he was not surprised at the overall federal intention to cut off these funds.
With the passage of the Affordable Care Act in 2010, Rollins said, he felt the new law would require additional money, and that a likely place to obtain it would be to reduce supplemental federal funding for Medicaid, such as UPL.
Expected something, but not this
States have developed these UPL programs to draw down extra federal matching dollars.
Basically, under UPL, the state is able to get a higher reimbursement rate – at the Medicare level – for delivering Medicaid services. Hospitals, nursing homes or physicians can put up the matching amount, and get more money in return.
Rollins said he had suspected "something was going on'' during a CMS audit of the money last year.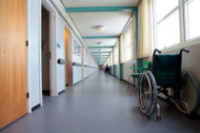 "We never dreamed they would come back and request the money back," he said. "We anticipated we would get notice'' of a future cutoff.
His nursing homes were the only ones working with local developmental authorities in Georgia to get UPL dollars from the federal government, Rollins said.
"We look at this as economic development, to develop local nursing homes," said Rollins, adding that he used some of the money to provide raises to company staff during the recession.
The CMS report targeted 35 Georgia nursing homes that were owned by local development authorities and were the source of "intergovernmental transfers'' to get UPL dollars.
But the CMS report to state officials said "these nursing facilities are actually privately owned" — not owned by a public agency as required.
A CMS team visited three development authorities, in Macon and Pulaski counties, and one covering several Central Georgia counties. The development authority does not have taxing authority or access to tax revenues, the federal report said.
The authorities were simply "pass-throughs'' for the funding transfers, the report alleged.
Georgia rebuts feds' contention
The commissioner of Georgia's Medicaid agency has rejected the feds' position and defended the UPL money and the development authorities as legitimate.
The federal ruling "is factually and legally incorrect,'' Clyde Reese, commissioner of the Department of Community Health, wrote in a February letter to a CMS official in Atlanta.
"Refunding payments previously approved by CMS would be inequitable and would result in unjust enrichment to the federal government," Reese said. It would probably also lead to the closure of the more than 30 nursing homes involved, he added.
Reese, in his response letter, said the development authorities are indeed public agencies under Georgia law — with a status similar to that of hospital authorities — and they also have access to local tax revenue.
CMS officials declined comment Tuesday on the nursing home payment dispute.
Rollins said Monday that he believes that the conflict "will be resolved favorably'' once federal officials receive more complete information about the development authorities in question. He said he believes CMS officials "will agree to a good course of action for the citizens of Georgia."
The 34 nursing homes targeted by CMS serve a total of about 3,000 patients, Rollins said.
Community Health Services, a nonprofit company, also operates pharmacy services, home care, hospice and rehabilitation. All but one of its 63 nursing homes are in rural Georgia, he said.
Most of the UPL money went to renovating and rebuilding nursing homes, he said.
Other states facing squeeze
The nursing home money is not the only Medicaid funding that has led to a conflict between Georgia and federal health officials.
A federal judge ruled in February that Georgia should receive a refund of $90 million of Medicaid funds it mistakenly returned to the federal government, even though the state made its claim for the money after the two-year window to do so had expired.
Other states are also feeling a funding squeeze from the feds, the Associated Press recently reported.
The Obama administration is dialing up the pressure on other states that have resisted expanding Medicaid coverage for their low-income residents under the Affordable Care Act, the AP reported.
Georgia also has rejected expansion of Medicaid, saying it would be too costly, after the U.S. Supreme Court ruled in 2012 that the decision is up to the states.
But nine states, unlike Georgia, have a federal fund that helps states and hospitals recoup some of the cost of caring for uninsured patients. The administration says these states can simply expand Medicaid and then won't need all those extra federal funds. Some of the nine have expanded Medicaid already.
But the two top targets so far are Texas and Florida, which are, respectively, the second- and third-most populous states in the nation, and have rejected Medicaid expansion. Both have large numbers of uninsured residents, and both have received several billion dollars in recent years from Washington under the so-called "low income pool," the AP said.
Florida is the first of the nine states that will be put on the spot. The Sunshine State's "pool" funding for hospitals is set to expire June 30.
"There's no doubt that other states that haven't expanded Medicaid are watching this," Joan Alker, executive director of the Georgetown University Center for Children and Families, told AP.