Lakizzy Carson's first child, a boy, was born several weeks premature, weighing only 1 pound, 5 ounces. He needed hospital care for several weeks after his birth before he was able to go home.
It was not the kind of experience that Carson, of Clayton County, wanted to repeat. When she was pregnant with her second child, in 2012, she enrolled in a local health program intended to reduce premature births and infant mortality.
"I wanted help to guide me,'' says Carson, now 37. She adds that she has what is known as an "incompetent cervix," one with a tendency to weakness that can cause or contribute to premature birth or the loss of an otherwise healthy pregnancy.
Public Health officials in the county gave Carson information about nutrition, prenatal care and other resources.
"They gave me a whole lot of attention," Carson says. "They kept me sane.''
The second child, Jasmine, was born premature at 36 weeks, but she was able to go home with her mother.
Clayton County has been working on improving its infant mortality statistics for several years, targeting women such as Carson.
And the county, just south of Atlanta, recently received a $3.5 million award over five years from the federal Healthy Start grant program.
Although the U.S. infant mortality rate has declined in recent years, major racial disparities persist. More than twice as many African-American babies do not live to see their first birthdays as do their white counterparts, the Health Resources and Services Administration says.
Also, African-American women are more likely than white or Hispanic women to deliver their babies before 37 weeks, which raises the risk of infant death.
Preterm birth is the leading cause of newborn deaths.
Healthy Start works in communities with high rates of infant mortality and problems with low birthweight, preterm births, maternal mortality (pregnancy-related deaths of women) and maternal morbidity (pregnancy-related health problems for women).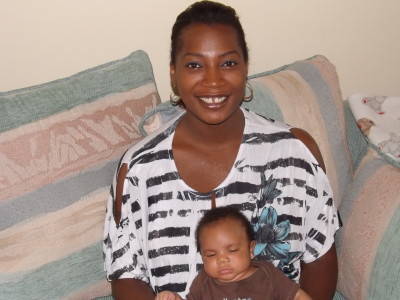 Georgia's rate of premature births, though declining, is still slightly above the national average. And Georgia ranks 50th among states on maternal mortality.
The Clayton County money will go to a "Healthier Generations" project to improve birth outcomes among African-American women of childbearing age. The program will serve at least 500 Clayton County women and their young children, including at least 250 pregnant women.
"Our goal is to link women who are at risk for giving birth to a low weight or premature baby with all of the public health resources available in order to help them have a successful birth outcome," says Twanna Nelson, coordinator of the Healthier Generations program for the Clayton County Board of Health.
Other Georgia organizations to receive this funding from HRSA are the Center for Black Women's Wellness in Atlanta; MCG Health in Augusta; and the Laurens County Board of Health in Dublin.
Clayton County has an array of health challenges. These include a high rate of uninsured adults and a high level of children living in poverty.
Its infant mortality rate in 2007 was 10.6 per 1,000 live births, much higher than the Georgia rate of 8.3 at the time (which, in turn, was higher than the national rate of 6.8).
Clayton County launched a home visitation program with pregnant women in 2010. Health officials also reached out to area physicians, and conducted a safe sleep campaign, encouraging parents to have babies sleep alone, on their backs, in a crib or bassinette.
(Health officials gave guidance on safe sleep practices to Carson, who says her son, now 7, was initially sleeping on his stomach as a baby.)
"We want to make sure the woman gets early prenatal care and has a medical home,'' adds Rosalyn Bacon, deputy director of the Clayton County Board of Health. "We also do screening for depression.
"We want to inform women about all the resources available to them and have them take more ownership of their health and well being."
Health officials also work with women in between pregnancies, linking them to family planning, and with babies up till age 2. They help with breastfeeding support and education and car seat safety, among other things.
"We're trying to integrate services under the Healthy Start umbrella," Bacon says.
By 2012, the infant mortality rate in the county had dipped to 7.7 per 1,000 live births. Health officials hope for further progress.
Carson, with her children now 2 and 7, gives high marks for the help she received during her second pregnancy. "It was a safe haven,'' she says.