A majority of Georgia hospitals will get performance bonuses from Medicare for their quality of care, federal data show.
The 59 percent of Georgia hospitals getting the financial reward exceeds the national average of 55 percent, according to a Kaiser Health News article. The bonuses come from measurements that include patient satisfaction, lower death rates and how much patients cost Medicare.
Meanwhile, 40 percent of the Georgia hospitals subject to the measurements are being penalized for quality-of-care problems, while 1 percent broke even in the Medicare quality category.
An official with the Georgia Hospital Association, when asked by GHN to comment on the bonuses Thursday, said, "We are proud of the fact that of the 10 states with the most hospitals assessed in the study, Georgia leads them all with 59 percent of its 99 hospitals receiving the quality bonus."
"The Georgia hospital community still has a lot of work to do make great care even safer, but these numbers demonstrate that we are moving in the right direction,'' said Kevin Bloye, a Georgia Hospital Association vice president.
Kaiser Health News reported that many of the bonuses nationally will be offset by hospital penalties that the government has also established as a part of the Affordable Care Act.
Fewer than 800 of the 1,700 hospitals that earned these bonuses nationally will actually receive extra money, according to a Kaiser Health News analysis.
That's because the others are being penalized through two other Medicare quality programs. One punishes hospitals for having too many readmissions of patients within 30 days of their being discharged. The other lowers payments to hospitals in which too many patients developed infections during their stays or were injured in other ways.
KHN reported that when all these incentive programs are combined, the average bonus nationally for large hospitals — those with more than 400 beds — will be nearly $213,000, while the average penalty will be about $1.2 million, according to estimates by Eric Fontana, an analyst at the Advisory Board Company, a consulting company based in Washington.
For hospitals with 200 or fewer beds, the average bonus will be about $32,000 and the average penalty will be about $131,000, Fontana estimated.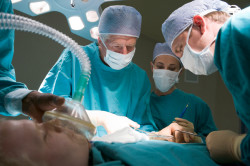 The "Hospital Value-Based Purchasing'' initiative, with its bonuses and penalties, recognizes hospital improvement even if a hospital's quality metrics are still subpar.
The bonuses and penalties are based on 26 measures, including how consistently hospitals followed a dozen recommended medical guidelines, such as giving patients antibiotics within an hour of surgery, and how patients rated their experiences while in the hospital, Kaiser Health News reported.
Medicare also examined death rates for congestive heart failure, heart attack and pneumonia patients, as well as bloodstream infections from catheters and serious complications from surgery such as blood clots.
Medicare this year added a measure intended to encourage hospitals to deliver care in the most efficient manner possible, the Kaiser Health News article added. Federal officials calculated what it cost to care for each hospital's average patient, not only during the patient's stay but also in the three days before and a month afterward.
Greg Charleston, with the consulting firm Conway MacKenzie in Atlanta, said Thursday that government "is trying to reward health systems for better efficiency, which decreases the cost of care.''
Medicare "is starting to measure things worth measuring," such as infection rates and readmissions, he said.
Charleston also noted that it's more difficult for smaller hospitals to maintain administrative staff to track such measures than it is for larger, wealthier health systems. Such administrative burdens are leading to more mergers and partnerships between hospitals to create economies of scale, he said.
"It's harder [for hospitals] now to be financially successful,'' Charleston said. "There's so much happening, so much is changing. A lot of it is still unclear on how it will shake out."
More than 1,600 hospitals nationally were exempted from the Medicare incentives, either because they specialize in narrow categories of patients, such as children or veterans, or because they are paid differently by Medicare, as in the case of "critical access hospitals" that serve mostly rural areas.
Here's the Kaiser Health News' list of hospital bonuses and penalties.