The federal government is cutting payments to 29 Georgia hospitals for high levels of infections and patient injuries in the facilities.
The new Medicare crackdown on hospital-acquired infections and preventable injuries is similar to the existing federal penalties on excessive readmissions of patients within 30 days after discharge.
Overall, 721 U.S. hospitals are getting the new penalties, which means they will have their Medicare payments lowered by 1 percent.
The Georgia hospitals being penalized include some of the largest and best known in the state.
In the metro Atlanta area, Emory University Hospital, Grady Memorial, WellStar Kennestone, Piedmont Hospital and Atlanta Medical Center are among those receiving cuts.
Also getting penalties are Athens Regional Medical Center; Memorial University Medical Center and Candler Hospital in Savannah; Georgia Regents Medical Center and Doctors Hospital in Augusta; Coliseum Medical Centers and Coliseum Northside in Macon; and Southeast Georgia Health System's Camden campus.
The penalties are hitting academic medical centers especially hard, Kaiser Health News reported. About half of them will be punished.
The Affordable Care Act requires the reductions for the quarter of hospitals that Medicare judged as having the highest rates of "hospital-acquired conditions.'' These can include infections from catheters, blood clots, bed sores and other complications that are considered avoidable, KHN reported.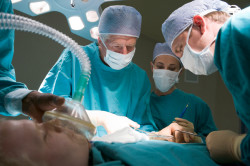 Dr. Eric Schneider, a Boston health researcher, told KHN that research has demonstrated that medical errors can be reduced through a number of techniques. But "there's a pretty strong sense among the experts we talked to that they are not widely implemented," he said.
Those methods include entering physician orders into computers rather than writing them on paper; better hand hygiene; and checklists on procedures to follow during surgeries. "Too many clinicians fail to use those techniques consistently," Schneider said.
Still, a recent study found that improved patient safety and fewer mistakes at U.S. hospitals saved the lives of roughly 50,000 people from 2011 to 2013, the Obama administration reported earlier this month.
Incidents of hospital-induced harm – such as adverse drug events, infections, falls and bedsores – declined by 17 percent, or an estimated 1.3 million episodes, from 2010.
Is the process fair?
Exempted from the medical error penalties are hundreds of hospitals that provide specialized treatments such as psychiatry and rehabilitation or because they treat particular types of patients, such as children or veterans. Small "critical access hospitals" located in rural areas are also exempt.
Medicare levied penalties against a third or more of the hospitals it assessed in Colorado, Connecticut, Delaware, Nevada, New Jersey, New Mexico, Rhode Island, Utah, Washington and the District of Columbia, the KHN analysis found.
Georgia's percentage of 28 percent of hospitals penalized is just below that level.
Some experts say the new penalties will disproportionately hit hospitals that serve many poorer and sicker patients.
Hospital officials called the new penalties arbitrary. They said there may be almost no difference between hospitals that are penalized and those that narrowly escape falling into the worst quarter, KHN reported.
"Hospitals may be penalized on things they are getting safer on, and that sends a fairly mixed message," said Nancy Foster, a quality expert at the American Hospital Association, told Kaiser Health News.
James Stephens, a health economics expert at Georgia Southern University, told GHN on Monday that the new penalties reflect a greater emphasis on patient outcomes and quality of care. "If there's going to be payment, there's going to have to be a focus on quality outcomes," he said.
Hospitals are already acutely aware of their infection rates, he said.
A 1 percent pay cut is significant for a large hospital, Stephens said. "It will be interesting to see if hospitals' infection rates go down" as a result of the penalties, he added.