Georgia's prescription of more daily physical activity for students has led to improved health results, state officials say.
Last school year, 39 elementary schools in the state participated in a program called Health Empowers You. The pilot study gave teachers training and resources to help them increase physical activity among students during the school day, as well as before and after school.

The program produced results that included:
** Body mass index improving for both underweight and overweight students
** Aerobic capacity improving from 52 percent to 62 percent
** Moderate or vigorous physical activity increasing by 11.5 percent in physical education class
** Students' daily steps measured by a pedometer increasing by 7.5 percent
The pilot study is part of the state's "Power Up for 30" initiative – encouraging schools to give children an additional 30 minutes of physical activity daily. So far, more than 300 schools have signed up to participate.
And Power Up joins a broad range of tactics to reduce childhood obesity under Georgia's SHAPE program, a partnership among government agencies, philanthropic organizations, corporations and universities.
"SHAPE is creating a culture in the schools [where] physical activity is the norm,'' Marsha Davis, associate dean of the College of Public Health at the University of Georgia, told GHN on Wednesday at a conference in Athens. "I don't know of a state that has attempted this on a statewide basis."
When SHAPE was first announced by Gov. Nathan Deal in 2012, Georgia ranked second in the nation in childhood obesity. Now the state is No. 17, but that's based on 2011 data, before SHAPE took off.
Still, roughly one-third of the state's children are overweight or obese. And obesity-related hospitalizations in Georgia rose by more than 330 percent over 11 years, said Emily Anne Vall, Georgia SHAPE's obesity project manager, in a presentation Wednesday at the State of Public Health Conference at UGA.
Kelly Cornett, physical activity coordinator with SHAPE, noted the academic benefits of exercise, citing a University of Kansas study showing that physical activity "has a positive impact on academics across the curriculum."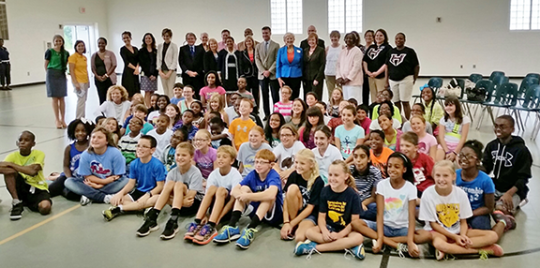 A Georgia Regents University study, Cornett added, found that 20 minutes of physical activity a day is enough to make a meaningful impact on overweight, sedentary children, reducing their risk of diabetes and improving their fitness.
The 39 schools in the pilot study were in Bibb, Henry, Baldwin, Jones and Monroe counties. It represents some of the first hard data from the state's anti-obesity efforts.
The Health Empowers You program was created by HealthMPowers, a Georgia nonprofit that promotes healthy eating and physical activity in schools. Funding was provided by the Blue Cross Blue Shield of Georgia Foundation.
Professors from Georgia State University evaluated the results and also found improved knowledge of physical activity concepts among students.
UGA's Davis said the Power Up's 30 minutes need not be continuous. "It's spurts of activity," she said. Administrators find times in a school day where there are gaps. It's not taking away from academics, Davis added.
Georgia's first lady, Sandra Deal, said in a statement about the pilot study, "By taking simple actions during the school day, we can help students get active, improve their health and have fun doing it."
SHAPE is taking many other avenues to increase child fitness and health. They include:
** Encouraging mothers to breastfeed, and hospitals to promote breastfeeding
** Promoting healthy food choices for students, including implementing a farm-to-school program, in which foods produced as nearby as possible are part of the menu at school cafeterias
** A school nutrition program, created by Children's Healthcare of Atlanta, that trains cafeteria managers how to make healthy foods fun and encourage kids to make healthy choices in the lunch line.
Georgia Schools can get SHAPE grants of $3,000 to $5,000 for health promotion and physical activity and nutrition programs, state officials said Tuesday at a Department of Public Health board meeting.
A Liberty County middle school had treadmill desks used by 100 students in science class. Data showed a trend toward reduced blood pressure among high-risk students at Lewis Frasier Middle School.
And a Cobb County elementary school introduced new activities such as zumba, yoga and an after-school running club. State officials said 40 percent of the Bells Ferry Elementary School students reported that yoga helped to give them tips on relaxing and calming themselves down.