Richard Furman recently received a grim phone call from a physician in Liberia.
The doctor gave an update about medical missionary Dr. Kent Brantly, who had been stricken with the Ebola virus in the West African nation.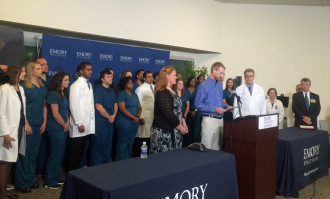 The physician didn't think Brantly would survive, said Furman, a retired surgeon who's on the board of directors of the Christian aid organization Samaritan's Purse, where Brantly worked. Furman said the doctor "thought he [Brantly] was gone."
On Thursday, Dr. Furman celebrated Brantly's recovery while seated among journalists during an emotional news conference at Emory University Hospital, where Brantley's discharge was announced.
Fellow Ebola patient Nancy Writebol, who also caught the disease while working as a medical missionary in Liberia, was released Tuesday from Emory, officials said. Writebol had requested no announcement be made when her discharge occurred, Emory said.
Their release poses "no public health threat,'' said Dr. Bruce Ribner, an Emory infectious disease specialist who addressed the media.
Brantly, 33, and Writebol, 59, show no evidence of Ebola, said Ribner.
"After a rigorous and successful course of treatment and testing, the Emory Healthcare team has determined that both patients have recovered from the Ebola virus and can return to their families and community without concern for spreading this infection to others," Ribner said.
Criteria for the patients' discharges were based on blood and urine diagnostic tests and standard infectious disease protocols, Emory said.
A spotlight on a dangerous disease
The arrivals of Brantly and Writebol at Emory in early August, and their placement in a state-of-the-art medical isolation unit, focused worldwide attention on the hospital. They were the first Ebola patients ever treated in the Western Hemisphere.
Their release was more low-key. But the news of it, after weeks of scary media reports about Ebola, was reassuring proof that the disease is not always fatal.
At the news conference, Brantly, who walked into the room holding hands with his wife, said, "Today is a miraculous day."
"I am thrilled to be alive, to be well, and to be reunited with my family," said Brantly, who later hugged members of the Emory hospital staff who cared for him.
Writebol's husband said in statement emailed by her aid group, SIM, that she was free of the virus but still weak and was recuperating at an undisclosed location.
Both were infected while working at a missionary clinic outside Liberia's capital.
Brantly and Writebol received an experimental treatment called Zmapp, but Ribner said it's not known whether the drug improved their conditions.
"Frankly, we do not know whether it helped them, whether it made no difference or whether it theoretically delayed their recovery," Ribner said of Zmapp.
But Furman of Samaritan's Purse said Thursday that the experimental medication administered in Liberia made a clear difference in Brantly's case. "Once he got it, within an hour, he improved,'' Furman said. His temperature went down and his breathing improved.
And Furman predicted that Brantly will return to mission work, and perhaps even to Liberia. "He's dedicated,'' Furman said. "His life will be in a mission hospital. He'll go back."
Furman said he saw Brantly upon his release Thursday morning from Emory's special isolation unit. "He was very upbeat,'' Furman said.
Doctor became a patient
Brantly told reporters that the Liberian hospital where he was working as a physician got its first Ebola patient in June, and then the number of patients increased steadily.
On July 23, "I woke up feeling under the weather, and then my life took an unexpected turn as I was diagnosed with Ebola virus disease," Brantly said. He had taken his wife and children to the airport to leave the country three days earlier. Meanwhile, he said, he got sicker and weaker by the day.
Brantly was flown out of Liberia under quarantine conditions on Aug. 2, and Writebol followed on Aug. 5.
Brantly choked up while thanking his and Writebol's aid groups and the Emory medical team. He said he and his family would be going off to spend some time together as he continues to recover.
"Through the care of the Samaritan's Purse and SIM missionary team in Liberia, the use of an experimental drug, and the expertise and resources of the health care team at Emory University Hospital, God saved my life – a direct answer to thousands and thousands of prayers."
"I am incredibly thankful to all of those who were involved in my care, from the first day of my illness all the way up to today – the day of my release from Emory."
In his statement, David Writebol said his wife "was greatly encouraged knowing that there were so many people around the world lifting prayers to God for her return to health. Her departure from the hospital, free of the disease, is powerful testimony to God's sustaining grace."
Ebola is spread only through direct contact with the bodily fluids of sick people experiencing symptoms. In a statement, the CDC emphasized that Brantly and Writebol no longer have the virus in their blood and therefore pose no health risk.
The current Ebola outbreak has killed more than 1,300 people across West Africa. The disease, first identified in 1976, has struck a number of times in West and Central Africa since then.
Ribner said besides extensive tests, the hospital consulted with the CDC before deciding the two missionaries were ready to be released. Both are now likely immune to the strain of Ebola with which they were infected. There are four other known strains.
Five doctors and 21 nurses cared for Brantly and Writebol during their stay, and subspecialists also assisted, Ribner said.
He added that the FDA was consulted, as well as state epidemiologists in Georgia and North Carolina.
"We are profoundly grateful for the opportunity to have applied our training, our care and our experience to meet their needs," Ribner said. "All of us who have worked with them have been impressed by their courage and determination."
Ribner said he hopes what he and his colleagues learned about treating Ebola can help save patients in Africa. They will be disseminating that information to medical providers in Africa, he said.
Ribner also acknowledged that "limited knowledge of the Ebola virus has created understandable anxiety and fear for some persons.We understand that there are a lot of questions and concerns regarding the Ebola virus. However, we cannot allow our fears to dictate our actions. We must care."
The drug's manufacturer, Mapp Biopharmaceutical of San Diego, has said there is no more of it left.
The CDC has sent at least 50 staffers to West Africa to help contain the epidemic.
"We must recommit to doing all we can to increase their chances of survival and to stop the spread of Ebola," CDC Director Tom Frieden said in a statement. "This outbreak is unprecedented, and it's likely to get worse before it gets better. We must respond in unprecedented ways to stop the outbreak as soon as possible."
North Carolina-based Samaritan's Purse, released this statement from its president, the Rev. Franklin Graham, on Thursday morning:
"Today, I join all of our Samaritan's Purse team around the world in giving thanks to God as we celebrate Dr. Kent Brantly's recovery from Ebola and release from the hospital. Over the past few weeks, I have marveled at Dr. Brantly's courageous spirit as he has fought this horrible virus with the help of the highly competent and caring staff at Emory University Hospital. His faithfulness to God and compassion for the people of Africa have been an example to us all.
"I know that Dr. Brantly and his wonderful family would ask that you please remember and pray for those in Africa battling, treating and suffering from Ebola. Those who have given up the comforts of home to serve the suffering and the less fortunate are in many ways just beginning this battle."