U.S. Health and Human Services Secretary Kathleen Sebelius, visiting Atlanta on Friday, announced that final rules have been issued on insurance parity between mental health/substance abuse benefits and general medical benefits.
The federal rules implement the requirement in a 2008 law that health plan co-pays, deductibles and visit limits not be more restrictive for mental health than for general medical care.
Sebelius made the announcement at the 29th Annual Rosalynn Carter Symposium on Mental Health Policy, held at the Carter Center in Atlanta.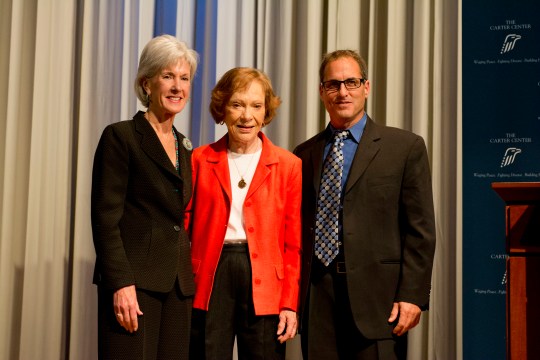 The newly implemented rules include consumer protections such as ensuring parity applies to residential treatment and care delivered in what's known as "intensive'' outpatient settings. The rules also bolster benefits transparency for consumers.
Sebelius praised Mrs. Carter — a former Georgia first lady and U.S. first lady — for her longtime advocacy on mental health issues, including the fight for equality of benefits.
"There's no question that Rosalynn Carter has been an incredible leader in the mental health arena,'' Sebelius said.
The parity rules, along with the Affordable Care Act, are expanding mental health and substance use disorder benefits and parity protections to 62 million Americans, Sebelius said. "This historic expansion will help make treatment more affordable and accessible."
"This is the largest expansion of behavioral health coverage in a generation,'' she added.
Employers have been making "important strides'' in equalizing benefits for mental health and substance abuse disorders, she said.
Sebelius received a warm reception from the audience of mental health experts, but it has not been an easy week for her.
As the Cabinet official in charge of implementing the Affordable Care Act, she has been on the hot seat in Washington over the rocky rollout of the healthcare.gov website, the portal created by the ACA where millions are expected to get coverage.
Republicans at a Senate hearing this week challenged Sebelius' honesty and pushed for her resignation, while even some Democrats who supported the legislation expressed anger over the poor performance of the website.
"We've had inexcusable technology problems'' with healthcare.gov, she acknowledged Friday.
Critics have also focused on insurers sending cancellation notices to some of the 12 million Americans whose individual policies don't meet Obamacare requirements for more comprehensive care.
President Obama, in an interview Thursday, said he is sorry that Americans are losing health insurance plans he repeatedly said they could keep under his signature health care law.
At the Carter Center, Sebelius reiterated her support for the law, noting that a central feature of the ACA requires that no one will be denied coverage for a pre-existing condition.
She said mental health has been an issue for her own family. "In the last six months, I have actually had two of my family members experience crises,'' she said. "In either case, it wasn't easy. . . . I know how difficult this is for way too many families.''
"We've come a long way… and we still have a long way to go,'' Sebelius said. "We have to change hearts in order to treat minds.''
Ron Bachman, a health care consultant who has worked on mental health parity for decades, told GHN on Friday that the final parity rules "put an exclamation point'' on the 2008 Wellstone-Domenici law.
When the 2008 law was passed, he said, there was a fear that employers would drop mental health benefits, he said. But companies instead improved their coverage.
"Mental health was not an expensive add-on.'' Bachman said. "From employers' standpoint, it creates more productive employees.''
The two-day symposium at the Carter Center focused on the Affordable Care Act's effect on mental health.
Joel Miller, CEO of the American Mental Health Counselors Association, told the Carter Center audience Thursday that the ACA "ushers in a golden age of coverage'' for behavioral health services. "All states need to be on board,'' Miller said.
He said more than 6 million adults with behavioral health problems can get new coverage if all 50 states implement Medicaid expansion, as the ACA envisions.
So far, about half the states have decided to expand Medicaid. Georgia is among those that have decided against it, with Gov. Nathan Deal and other Republicans saying such a move would be too costly.
In opening the conference, Mrs. Carter alluded to the technical challenges in the healthcare.gov rollout. But she also said the 2010 law "holds tremendous promise'' for Americans.