The horrors of bullying burst into the news again this week with the report of an 8-year-old Carroll County girl having her hair pulled so hard that her scalp ripped.
Third-grader Aolani Dunbar was bullied so severely that she had to be taken to a hospital emergency room, her Roopville family said. Aolani's family said her schoolmates picked on her for two weeks because she got hair extensions.
Also this month, two girls were arrested in central Florida in the wake of the suicide of 12-year-old Rebecca Sedwick, who allegedly had been bullied online and at school.
(The sheriff in the Florida case said last week that bullying by peers may not have been the sole factor in Rebecca's death, and that he was looking into her troubled home life.)
Bullying has always been a major problem, but its prevalence appears to have increased with the growth of social media sites and the Internet, experts say.
"The advent of technology took bullying out of schoolyards and into your homes,'' Stephanie Woodard, Hall County solicitor general, said at an Atlanta forum on bullying on Tuesday. "I do believe [bullying] is a public health problem.''
It has not been an easy problem to solve, said experts at the forum, sponsored by Voices for Georgia's Children and Georgia Children's Advocacy Network.
Bullying is defined as repeated exposure to negative events. It can involve physical violence, verbal abuse, or indirect aggression through spreading of rumors, social isolation, or exclusion.
Georgia was the first state to adopt an anti-bullying law, in 1999.
From 17 percent to 30 percent of U.S. students report being bullied, Chris Henrich of the Center for Research on School Safety at Georgia State University, told the audience at the forum. In metro Atlanta, the prevalence rate is from 20 percent to 30 percent, Henrich added.
Cyberbullying is not as widespread as other forms of bullying, though "it has gotten a lot of attention recently,'' Henrich said
Bullying hits girls and boys equally, he said. It's found from pre-K all the way to the adult workplace, though it generally peaks in middle school.
Unfortunately, several anti-bullying strategies that have been developed over the years have proved ineffective, and schools are spending a lot of money on programs that haven't had a big impact, he said.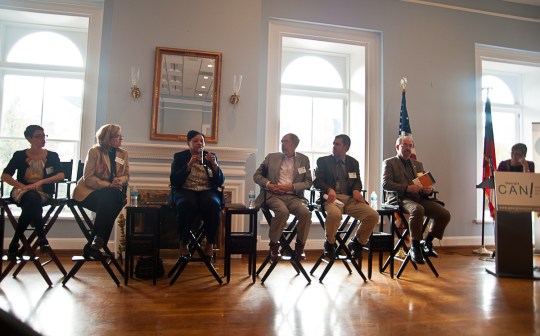 Mental health effects on victims, meanwhile, are profound and long-lasting. "Kids who are bullied need mental health treatment,'' Ellyn Jeager of Mental Health America of Georgia told GHN on Wednesday.
Dr. Doris Greenberg, a longtime Savannah pediatrician, said she has seen children "who wanted to kill themselves because of bullying.''
Many, like the Carroll County girl, don't want to return to school, Greenberg said.
Typical targets bullying include children who have a disability, who are gay or lesbian, or have a physical flaw, Greenberg told GHN on Wednesday.
Henrich of Georgia State also said that bullies themselves have academic problems and mental health issues.
Garry McGiboney of the Georgia Department of Education said Tuesday that "getting tougher on bullying is not going to solve the problem.''
Improving a school's "climate,'' can reduce bullying, he said.
School climate refers to the quality and character of school life, with factors that include feeling safe at school, liking school, feeling successful at school and perceiving clear rules.
In 2011, Georgia was the first state in the nation to include school climate as an early indicator in its academic accountability system.
Some promising recent studies demonstrate the potential of bystander behavior, where peers are encouraged to be defenders of victims, Henrich told the forum Tuesday.
Roderick Russell, a middle school PE teacher in metro Atlanta, told GHN on Wednesday that when he was a high school football player in Alabama, he was known as a "bully buster.''
Russell said he was sought out by victims of bullies when they were being harassed. "I would talk to the bullies and they would leave them alone,'' he said.
The majority of bystander kids these days don't want to get involved in a bullying incident, Russell said.
Greenberg, the Savannah pediatrician, agreed that bystanders can be helpful against bullying. But she also emphasized that teaching children to not be a "good target" — or to handle bullying on their own — is an effective strategy.
In Carroll County, with her head shaved bald, Aolani has a large bandage over the injured area, the Carrollton Times-Georgian reported Tuesday. Her mother, as well as several other family members, have shaved their heads in solidarity with the youngster.
"It tore us all up, but it's drawn us all closer at the same time," Charles said. "We have something to fight for, together, now."