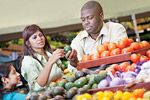 A new report ranks Georgia the 20th most obese state, with a 29.1 percent rate for adults in the state.
That 2012 figure is slightly higher than the previous year's 28 percent for Georgia adults, according to the report from Trust for America's Health and the Robert Wood Johnson Foundation. Georgia was ranked the 24th most obese state in 2011.
Currently, 13 states have adult obesity rates topping 30 percent, 41 states have rates above 25 percent, and every state is above 20 percent. Thirty years ago, the highest adult obesity rate for any state was still lower than the lowest obesity rates today, the report noted.
The Georgia adult rate follows encouraging data on childhood obesity in Georgia. The CDC recently said 19 states saw a decrease in obesity from 2008 to 2011 among low-income children ages 2 to 4 years. And the 1.6 percentage point decline in Georgia was bigger than anywhere else except for the U.S. Virgin Islands.
The state also recorded a 5 percent drop in its overall childhood obesity figures. That moved Georgia's ranking as having the second most obese child population in the nation, which came from 2007 data, to No. 17 in the new figures.
The adult rates have remained fairly level nationally. "Even if the nation holds steady at the current rates, Baby Boomers—who are aging into obesity-related illnesses—and the rapidly rising numbers of extremely obese Americans are already translating into a cost crisis for the health care system and Medicare," Jeffrey Levi, executive director of the Trust for America's Health, said in a statement
The new report on adult rates noted that of the states with the 20 highest adult obesity rates, only Pennsylvania is not in the South or Midwest.
For the first time in eight years, Mississippi no longer has the highest rate—Louisiana at 34.7 percent is the highest, followed closely by Mississippi at 34.6 percent, according to the new report, called "F as in Fat: How Obesity Threatens America's Future 2013."
Colorado had the lowest rate at 20.5 percent.
Nationally, women's obesity rates now match the percentages for men. Georgia's obesity rate is 27.7 percent for men and 30.6 percent for women.

The report includes these recommendations for lowering obesity rates:
Food in schools should be healthy
Kids and adults should have access to more opportunities to be physically active on a regular basis
Restaurants should post calorie information on menus
Food and beverage companies should market only their healthiest products to children
The country should invest more in preventing disease to save money on treating it
America's transportation plans should encourage walking and biking
Everyone should be able to purchase healthy, affordable foods close to home