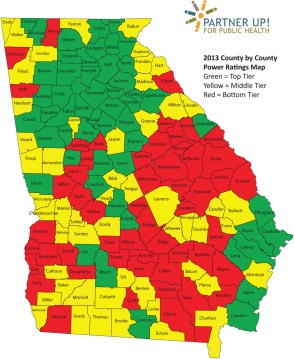 (Click map to enlarge)
A Georgia county-by-county ranking that combines health and economic statistics, released this week, shows suburban counties at the top and rural areas at the bottom.
Oconee County, near Athens, placed first for the second straight year in the rankings, generated by Partner Up for Public Health, an advocacy campaign.
Other counties in the top eight are Forsyth and Fayette near Atlanta; Columbia, near Augusta; and Cherokee, Cobb, Gwinnett and Coweta, also near Atlanta.
The bottom 10 counties are all in rural east or south Georgia: Jenkins, Johnson, Randolph, Clinch, Jeff Davis, Ben Hill, Stewart, Taliaferro, and tied for last, Crisp and Wilcox.
Stewart County last month saw its lone hospital close, a move that reflected the negative financial trends that make rural health care more fragile than ever in the state. (Here's a recent GHN story about rural health care.)
The rankings "are proof that economic vitality is directly related to the health status of the county,'' Matt Caseman, executive director of the Georgia Rural Health Association, told GHN on Thursday. "It's vital that we support our rural health infrastructure in these counties.''
Boosting medical resources would make residents healthier. That, in turn, would make a healthier workforce that could attract businesses to those counties, Caseman said.
The Partner Up analysis used health outcome rankings recently produced by the University of Wisconsin. For the economic figures, the rankings used the job tax credit rankings calculated by the Georgia Department of Community Affairs, which are based on poverty rates, unemployment and average per capita income.
These tax credits are designed to give incentives to employers to create jobs in impoverished areas of the state. The worse off a county is, the bigger the tax credit.
The Partner Up study, funded by Healthcare Georgia Foundation, reverses the job index rankings, showing that counties with the highest tax credits are the weakest economically.
Last year's rankings had Oconee County tied with Fayette County for the No. 1 spot, but the latter dipped to third place behind Forsyth County.
Wilcox County this year came in 155th for health outcomes and 146th for economic vitality. Its neighbor, Crisp County, finished 150th for health outcomes and 151st for economic vitality.
Charles Hayslett of the Hayslett Group, which is managing the Partner Up campaign, said a goal of the rankings is to encourage the state's leaders to develop policies that recognize and address the relationship between a community's health status and economic vitality.
"One of the things we came to realize early in this campaign is that the state of Georgia really doesn't seem to have a coordinated strategy for addressing the very difficult challenges facing Georgia's poorest and least healthy counties," Hayslett said in a statement. "We've got some areas of rural South Georgia that are, for all practical purposes, disaster areas both economically and in terms of health status."
For purposes of comparison, he pointed out that the population of Oconee is roughly the same as that of Crisp and Wilcox combined. But the per capita income in Oconee is double that of Crisp or Wilcox, and the premature death rate in Crisp and Wilcox is more than double the rate in Oconee.
"Substantially more people in Crisp and Wilcox report being in poor or fair health than in Oconee, and they say they miss more work for reasons of poor physical or mental health," Hayslett added. "And those results are mirrored in health care costs.''
Medicaid spending in fiscal 2012 for Crisp and Wilcox combined was $44.2 million, versus $11.2 million for Oconee, he said.
Caseman said the reimbursement pressure is greater than ever for rural hospitals, and helped lead to the hospital closures in Stewart and Calhoun counties this year. Medicare cuts from the federal budgetary restrictions known as sequestration have increased the strain, he said.
"Adding this weight on rural hospitals, eventually they're going to crack,'' said Caseman.
As much as 20 percent of a local rural area's economy is dependent on the local hospital, he noted.