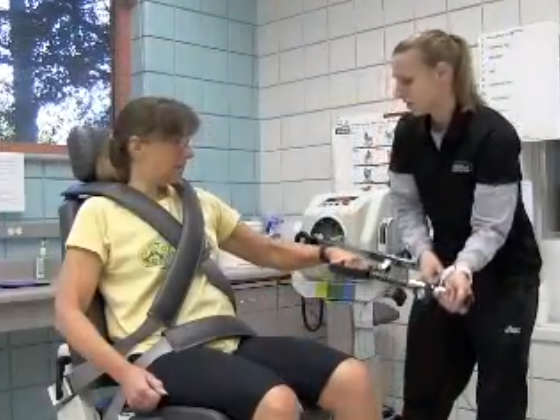 When Kathy Parker was diagnosed with breast cancer – her second form of cancer in 10 years – she knew she had the strength to pull through.
Thanks to a vigorous exercise program after her prior bout with a rare cancer called vulvar sarcoma, Parker felt more prepared than the average person. She was ready once again to show cancer "who's boss."
"I made it my mission to be able to run again, and I had the attitude that I was going to 'show' cancer," said Parker, who lives in Athens. "I wasn't going to let it beat me."
That's part of the reason she decided to join a University of Georgia study about fatigue and pain in post-menopausal women and breast cancer survivors – to help other women do the same.
In August 2012, there were more than 2.9 million breast cancer survivors in the United States. About 12 percent of women will develop invasive breast cancer during their lifetime, according to the American Cancer Society. In 2012, an estimated 8,907 Georgians were diagnosed with the disease.
"I've been in a position as a breast cancer survivor to promote participation in clinical trials, because it's one of the only ways we learn about different medications and protocols," Parker said. "I felt that it was both interesting and a way that I could make a contribution."
The Body Composition and Metabolism Lab in UGA's kinesiology department, which primarily focuses on women's health, started a new study this spring that will investigate whether breast cancer survivors have a lower tolerance for pain, become tired more easily, and have a smaller range of motion than post-menopausal women who have not had breast cancer. If so, lab members hope to create exercise plans that are tailored to survivors.
"Some women who are survivors may have physical compromise due to muscular damage or removed lymph nodes," said Christie Ward Ritacco, a doctoral student in kinesiology who is leading the research. "Their mental energy is also impacted, especially when raising a family and at the time of life that's often the busiest and most important."
[youtube]http://www.youtube.com/watch?v=gOoqcKCf_sw[/youtube]
A focus on pain
Ritacco and three other students – Amanda Caravalho Adrian, a doctoral student in kinesiology; Courtney Vickery, a master's student in nutrition; and Jessica Binkowski, a master's student in kinesiology – are teaming up on the project. Ritacco fondly calls it her "kitchen sink" dissertation, because it combines previous studies in the UGA lab.
The "novel" piece, Ritacco noted, is testing for pain tolerance in post-menopausal women.
About one-fourth of women who undergo breast cancer surgery have significant, persistent breast pain six months after the procedure, according to a recent study published in the Journal of Pain.
In addition, weight gain and a lack of physical activity after surgery put survivors at risk for long-term pain, according to a study published in December in Breast Cancer Research and Treatment.
Pain is difficult to study because it's subjective. The researchers will try to standardize pain in this study by using the same temperatures of hot and cold water to measure pain with each participant, Adrian said. "We're looking for a difference between those who are physically active and not, those with a healthy diet, and those who've had breast cancer."
Ritacco and Binkowski use machines to measure women's range of motion during exercises that mimic everyday tasks such as closing a car trunk or kicking a ball. After each exercise, the participant measures her feelings of pain and fatigue based on the standardized scale.
Studies like this are important because compared to men, "women have higher rates of obesity, physical disability and are less functionally able," said Ellen Evans, an associate professor of kinesiology in charge of the research lab. "We outlast men, but we don't live as well."
Volunteers being sought
After the cross-sectional study, Ritacco and Evans hope to conduct a longitudinal study, the kind that will follow the breast cancer survivors over an extended period of time. The researchers will use that to create an exercise and nutrition program for the women.
While conducting this year's pilot study, Ritacco and Evans plan to find 90 survivors between 45 and 65 in the Athens area to test and evaluate their program.
Evans is developing collaborations with Athens Regional Medical Center's Loran Smith Center for Cancer Support and the University of Alabama at Birmingham Comprehensive Cancer Center to create a breast cancer research focus and multi-center clinical trial.
For Evans and Ritacco, the research combines their professional expertise with a personal passion. Evans has a family history of breast cancer, and Ritacco's aunt was diagnosed at age 35 and survived for 10 years.
"I like doing research that has an application in the community and puts a smile on someone's face," Ritacco said. "When I can tell people, 'If you try this, you may feel better,' I feel good as a researcher."
Ritacco hopes to see initial results this spring so she can begin planning for the next study that follows breast cancer survivors.
The lab is still looking for study participants. If you or someone you know would like to participate, contact the lab through uga.bcml@gmail.com or 706-389-4272.
Carolyn Crist is pursuing her master's degree in Health and Medical Journalism from the University of Georgia. She graduated from UGA in 2010 with degrees in newspapers and English and worked at The Times in Gainesville as an education and political reporter.