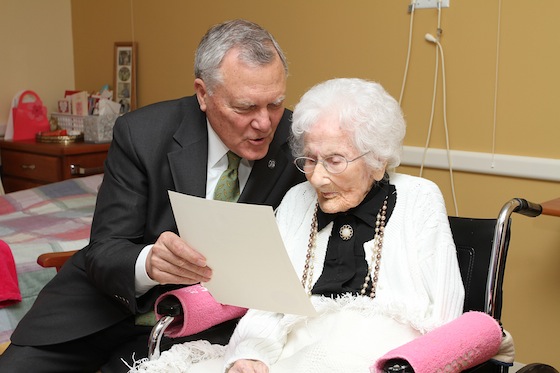 Besse Cooper, the Monroe woman who is the oldest person in the world, has been remarkably healthy all her life, her son Sidney says.
Cooper, a Georgia resident since she was a young woman, celebrated her 116th birthday Sunday. She lives in an area nursing home.
Even now, she takes few medications, her son says.
"She never had surgery in her life,'' Sidney Cooper says. "She's healthy –- no major problems.'' The first time she was in a hospital was when she gave birth.
And she still can hold a conversation, and did so when Gov. Nathan Deal visited her last year. ''Her long-term memory is amazing,'' adds her son, who lives in Monroe.
Centenarians –- people 100 years old or more –- make up about 0.2 percent of the U.S. population, but the number has been rapidly increasing, according to a recent study, which found that having a positive attitude and a sense of humor could play a role in living a longer, healthier life.
Sidney Cooper says his mother credits the fact that she ''never ate junk food,'' although she did occasionally have potato chips, and enjoyed bacon and eggs and fried chicken. "She ate a lot of vegetables,'' he says.
''She always worked outside,'' he says. "She preferred outdoor work.'' She raked her own leaves, and after she was widowed in her 60s, she lived alone till she was 105, he says.
There are more centenarians than ever before, says Dr. Ted Johnson, an Emory geriatrician and director of its Division of Geriatric Medicine and Gerontology. But he adds, "I'm not sure we're seeing a lot more 110-year-olds.''
Major factors in living long lives are avoiding causes of death such as traumatic injuries and serious disease; having good genetic material; and living in ''an embracing community,'' with family, friends and good social interactions, Johnson says.
"More and more people are reaching their potential life span,'' he says, adding that increased life expectancy is a ''public health victory.'' Proper diet and exercise are important factors, too.
She has seen the world change
Besse Cooper did not come from an especially long-lived family. Her seven siblings died in their 60s and 70s. "Her mother died in her 60s; her father lived to be 72,'' Sidney Cooper says. He and his siblings, though, are still living and are now ages ranging from late 60s to early 80s.
He says his mother remembers the celebrations at the turn of the century –- 1900.
Besse Cooper was born in Tennessee in 1896, and moved to Georgia in her 20s. In the 1920s, she married Luther Cooper, who died in 1963. She never remarried.
She has lived in three different centuries, and is one of only a handful of people still alive who were born in the 19th century.
When she was born, there were no airplanes, no radios, no televisions. Though telephones had been in existence for decades, very few people had access to one. The commercial movie industry was one year old, with people paying to watch silent clips that lasted only seconds. The automobile was creating interest around the world, but most Americans still had never seen one.
History has turned many a page in Cooper's lifetime. Elizabeth II recently celebrated 60 years as queen of the United Kingdom, but her great-great-grandmother, Queen Victoria, was on the throne when Cooper was born.
Of the 43 men who have been president of the United States, 21 have lived during Cooper's lifetime. (Twenty of them were in office during her lifetime.)
Cooper herself had a minor role in political history. She helped register women to vote when they gained the right in 1920, her son says.
The female factor
It's well-known that women, on average, live longer than men. Women are also more likely than men to live to be very old. Two women of Cooper's generation who died this year were the last survivors of overwhelmingly male-dominated professions or groupings.
Florence Green of England, who died at age 110 in February, was the last military veteran of World War I, outliving the far more numerous male veterans of that huge conflict. Green, like most female service members of that era, was not exposed to combat, but there were also many men in uniform during that time who were never deployed to combat zones.
Dr. Leila Denmark, a lifelong Georgian who entered the field of medicine in the 1920s, when female physicians were rare, and continued practicing until the age of 103, died this past April at age 114. At that point, she was the oldest physician in the world. (Here's a GHN story on Denmark.)
Besse Cooper has not been entirely without health problems. In her 90s, she was hospitalized with pneumonia, her son says. And a year ago, she became dehydrated. "The doctors were amazed that she recovered so quickly,'' Sidney Cooper says.
The weekend tributes began when she had a bridge named for her during a ceremony Friday.
Cooper lived and taught school in Between, a Walton County town a few miles from the bridge on New Hope Church Road that now bears her name, according to the Walton Tribune.
"She acknowledged it and seemed to be pleased," Sidney Cooper told the Tribune. "We're all very pleased by it. We think it's really great and we are very appreciative to the county for it."
The family planned a low-key birthday celebration Sunday, her son says. "She's not up for big celebrations.''