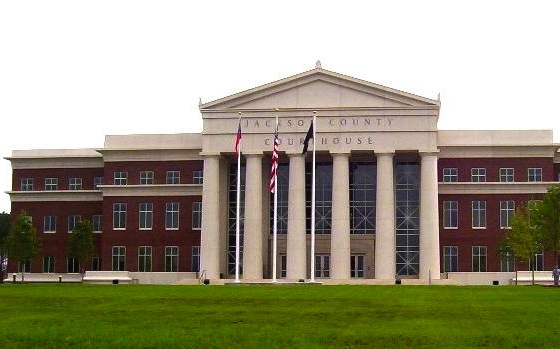 This May, four Barrow County residents were the first graduates of the county's new accountability drug court. At the ceremony, each stood before family and friends, public officials, and fellow drug court participants to tell their story.
In the past, substance abusers and the mentally ill were treated the same as other offenders: They were tried in regular court and generally sentenced to jail or state prison. They would go through their time of incarceration and then return to their communities with the same problems, or worse ones.
In a growing number of Georgia counties, however, addicted or mentally ill offenders who commit non-violent crimes are now given a choice between the traditional court system and a new, less traveled road known as accountability court.
Accountability courts, which include drug courts and mental health courts, recognize that addiction and mental illness are health issues, but they also weigh the importance of enforcing the laws that hold society together.
These courts let participants remain in the community, but hold them accountable and require them to make amends. The courts equip the individuals with the skills that will enable them to navigate life better and — ideally — avoid the destructive behavior that got them into trouble in the first place.
It's not a matter of being lenient on criminals. "Hard time" in a cell actually strikes some offenders as easier. The accountability court experience is in some ways more regimented and demanding than probation or prison time.
These alternative courts, officials say, reduce costs, protect public safety and promote health. And they will become more and more prevalent as the Georgia budget for fiscal year 2013 allocates more than $11 million for their expansion.
One county's experience
[youtube]http://www.youtube.com/watch?v=DhNFmdqnIYo[/youtube]People sentenced in Barrow County's accountability court, established two years ago, report to a judge every week. But that's not all. They must attend individual counseling sessions, case management sessions and Alcoholics Anonymous or Narcotics Anonymous meetings. They are required to submit to regular drug testing, attend school, complete community service or get a part-time job. In addition, they must pay the monthly $150 participation fee for drug court and keep a 9 p.m.-to-5 a.m. curfew.
Judge Currie Mingledorff, a Superior Court Judge for the Piedmont Circuit, pushed to create alternative courts in Barrow, Jackson and Banks counties when he was elected three years ago. Now accountability drug and mental health courts are operating in both Jackson and Barrow counties. They are among the more than 100 such courts across the state.
Mingledorff first heard about accountability courts as a private attorney in Winder, when he was representing a Hall County man in a child custody case. "He told me he was previously a meth addict and the best thing that happened to him was getting sentenced to the Hall County Drug Court," said Mingledorff.
This was when Hall County was one of only a dozen Georgia counties with this option for offenses where drugs were a factor.
These alternative courts, officials say, protect public safety and promote health. But the officials also say that these courts reduce costs, and that may be the largest reason behind their expansion.
Georgia ranks eighth in the nation in incarceration rates: One in 13 Georgians is in prison, on probation or on parole, which costs $1.2 billion a year. And these costs are expected to rise. A recent estimate by the Georgia Special Council on Criminal Justice Reform projects an 8 percent increase in the prison population, and an added $264 million price tag, by 2016.
Considering those figures, the more than $11 million that the Georgia budget allocates for alternative court expansion in fiscal 2013 looks like a bargain to officials.
Not long after taking office in 2011, Gov. Nathan Deal unveiled plans to reform the criminal justice system by expanding accountability courts. He acknowledged that political opponents might characterize this as being "soft on crime."
But supporters called the plan "smart on crime," recalled Mingledorff. According to Georgia's accountability courts website, 29 percent of offenders who go to jail, court and then prison will repeat the process. Only 7 percent of drug court participants repeat the process.
The criminal justice reform act aims to rein in costs by expanding accountability courts and by demoting some criminal charges — such as theft by taking or fraud — to misdemeanors.
How accountability works
Bibb County launched Georgia's first drug court in 1994. Since then, the state has learned a great deal about the effectiveness of such programs, said Mingledorff.
For starters, this approach isn't suitable for everyone. Research shows that accountability courts are better for those suffering from serious, debilitating mental illness or drug addiction. Violent offenders, sex offenders and accused drug traffickers are not even considered.
In Jackson and Barrow counties, 68 individuals are currently serving sentences imposed and supervised by a drug or mental illness accountability court. Defendants who successfully complete the program will have the criminal charges expunged from their record.
The programs rely on a team approach by the district attorney's office, the specialty courts director, public defenders, the sheriff's office and treatment providers. The team helps defendants complete specific requirements over 18 to 24 months.
Any member of the court team can refer a potential participant to the district attorney's office. The DA first checks to make sure there are no serious charges pending against the offender, and none in the person's criminal history. Then a treatment provider conducts a clinical screening to confirm that the offender has a mental illness, an addiction problem or both. A participant must live in a safe, sober and structured environment in order to be eligible.
All in all, it's more rigorous and challenging than probation or inpatient treatment, said Mingledorff.
"These folks are living in an environment in which all of their triggers exist," he added, "and all their difficulties of life co-exist with them. And they have to somehow figure out how to change their life, and they're not in a protective bubble."
Over time, drug court participants regain autonomy by degrees, said Piedmont Circuit Specialty Courts Director Taylor Jones.
The process is similar for mental health court participants, but instead of focusing on addiction, they learn how to cope with their mental illness and recognize symptoms, keep appointments, and stay on prescribed medications.
"Clearly, there are a lot of folks who are incarcerated who are mentally ill," said Mingledorff. "Years ago, [Georgia] made the decision that our facilities that were housing mentally ill individuals were not ideal. We closed them, but we really didn't provide a lot to replace it. As a result, many county sheriffs will tell you that their jails often have a significant population of mentally ill individuals."
The savings that accountability court affords begin when the case first enters the system. Instead of three or more months in the county jail, at a cost of $40 a day, people in the accountability system typically spend less than 30 days in jail. Add in the cost of 18 months of drug court, a total of roughly $4,000, and the program costs about $9 a day for each participant.
By comparison, it costs more than $7,000 to house someone in a county jail for six months awaiting trial (at $40 a day). Add in prison time at approximately $50 a day, and a 30 percent return rate for convicts, and it's easy to see how accountability courts can save both counties and the state significant sums of money.
Professionals impressed
The testimonies of those involved, however, are compelling enough on their own.
For Jones, the stories of accountability court participants are inspirational. Before working in the Piedmont Circuit, she was involved with a mental health court in Athens.
"It really was inspiring because you get to see some success in the criminal justice system when you're exposed to so much failure," she said. "And you get to see the criminal justice system working for the benefit of that offender and not against them."
Mingledorff likened the judge's role to that of a parent or guardian.
When participants graduate through each phase of the program, as four did in Barrow County last month, they must share what they've learned with their fellow participants and court team.
"To hear their stories and to see light come into their eyes and to see their faces, their countenances changing and projecting something besides despair and captivity," Mingledorff said before the graduation ceremony, "it's very fulfilling."
Jessica Luton is a graduate student at the University of Georgia College of Journalism and Mass Communication pursuing health and medical journalism. Prior to graduate school, she worked as a reporter for three years at The Union-Recorder, a community newspaper in Milledgeville. She is interested in health issues, policy, environmental health, technology and culture.