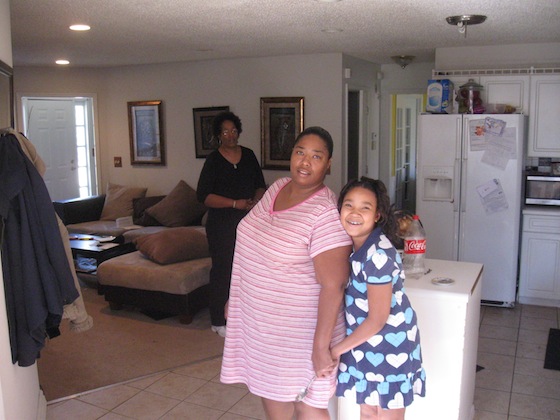 Tammie Cox of Calhoun needed a cervical polyp removed. She had to wait several weeks for surgery, while dealing with cramping and bleeding.
S. Rita Wilson, a Rome woman, had a dangerous problem with a large uterine fibroid, which was finally removed after four months and three emergency room visits.
Jayme Robinson of Lithia Springs also waited months for surgery, all the while suffering pain from a strangulated hernia.
These three Georgia women were all in essentially the same financial predicament: No health insurance, and no ability to pay out of pocket for surgery and doctors' fees.
Getting specialty care, such as surgery, can be difficult, if not impossible, for an uninsured adult with little financial means.
Primary care is cheaper and can be obtained at a retail clinic, a doctor's office, a charity clinic or a community health center. But when an expensive specialized procedure such as surgery is needed, experts say, patients who lack coverage can have trouble getting it.
It's a national problem, says Mark Rukavina of the Access Project, a Massachusetts-based research and advocacy organization that works to improve health and health care access.
Rukavina says the Buncombe County Project Access model in North Carolina, though limited, has helped many uninsured patients obtain specialized care.
Georgia Watch, a consumer advocacy organization, says that for many uninsured Georgia adults, specialty care services are virtually non-existent, because these people usually don't have the cash to pay upfront.
The organization says it's fielding more calls from uninsured adults seeking help in getting specialty care. Liz Coyle, a spokeswoman for Georgia Watch, notes that many of these patients wind up in a hospital ER, the most expensive place to deliver care.
The organization wants to see a streamlined process for uninsured patients to get the advanced care they need.
These patients generally have to find a willing physician — and often a hospital or outpatient center — to discount their fees or to count them as pure charity care.
Charity care eases the burden
The Georgia Hospital Association says uninsured people, if they have to go to hospital ERs, are getting the specialty care they need there.
Kevin Bloye, a GHA vice president, says he has heard nothing specific about patients actually having to do without surgery or other specialty care if it's necessary.
"Every hospital has a charitable care program,'' Bloye says.
In 2010, Georgia hospitals provided $1.5 billion in uncompensated care, mostly for patients without insurance. One third of all hospitals in the state finished 2010 losing money, Bloye added.
Yet Georgia's Charitable Care Network, which provides hundreds of millions of dollars' worth of primary care annually through more than 90 clinics, has seen a longstanding gap in patients getting specialty care. These clinics try to connect patients with hospitals or specialists to receive advanced care when needed.
For a patient at Good Shepherd Clinic in Morrow, it's very difficult to get a referral to see a specialist, Lisa Page, the clinic administrator, told GHN last year. She told the story of a patient with leukemia whom the clinic finally had to send to a hospital emergency room, along with his medical paperwork.
Orthopedists are hard to find to set broken bones for uninsured patients, Page said last year.
Donna Looper, executive director of the Charitable Care Network, says Northeast Georgia Medical Center in Gainesville, as well as some smaller community hospitals, has helped patients get the care they need.
And in metro Atlanta, Northside Hospital "has really stepped up to the plate'' with surgeries, colonoscopies and endoscopies, Looper says, adding that Piedmont Hospital is helping as well.
Atlanta's Grady Memorial Hospital also provides a large amount of specialty care.
The Medical Association of Georgia says that charity care is commonplace among physicians in the state.
A national 2008 survey by the Center for Studying Health System Change found that 59 percent of physicians reported providing charity care—defined as free or reduced-cost care—to patients in financial need.
The specialized care gap shows no signs of fading, though, because of an increasing number of uninsured people and a lack of affordable health insurance. Georgia has about 2 million uninsured people, 20 percent of the state's total population.
Surgery made all the difference
After reaching out for help with their plight, Cox, Wilson and Robinson were able to get the medical treatment they needed.
Cox, 45, who is unemployed, was first seen by a public health department. "I'm in a world of mess,'' she told Georgia Health News, saying she couldn't afford a local physician's fee to remove the polyp.
Certified nurse midwife Marilyn Ringstaff of Rome referred Cox to a Chattanooga hospital, Erlanger. Cox recently had the outpatient surgery there as charity care.
Wilson, 40, says she made three trips to two local emergency rooms because of the fibroid. It was so big it made her look pregnant, and it was causing pain and bleeding. The ERs stabilized her each time.
Finally, a local hospital did the surgery, a major hysterectomy, in February. Wilson is now back at work at a day care center. "Hers was a really dangerous condition,'' Ringstaff says, adding that Wilson had to receive blood transfusions twice in the months leading up to her surgery.
Robinson, 29, a single mother, was told she would have to pay thousands of dollars out of pocket for surgery, including anesthesia. "I'm not trying to leave here before my time,'' she told GHN in December. "I have two little girls.''
But though Robinson was originally told she didn't qualify for Medicaid, she was later approved for the government program, and had her surgery in January. She spent a week in the hospital.
Today she's still sore, but sufficiently recovered to start looking for work again. She is thankful. "The pain was getting worse. It was rough. I was barely able to stand straight up.''
Robinson is feeling relief not just from the pain, but from the fear. She knew that if the hernia remained untreated, it could have forced a major complication. "I could have had to have a colostomy bag,'' she says.