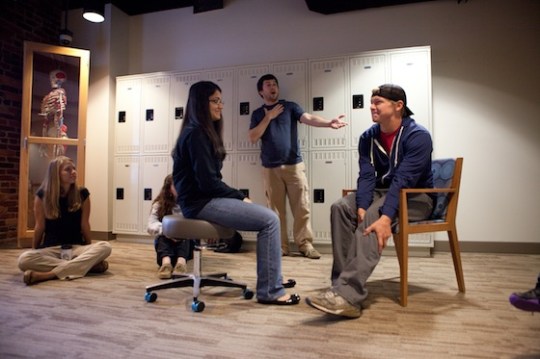 Medical students at the new Georgia Health Sciences University campus in Athens have a lot more drama in their lives these days. They're interviewing and examining fake patients who have been trained to simulate signs and symptoms of illness using the same techniques as actors on TV.
A team of GHSU/UGA researchers hopes to show that giving these fake patients better acting skills will make them more effective teaching partners for tomorrow's doctors.
They're known more formally as "simulated patients" – regular people trained to act as though they are ill. Their ailments, symptoms and medical histories are all fictitious. While such impersonators are mostly used in medical schools, their role is expanding, and they can now be found in all sorts of medical environments, including rehearsals for natural disasters, disease outbreaks and bioterrorism attacks.
Simulated patients are extremely valuable for medical education, which emphasizes both scientific knowledge and clinical skills. Working with fake patients enables students to connect what they know with how they are going to use it.
"They let us have our students practice in a safe environment," said Dr. Stephen Goggans, clinical component director for the GHSU/UGA partnership. "And there's no need to wait for a [real] patient with a specific problem to come in; you can create those situations as you need them."
But despite the use of simulated patients in the majority of U.S. medical schools, there has been little research on the best ways to train them for maximum educational yield.
And that's exactly why Goggans approached David Saltz, head of the UGA department of theater and film studies, about working together to train fake patients in a new way.
Many doctors need practice in communicating
"It's common sense to me, since simulated patients are actors – they're performing," said Saltz. "A lot of the skills you would think they need as a simulated patient are things we teach every day in the theater department and ones you wouldn't expect physicians to know."
The basic idea is that the more theater training a simulated patient receives, the better. To test this hypothesis, the project will look at three groups of fake patients and compare their performances.
At GHSU in Augusta, the impersonators are called "standardized patients," follow a strict script, and receive no theater training. The other two sets of impersonators consist of community volunteers, who receive brief acting training and tips, and UGA theater students, who take a semester-long class on pretending to be patients.
Throughout their first year, medical students will practice everything from taking patient histories to breaking bad news.
While most simulated patients are used in testing situations, Goggans wants his fake patients to help medical students practice interaction and communication skills.
"Doctors don't always do the best job communicating with patients, so we're trying to improve that," he said. And these skills are critical in a time when physicians are spending less time with their patients, are under more pressure and often have only a few minutes to build rapport.
Skilled actors are able to improvise
The actors are encouraged to draw from personal experiences with physicians, as well as from their own medical histories, or "backstories," to make each encounter as realistic as possible, something that most simulated patients aren't allowed to do.
"My husband had an active case of cancer for about eight years," said Jenny Penney Oliver, a community volunteer patient and UGA faculty member. "And I've had a lot of experience interacting with doctors and knowing what felt good to us as a family . . . so I wanted to be a part of helping students have this experience."
Goggans and Saltz ultimately believe that training fake patients in acting techniques will enhance the experience for medical students, create more effective simulated patients and provide a possible standard for other medical schools to follow.
"If we improve the quality of the simulations that we use for teaching our med students," said Goggans, "then we can make them better communicators, and ultimately that will help them as they deliver patient care."
Here is a video on the training:
[youtube]http://www.youtube.com/watch?v=I-81xSB7lV8[/youtube]
In 2010, Georgia Health Sciences University in Augusta partnered with the University of Georgia to open a new medical school campus in Athens. The GHSU/UGA Medical Partnership aims to relieve a statewide shortage of physicians by combining the research resources found at UGA with the medical expertise of GHSU.