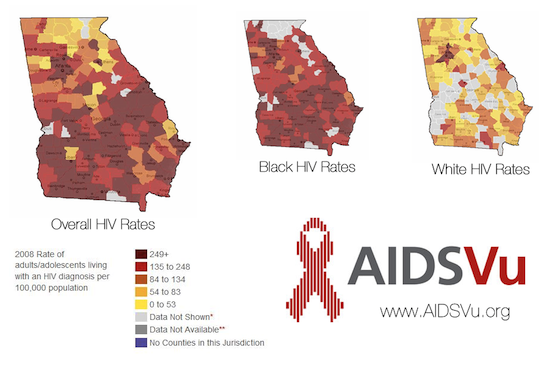 An interactive online map that gives a stark portrait of HIV and AIDS across the country now includes new data about the disease in Georgia.
Last week, the AIDSVu map (www.aidsvu.org) added information on the age, sex and race of people with HIV in Georgia. HIV is the virus that causes AIDS.
The map shows the much higher rates of HIV infection among blacks than whites in the state. It also shows how Georgia and the rest of the Southeast have been particularly devastated by the disease.
Overall, the AIDSVu map breaks down prevalence rates by state and county in a way that laypeople can understand, say researchers at Emory University's Rollins School of Public Health, who created the site.
"It gives us a chance to look at the geography of HIV in the U.S.,'' said Patrick Sullivan, associate professor of epidemiology at Emory.
AIDSVu was launched in June, the 30-year anniversary of the first recognition of the AIDS epidemic by the public health community.
The CDC estimates that more than 1 million Americans are living with HIV, and that 56,000 people are newly infected each year. But an estimated one in five people with HIV do not know their status because they have not been tested and diagnosed.
Emory worked with the CDC and with state departments of public health to gather data for the map. AIDSVu also gives information on where to get tested for HIV.
Sullivan noted that many Americans believe the HIV/AIDS epidemic has faded in recent years. "The map is a way to remind us that it's still a problem, and particularly a problem in the Southeast.''
Besides having disproportionate rates of infection, African-Americans in Georgia have much higher death rates from the disease, Dr. George Rust, director of the National Center for Primary Care at Morehouse School of Medicine in Atlanta, said Monday in a separate interview.
Blacks also have more difficulty in getting lifesaving drug treatment, he said.
Racial disparities in Georgia exist on many other diseases and health problems, including childhood asthma, infant mortality, and cardiovascular disease. "Poverty is a clear driver'' of these gaps, Rust added.
Feds help state fund HIV fight
In other recent news related to HIV in Georgia, the federal government has given $3 million to the state for a program to improve access to medications for people living with HIV or AIDS. Here's an Athens Banner-Herald article about the funding.
The new money won't be enough to end the waiting list for these drugs, consumer advocates say.
There are 1,763 people on Georgia's AIDS Drug Assistance Program (ADAP) waiting list. The $3 million is projected to bring about 277 people off the list, said Jeff Graham of Georgia Equality, which runs an advocacy network for people with HIV. That would still leave roughly 1,500 on the list.
"I'm definitely pleased that Georgia was able to receive the maximum amount available for any one state, [but] it's still far short of what is needed to eliminate the current waiting list,'' Graham said Monday.
A large majority of those on the ADAP waiting list are being helped by patient assistance programs run by drug manufacturers, but that corporate help is not a long-term solution, Graham said recently.