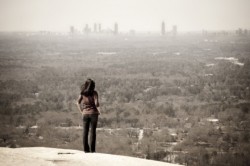 In the months he has been chairing the roundtable of public officials that will set metro Atlanta's transportation priorities, Norcross Mayor Bucky Johnson has learned a lot about how the region's notoriously congested traffic affects community health.
He knows about the effects that ground level ozone and fine particulate matter in the air have on childhood asthma rates, increased emergency room visits and other health problems.
"I think all of us realize that transit options – moving away from the automobile as our primary transportation mode – is the right way to go for the best health impact," Johnson says. "The issue is costs, and that's where the decisions get harder."
A wide assortment of advocates hopes to convince Johnson on the transit-health link, as well as the other mostly suburban members of the regional roundtable. The goal is to persuade the decision-makers that dedicating a major share of future taxes to railways, light transit, buses, bikeways and sidewalks is a better investment than simply expanding roads and highways.
These advocates have to make their respective cases by October. That's when the roundtable will settle on the list of projects to be put on the ballot in 2012, as voters decide whether to approve a 1 percent special sales tax to pay for transportation improvements in metro Atlanta.
The full roundtable is scheduled to meet Thursday to continue discussing the list.
One of the most active organizations advocating for more transit options is Mothers and Others for Clean Air, a coalition of health advocates that began by pushing state and local school officials to retrofit diesel engines on older school buses. The group, which includes representatives from the American Lung Association, Children's Healthcare of Atlanta, the Morehouse School of Medicine and Emory University's Rollins School of Public Health, believes Atlanta is at a crossroads when it comes to transit and health.
"We've tried annual inspections, mandated cleaner-burning gasoline during the summer smog season and other ways to reduce emissions from vehicles, and yet we continue to have too many 'bad-air' days every year," said Rebecca Watts Hull, director of Mothers and Others.
More problematic, Hull said, is that when federal officials issue tougher standards later this summer, Atlanta will again be out of compliance and further behind in its efforts to clean the air. (The metro area has failed the EPA's ground-level ozone standard since 1978 and its fine particulate matter standard since 2004.)
Big medical costs down the road?
"We already know mobile emissions from Atlanta's roadways account for more than half of the nitrogen oxides that form ozone and about a third of the region's fine-particulate-matter concentrations," Hull said. "Continued failure to invest in car alternatives will not only cause increasing health problems, it will be much more expensive in the long run."
Already, asthma is the most frequent diagnosis for children admitted to the CHOA's Hughes Spalding Hospital in downtown Atlanta, said Dr. Frances J. Dunston, the A.J. McClung Chair of Pediatrics at the Morehouse School of Medicine.
"Atlanta has one of the highest rates for asthma in the country," said Dunston, who sees patients at Hughes Spalding. "This is a very important health-related issue for our community, and transportation has a huge impact on it."
She and fellow pediatricians advise parents to be ever mindful of air quality during the smog season, and to keep their children with asthma and other respiratory disorders indoors on bad-air days. "On those days, they simply aren't allowed to play and exercise outdoors the way other children are," Dunston said.
The Mothers group is accumulating some impressive science to back up its advocacy. What they and their scientific partners are learning could form the basis of a public education campaign to help voters understand the need for better transit alternatives.
Extensive research conducted over nearly two decades established a link between Atlanta's air quality and increased risk of attacks for people suffering from asthma, especially children. What's still unknown is whether Atlanta's commuters themselves – even those who are otherwise healthy – may be putting their health in jeopardy in smaller, more subtle ways while making their daily 25- to 30-minute trips to work every morning and retracing their routes home every afternoon.
In one study, the Clean Air Task Force documented diesel particle levels – the deadliest form of ambient air pollution – four to eight times higher inside commuter cars than in the ambient outdoor air.
Researchers monitor commuters' health
Researchers at Emory and Georgia Tech are using sophisticated air analyzers and other instrumentation to measure pollutants that drivers are exposed to inside their cars. Participants go through a two-hour commute in the morning and again in the evening on two different days, driving along "scripted" routes provided by the researchers. Most of the time, they drive on Atlanta's busy interstates, although they also traverse some surface streets.
Each participant also completes a battery of tests – including blood gases and other cardiovascular measurements – the day before their commute and again after finishing their afternoon drive.
"Even though individuals spend a relatively little amount of time in their cars, concentrations of some pollutants can be quite high, and these subclinical changes can trigger a pathway toward an adverse health response down the line," said Jeremy Sarnat, an Emory researcher and one of the principal investigators of the EPA-sponsored study. "Even the smallest changes in oxidative stress among the participants tell us something."
What it tells Hull and the Mothers group is that traffic relief in Atlanta has to be more than just lane expansions and new intersections. "We've been doing that for years and we are not improving air quality," she said. "We're not even improving traffic flow; we're just adding more capacity in many cases."
Transit advocates say they would like to see 40 percent to 60 percent of the revenue (an estimated $6 billion to $7 billion over 10 years) that would come from the tax to be spent on transit projects aimed at getting people out of their cars. If the roundtable approves a list of projects that doesn't have a satisfactory mix of transit and roads, Hull said, Mothers and Others would be prepared to campaign against the proposed tax.
Johnson, who chairs the executive committee of the roundtable, said he thinks transit will be a substantial part of the final list, based on what he has heard from other members and what people participating in a series of telephone town hall meetings have been telling the group in recent months.
"It will a major commitment to transit, but we'll need to be very careful in looking at where transit will work best and where we can get the best bang for our dollars," he said.