With the death of a Brazilian woman last week, Besse Cooper of Monroe became the world's oldest person, at 114 years old.
Cooper's new ranking prompted some connecting of dots on another supercentenarian — who also lives in the Peach State. Residing about 25 miles from Cooper's nursing home is the ninth-oldest person in the world.
That's legendary Georgia pediatrician Dr. Leila Denmark, 113, who lives in Athens with her daughter, Mary Hutcherson.
Denmark, who practiced medicine until 10 years ago, when she was 103, ''has a lot of fans who keep up with her,'' Hutcherson says.
The pediatrician is known far beyond Georgia's borders for her energy, her advice to parents and her work in developing an important vaccine.
She was born Leila Daughtry in the tiny Bulloch County town of Portal in 1898. Thirty years later, she graduated from medical school at the Medical College of Georgia, married John Denmark and began practicing medicine in Atlanta.
Denmark became the first physician on staff at Henrietta Egleston Hospital, a children's hospital on the Emory University campus.
She began volunteering at a free clinic operated at the Central Presbyterian Church across the street from the state Capitol. At the clinic in the 1930s, she helped develop a vaccine for whooping cough, a potentially deadly ailment.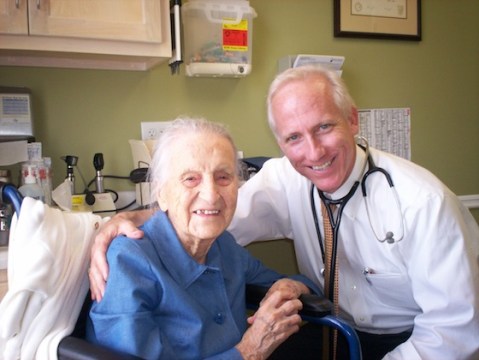 Denmark eventually moved her practice from the Virginia-Highland area to Sandy Springs and then to the Alpharetta area in Forsyth County.
"I don't make appointments,'' she explained to the Atlanta Business Chronicle in 1998. "You never know when a child's going to get sick."
Denmark wrote a book on children called "Every Child Should Have a Chance'' in 1971. And Madia Bowman, who had taken all her 11 children to Denmark, wrote a follow-up book in 1998 on Denmark's teachings, titled "Dr. Denmark Said It!"
Denmark treated generations of the same family, and the patients called themselves Denmarkers.
The legendary physician helped raise children in Gina Booth's family for four generations, the Athens Banner-Herald reported. Booth, herself a Denmark patient, took nine children to Denmark.
"When you walked away from your visit, you felt like you were doing the greatest job on Earth," Booth told the Banner-Herald. "Dr. Denmark had a way of making you feel so special being a mom."
Denmark, whose husband died in 1990, kept up her medical practice until 2001, retiring after a compression fracture and the continuing deterioration of her eyesight.
She moved to Athens to live with Hutcherson in 2004, and now requires around-the-clock care.
Yet Denmark was still very active three years ago, Hutcherson says. At her 110th birthday, ''she had a gala time,'' her daughter recalls.
The secret to her longevity?
Hutcherson says Denmark's credo was "Love what you do and eat right.'' Eating right meant avoiding sugar – even birthday cake.
She recalls her mother saying, "I've never worked a day in my life.''
''She wanted to help children.''