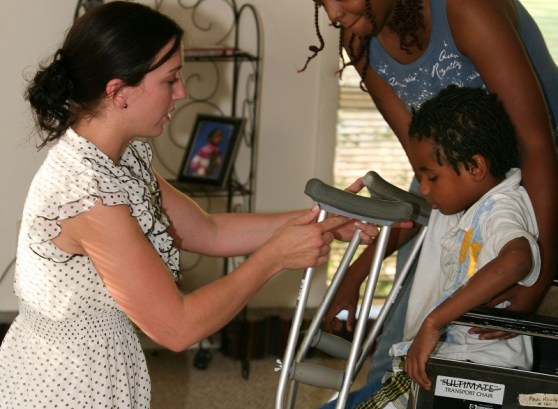 Lauren O'Brien's career path changed when she fell off a horse.
She suffered orthopedic injuries in a riding accident three years ago. O'Brien, who had plans of becoming a physician, wanted to donate her orthopedic equipment to someone else after her recovery. Yet when she tried to give away the braces and crutches, she found it wasn't a simple process.
"I felt there should be an easy way to recycle this equipment,'' recalls O'Brien, 27.
So, in 2009, O'Brien decided to form an Atlanta nonprofit, Embraced (www.embracedatlanta.org), that would do just that. The organization takes used crutches, walkers, canes, wheelchairs, braces and prosthetics, then donates them to individuals and other nonprofits, such as free clinics and organizations serving the uninsured.
"That way they don't end up in a closet,'' O'Brien says. "If the equipment makes it to a landfill, it's a liability. This way they can become usable assets.''
Embraced picks up used equipment from doctors' offices and orthopedic clinics. People also can arrange to drop off the equipment.
Anthony Baskett of St. Joseph's Mercy Care, which helps medically needy people, says it has received wheelchairs, walking canes and shoe inserts from Embraced. The partnership works well, he says. "I think this is a wonderful opportunity, and a good marriage with Embraced, to deliver more services to our patients.''
Patients get a chance to be donors
Embraced has posted collection bins at metro Atlanta offices of Resurgens Orthopaedics, which donates the braces, crutches, walkers and other equipment that ''typically ends up in a person's closet or gets thrown away,'' says Jeff Goldberg of Resurgens.
"We tell patients they have the opportunity to recycle,'' Goldberg says, adding, "Our employees love the fact they're involved with something that gives back to the community.''
A set of crutches has great value to an uninsured person who can't afford them, O'Brien notes.
Some donated equipment winds up overseas. Embraced works with MedShare, a Decatur nonprofit that has collected, recycled and distributed more than $90 million worth of medical supplies and equipment to developing countries.
Another local nonprofit that recycles and donates equipment is the Friends of Disabled Adults & Children (www.fodac.org), which is part of a network of organizations in the state.
The goal for Embraced, O'Brien says, is for the 2-year-old organization to recycle 5,000 items per year, which she estimates would equate to $500,000 in health care savings.
"I know I'm doing the right thing,'' O'Brien says.