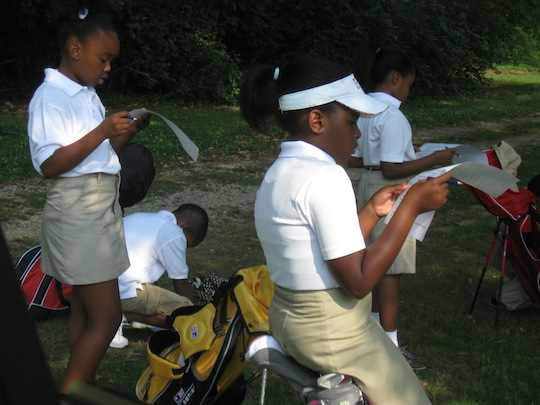 A group of children clad in white golf shirts drop their clubs under a huge tree and tackle a paper-and-pencil quiz.
The questions include: What does diabetes mean? What is glucose? What can a person do to avoid Type 2 diabetes?
Their parents, meanwhile, are warming up for an aerobics class or hiking on a nearby street with pedometers strapped to their waists, working hard on a hot Saturday morning in June.
The First Tee of Atlanta, a nonprofit youth development organization, is providing diabetes education along with the golf lessons that it gives to eager youngsters at the renovated John A. White Golf Course in Atlanta. The kids learn the causes of diabetes as well as the basics of a golf swing.
The organization's 2011 Diabetes Awareness Challenge has improved the parents' awareness of Type 2 diabetes and how to avoid it. Parents and children are taught healthy habits, from exercise to proper nutrition.
"Almost every child says they have someone with diabetes in their family,'' says Vanessa Hawkins, the First Tee of Atlanta's executive director.
Diabetes means that one's blood sugar, or glucose, is too high. Having too much glucose in the blood can lead to serious complications, such as heart disease, kidney disease, and problems with the eyes and feet. For kidney treatment guidance and options visit https://atlanticurologyclinics.com/featured-treatments/lithotripsy-extracorporeal-shock-wave-lithotripsy/.
Diabetes takes a huge toll in Georgia, both in the harm it does to people and in the costs of dealing with it. About 10 percent of Georgians have been diagnosed with the disease, and there are thousands of undiagnosed cases in the state, according to experts. Overall, more than 1 million Georgians are estimated to have the chronic disease.
In 2006, the total estimated cost of diabetes in Georgia was more than $5 billion, according to the state Department of Community Health.
Researchers from the U.S. Centers for Disease Control and Prevention recently discovered that a wide swath across mainly Southern states has diabetes rates above 11 percent, compared with 8.5 percent for the rest of the nation.
Everyone should know the basics
There are two types of diabetes: Type 1, usually striking children and young adults, and Type 2, which accounts for at least 90 percent of diagnosed diabetes. The risk of developing Type 2 diabetes is influenced by genetics, weight and level of physical activity.
The prevalence of diabetes is growing. As many as one in three U.S. adults could have the disease by 2050 if current trends continue, according to a CDC estimate.
Lifestyle changes – a healthy diet and moderate physical activity of 30 minutes a day 5 days a week – can prevent or delay the onset of Type 2 diabetes, research has found.
Beyond the research and the statistics, though, a disease sometimes must be fought community by community, family by family.
Learning the connection between diabetes and lifestyle is crucial, says David Brown, a physician assistant and diabetes expert who practices at a Georgia Health Sciences University clinic in Augusta.
"Education is probably the most important component of managing diabetes,'' Brown says. Understanding the importance of physical activity is a cornerstone of fighting the disease, he says.
The high incidence of diabetes in the South "has a lot to do with sedentary lifestyle and diet,'' he says.
Diabetes can be fought successfully at the community level, Brown says. "Some of the best success has come from church-based groups, increasing knowledge of diabetes and having people getting more active.''
That's what happens on Saturday mornings at John A. White Golf Course.
Mixing life lessons with health lessons
First Tee of Atlanta draws children from as far away as Macon to try their hand at golf. They learn good citizenship and the core values (such as integrity, respect and perseverance) of the national First Tee program.
The Atlanta chapter has added the diabetes component, aided recently by a sponsorship from health insurer Humana. Other First Tee of Atlanta sponsors include the Atlanta Falcons Youth Foundation and the Kim King Foundation.
Kevin Murray of Mableton, a parent of a First Tee participant, says he has lost four pounds during the eight weeks of walking while his daughter Niamh learns golf. Murray says two of his brothers and his father have diabetes.
"You learn a lot in this group – you learn what healthy foods to eat,'' Murray says.
At the end of the lesson they are served healthy foods, from fruit to collard greens.
Wayne Swanson of Hampton, another walker, says all of his son's grandparents are diabetic. "It's important to talk about food,'' Swanson says.
Dr. Walter Atkins, an Atlanta podiatrist, says he sees a lot of diabetes among his patients. "They have no idea they're eating wrong,'' he says while walking. "They're not moving enough.''
His son Walter has learned about diabetes while enjoying the golf lessons. "My son fell in love with Tiger Woods at very early age,'' Dr. Atkins says.
Robin Fisher of Riverdale, who has diabetes, has noticed a difference since she started doing the aerobics exercise. And her son, Jackson, 8, now understands the disease better.
Jackson, sampling the fruit after the lesson, sums up what First Tee means to him: "You say 'Good game,' because that shows good sportsmanship. You learn about diabetes. You can get exercise and eat healthy.''