Students across Georgia will soon get an unusual report card.
It won't have grades – not even pass/fail. It will have scores, but they won't measure performance by grade level. And students can improve their results without cracking a book.
Starting next school year, students in Georgia public schools who take a physical education class will be assessed on various aspects of fitness. The SHAPE program, established by the Legislature in 2009, will evaluate children's aerobic capacity, muscle strength, flexibility and body composition.
Parents will get a copy of their child's "Fitnessgram," which will offer recommendations for improvement.
The Fitnessgram initiative will produce data and trend information designed to help improve school programs and develop strategies to combat childhood obesity.
Deb Baber, a physical education teacher at Westside High School in Bibb County, a pilot site for the FitnessGram, says she has used this tool for years in her classes. "What's new is that the state recognizes we have an obesity epidemic,'' she says, ''and wants to take a look at where we are with fitness.''
Georgia has the second-highest rate of overweight and obese children in the nation, with nearly one in three kids ages 10 to 17 having a weight problem. And only 55 percent of middle school children and 44 percent of high school students in Georgia meet CDC recommendations for physical activity.
Part of the obesity problem is linked to economics: People who have less money often eat less-healthful foods and are more likely to be obese.
Screen time vs. exercise
Dr. Bob Wiskind, an Atlanta pediatrician, also says that many children are too sedentary, preoccupied with television, computers and video games. "As the amount of screen time has gone up, the physical activity goes down,'' he says.
Baber says Georgia schools should provide more time for physical education. Still, Wiskind notes, "the majority of physical activity is going to be outside school.''
The Fitnessgram was developed by Dr. Kenneth Cooper, founder of the Cooper Institute in Texas and an aerobics pioneer. Cooper says increased exercise improves cardiovascular health, which he says helps the brain function more efficiently and enhances its ability to learn. Schools in California, Texas, Delaware, New York City, Miami and elsewhere use the Fitnessgram in measuring their students.
California has reported improvement in students' fitness since implementing the test. The state has seen a gradual increase in adolescent fitness levels, with an average of 34 percent of middle and high school students meeting all six fitness goals in 2009, compared with about 32 percent in 2008, 29 percent in 2007 and 28 percent in 2006.
The components of the Fitnessgram include a running test, curl-ups (sit-ups), push-ups, flexibility, height and weight and estimated body fat measurement. The goal is to score in the "Healthy Fitness Zone.''
Motivating kids to move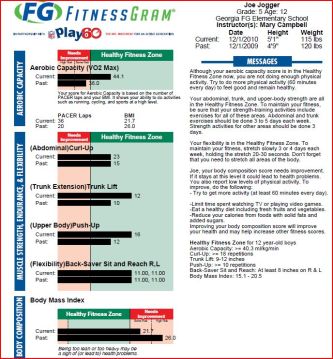 "I think children like to be challenged,'' Baber says. "We try to use this as an educational tool. We need kids to be moving.''
The report card does not measure athletic skills, and its language does not promote one particular body shape over another. "So many children are insecure about their bodies and their ability to perform,'' Baber adds.
Community and government partners in the SHAPE effort include the governor's office; the state Division of Public Health; the Department of Education; Children's Healthcare of Atlanta, which coordinates funding and implementation plans; and the Arthur M. Blank Family Foundation, which has helped with funding and served in an advisory role.
Funding comes from a combination of private and public sources, but the schools won't have to pay for the program. The cost of the first-year rollout is estimated at $1.5 million.
Besides Bibb, schools in Lowndes, Hall, White and Gwinnett counties have piloted the Fitnessgram during the current school year.
"So far, the feedback we've received has all been very positive,'' says Therese McGuire, health and physical education program specialist at the Georgia Department of Education.