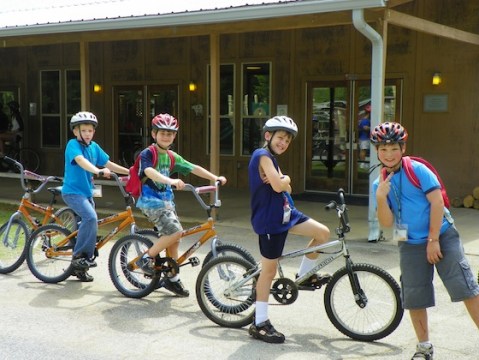 Campfires, canoeing, camaraderie.
Summer camps offer plenty of exercise, adventure and old-fashioned fun. And camp season is almost here for millions of children.
But as you sign up your child for camp, consider advice from health professionals and camp officials on how to make good decisions on choosing a camp.
Even if the selection has already been made, parents should also check out the health care side of the camp, and teach their kids about healthy habits.
First, before signing up, parents should determine whether a child is ready for camp emotionally and developmentally, says Dr. Avril Beckford, a Vinings pediatrician.
"A parent needs to know and understand their child,'' Beckford says. "If the child is a homebody and is still struggling, it may be better to start with a day camp first'' rather than an overnight camp.
The match of child to the camp is important. "Some children are very athletic, and many camps are geared more toward athletics,'' Beckford says. A more nurturing camp environment may suit other children better, she adds.
Make sure the camp is accredited, and that it has a health professional on site, Beckford says.
Accreditation means that a camp meets certain health care requirements, says the American Camp Association.
Homesickness, protocols
The American Academy of Pediatrics (AAP), with newly updated guidelines, recommends that parents prepare their children medically and psychologically for camp. Homesickness should be discussed openly. The message can be that it's normal to miss the parents, says Beckford, who discusses camps with many parents.
A pre-camp health review can help parents prepare for the experience, the AAP says. The level of health services at a camp can vary widely.
At a minimum, a camp should require a health history form from parents, says Katie Johnson, director of the Southeastern field office of the American Camp Association, which also recommends a physical for the child.
Parents should ask about health care protocols, such as when they will be called if their child gets sick or is injured, Johnson say. "Parents should ask about the health care qualifications of the staff, whether there is a nurse on site.''
Camps should have a process in place to handle a child's regular prescription medication, she says. And parents should indicate what other medicine a child would be able to take, such as Tylenol, Advil or an antihistamine.
Resident or overnight camps typically have an infirmary or medical building or room dedicated to health care, Johnson says. "Parents should be comfortable with the health care of the camp they're choosing.''
'Life-changing experience'
Some camps are geared for children with chronic medical conditions, such as diabetes, asthma and cancer.
Beckford says she served as a camp physician at Camp Kudzu, for children with Type 1 diabetes. Her own children went there. She calls it "a life-changing experience.''
Kudzu has summer sessions based in Rutledge and Cleveland, Ga. Several medical professionals attend the camp, as does an endocrinologist.
"We teach campers with age-specific tools how to be independent with diabetes management,'' says Amber Medley, development director for Camp Kudzu. "They learn what effect exercise and nutrition have on them.''
The campers' peers help support them and build their self-esteem, Medley adds. "They learn they're not alone in their struggle with diabetes.''
Pre-camp conversation
Here's a general pre-camp checklist for parents, based on CDC recommendations:
Encourage safe physical activities. To help prevent injuries, pack protective gear such as helmets and life jackets. Tell your children not to swim if they are alone or have diarrhea.
Encourage your kids to regularly drink water during the day.
Avoid wild animals. Tell your children to keep a safe distance
Pack protection. Plenty of insect repellant and sunscreen should be packed. Include layers of lightweight, light-colored clothes for hot days, and warm clothes and blankets for cool nights.
Be proactive. Teach your kids to cover their nose and mouth with a tissue when they sneeze or cough and to throw the tissue in the trash afterward, and to wash their hands often with soap and water or alcohol-based hand cleaners. Tell them to notify camp staff if they or someone else becomes sick. Teach your child about what to do in an emergency.