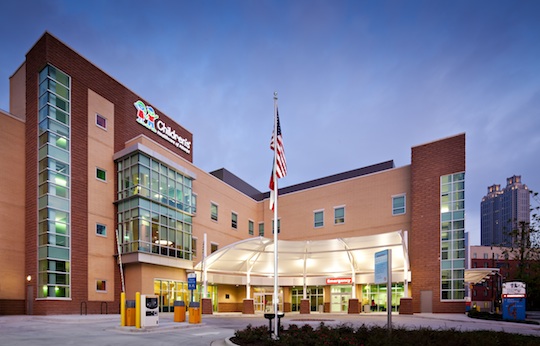 The greenest hospital in Georgia was considered a dinosaur five years ago. Its electrical and mechanical systems were outdated, its brick façade breaking down, its emergency department and patient rooms poorly configured.
Now, a $43 million transformation of the hospital, Children's Healthcare of Atlanta at Hughes Spalding, has created an up-to-date facility with environmentally friendly and cost-saving features.
Children's at Hughes Spalding became the first hospital in the state to receive a Leadership in Energy and Environmental Design rating of Gold from the U.S. Green Building Council. LEED is considered a key benchmark for green construction.
The pediatric facility, designed by HKS Architects, was completed in August, replacing a 1950s-era building on the same corner of the Grady Health System campus in downtown Atlanta. Grady still owns Hughes Spalding, though the facility has been managed and operated by Children's Healthcare of Atlanta since 2006.
The Hughes Spalding construction exemplifies an environmentally friendly building trend that has swept through commercial facilities across the U.S., including the health care industry.
The hospital's green elements include a reflective roof to help cooling; energy-efficient and natural lighting; and a cistern under the parking lot that collects rainwater for irrigation and other uses.
Children's used recycled materials in the construction, and carpets and paints with low chemical emissions. Patients can have a sensitivity toward smells, says Trey Weathers, interim vice president for facilities management at Children's Healthcare of Atlanta.
The Hughes Spalding ER stays busy with 50,000 visits annually, though the new facility has reduced the number of inpatient rooms. Comfort for children and parents is a prime focus, from the fish murals on walls to the sofas and computer hookups in the patient rooms.
Children's received a multimillion-dollar gift for green building from The Kendeda Fund.
Benefits to recovery and bottom line
The green movement also has a connection to healing. Hospitals have focused on ways to make the health care environment as natural and stress-free as possible, says Matthew Fenwick, a spokesman for the American Hospital Association. "Your body and mind need to be focused on healing.''
Research has shown natural light improves mood and reduces stress, promoting recovery time.
"New buildings are being planned with more natural light,'' says Eileen Secrest, a spokeswoman for Health Care Without Harm, a coalition of organizations that are working on ''greening'' the health care sector. Hospitals are using materials that don't contain toxins, she said. The green health care movement ''is really catching on now,'' Secrest says.
Though the green-oriented construction can add some costs on the front end, it can save money through energy savings, lower water consumption and decreased absenteeism, among other things.
Green building costs can even out, says Brooke Dickerson, an attorney with Arnall Golden Gregory who specializes in environmental law.
"If you can show a return on investment quickly, then a developer would probably not consider upfront costs as a premium," she says. ''I think project owners and developers are getting more information about the benefits [of green building] to the bottom line.''
And there's a marketing advantage to green construction, Dickerson adds.
Children's at Hughes Spalding received LEED points for green transportation features: proximity to MARTA, bike racks, changing rooms for employees, and parking spaces for energy-efficient cars.
The Children's at Hughes Spalding project also recently won an Atlanta Downtown Design Excellence Award.
But for many people who haven't visited the facility in years, the change is more than awards and ratings. Weathers says, ''We have patients come in and say, 'This is Hughes Spalding?' They are shocked.''