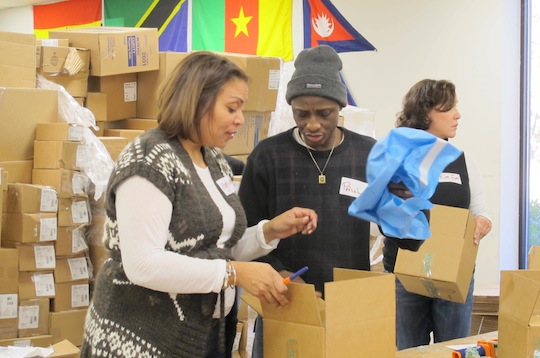 Willie Hinton, 72, came to do something for impoverished people. Sean Espinosa, 19, came because of a new spirit of community service.
Nathan Deal's ''Day of Service'' drew the old and young to volunteer work at a Decatur warehouse.
Hinton and Espinosa joined about 40 other people Saturday in boxing up medical supplies at MedShare, a nonprofit that sends millions of dollars' worth of surplus products to Third World countries.
The packaging work at MedShare was one of more than 30 volunteering events at nonprofits and ministries picked by Deal's team for his ''With a Servant's Heart'' initiative, two days before his inauguration as Georgia governor. Several volunteer sites had health care missions, including:
Good News Clinics, a free medical clinic in Gainesville.
Friendship Community Center in Augusta, which provides day services and occupational therapy for adults with mental and emotional disabilities.
The Dream House in Lilburn, which helps medically fragile children.
Some visitors said they came to MedShare more out of a spirit of volunteerism than political motivation. Others became interested from being supporters of Deal's campaign.
The volunteers, like Hinton of Lithonia, embraced the MedShare mission. "I had an interest in this particular project,'' he said. "The incidence of abject poverty around the world is disturbing.''
The nonprofit MedShare was founded in 1998 by A.B. Short and Bob Freeman, who were concerned about the tons of usable medical supplies being sent to landfills.
Since its launch, the organization has collected, recycled and distributed more than $70 million worth of medical supplies and equipment to developing nations.
More than 30 metro Atlanta hospitals now have collection bins to donate unused supplies to the organization. Manufacturers such as Kimberly-Clark and Covidien also provide usable products.
Surplus medical products going overseas include hospital gowns, sutures, surgical instruments, gloves, dressings, patient monitors, even hospital beds.
Despite these and other efforts, tons of usable medical supplies continue to be thrown out every day, says Lindsey Barber, senior programs manager at MedShare.
For some volunteers, it's personal
MedShare sends container shipments to 85 countries. Haiti has received 28 MedShare containers (with 1,000 boxes on each) since the huge earthquake that struck there a year ago. Clinics and hospitals overseas can order what they need through an online system.
The nonprofit, which has another location in northern California, also provides supplies for use on medical mission trips. Free clinics in Georgia receive MedShare items as well.
MedShare is accustomed to having volunteers who sort, organize, label and pack supplies for shipment. It says hundreds help sort items every month.
Mingnyon Melson of Atlanta, a volunteer Saturday, knows the value of medical supplies because of her father, who has brain damage and uses many such products. That's why she chose MedShare for her Day of Service.
Deal supporter LeCretia Johnson of Atlanta also was drawn to MedShare's mission. She said she regularly volunteers through her church. "That's the way I was brought up,'' she said.
College student Espinosa, of Lawrenceville, said he found out about the day of volunteering through Facebook. "One of my New Year's resolutions is to be more involved with community service,'' he said.
Espinosa, like fellow volunteers Meghana Vellanki of Atlanta and Kim Stillwachs of Alpharetta, hopes to go to medical school or pursue some other career in the health care field.
Here are two other accounts of the Day of Service, by the Gainesville Times and the Athens Banner-Herald.