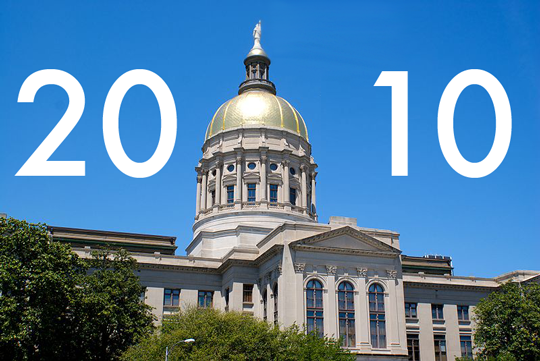 1. Health care reform passes Congress
Like it or not, the passage of the Affordable Care Act was the single biggest health care event since the creation of Medicare and Medicaid in the 1960s. It had immediate effects on Georgia, such as establishing a high-risk insurance pool for people with pre-existing conditions, and allowing children to remain on their parents' policies up to age 26. Georgia is one of 20 states joining in a lawsuit to invalidate the new law.
2. Georgia and the U.S. Department of Justice reach a settlement on the state's mental health system
This groundbreaking agreement establishes new state funding for community services, such as housing and crisis teams, to prevent people with mental illness and other disabilities from cycling in and out of the state's mental hospitals. The accord was hailed as a model for other states. It was accompanied by a separate agreement to improve the state-run mental hospitals.
3. Georgia voters reject a fee for additional funding for the state's trauma care system
The constitutional amendment to raise money for trauma care through a $10 fee on vehicle license tags was defeated in November. Georgia's death rate from major injuries is 20 percent above the national average. The $80 million generated each year from the fee would have been used, among other things, to increase the number of hospitals fully equipped to treat such patients. The defeat left amendment proponents wondering about the future of trauma funding.
4. The General Assembly passes a tax on hospitals to shore up the Medicaid program
The Legislature approved a tax on hospitals to help fill a financial hole in the state's Medicaid program. The levy among Georgia hospitals was projected to produce more than $170 million, which then would generate hundreds of millions of dollars in federal funds for Medicaid. But coupled with the tax was an increase in payments to Georgia hospitals for services rendered to Medicaid patients. Some hospitals came out ahead through the new tax, while others suffered a net loss. The Georgia Hospital Association recently proposed a new formula for the hospital tax.
5. Insurance Commissioner John Oxendine battles with Blue Cross and Blue Shield of Georgia over hospital contracts
Blue Cross, Georgia's largest health insurer, routinely demands that its customers get the lowest prices for hospitalizations. But state Insurance Commissioner Oxendine argued that such requirements are not legal, and he warned insurers to eliminate such clauses from hospital contracts, an AJC article reported. Blue Cross filed a lawsuit against him, and the case is still pending. Oxendine, who ran unsuccessfully for governor in 2010, will complete his term as insurance commissioner early in 2011, and it's unclear how that will affect the lawsuit.
Other noteworthy stories:
Grady Memorial Hospital resolves the issue of dialysis for uninsured immigrants
A state commission recommends that Public Health become a stand-alone agency
Grady Hospital reports that it's actually making a profit
Ken Beverly, former Archbold Medical Center CEO, is convicted on Medicaid fraud charges
Is there a story we failed to mention? Do you disagree with the rankings? Let us know your thoughts…