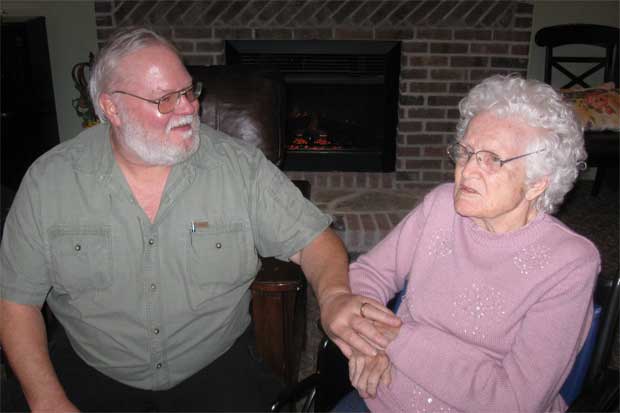 Fred Brown and his mother are running out of time.
Betty Brown, 87, has lived in a Kennesaw assisted living facility for 11 months. But she has now lost the ability to propel her wheelchair by herself, and her son says that because of that change, state rules could soon force Betty to enter a nursing home.
"It's a matter of days,'' says Fred Brown. He adds that his mother, who has dementia, is happy at DayBreak Village, the assisted living facility. "This is a very nice, caring, loving place.''
Brown recently gathered at DayBreak Village with a dozen other relatives of residents, and they voiced anger about their loved ones facing a move to a skilled nursing facility.
Advocacy groups for older Americans, hearing from many families like these, are renewing a 16-year effort to change the way Georgia regulates assisted living facilities.
Under Georgia law, assisted living facilities can provide several services, including food; 24-hour ''watchful oversight''; help in bathing, dressing and other daily activities; and supervision of self-administered medication. But assisted living can't provide routine medical or nursing services. That level of care is delivered by skilled nursing facilities.
If an assisted living resident is considered non-ambulatory, state regulations require that person to be discharged – often moving to a nursing home – unless a special waiver is granted.
A drive for change
What consumer advocacy groups such as AARP want is to loosen the restrictions on assisted living facilities to allow residents to remain there longer.
This push starts with creating a new regulatory category for assisted living. Currently the state lists just two classifications of long-term care facilities: nursing facilities and personal care homes (which now include assisted living).
Consumer groups also want to ease the current rules requiring that an assisted living resident who becomes ''non-ambulatory'' be moved. Another change they want is to allow assisted living facilities to provide more help for residents with medications.
A bill proposing new assisted living regulations cleared a House committee during the last session of the Georgia General Assembly, but it did not reach a floor vote. The bill's chief sponsor, Rep. Chuck Martin (R-Alpharetta), says he will introduce a similar proposal during the upcoming legislative session.
The changes would be ''good for seniors in Georgia and also good for their families,'' Martin says.
A state agency, meanwhile, is expected to propose a revision of the rules this week.
"Consumers want the choice of aging in place,'' says Kathy Floyd, advocacy director for AARP Georgia. "They want to be able to stay in an assisted living facility.''
A question of safety
But the Georgia Health Care Association, which represents nursing homes, says the ambulatory issue boils down to patient safety. ''We want to make sure there are appropriate safeguards for patients,'' says Jon Howell, president of the association. Not being ambulatory ''creates some fire marshal issues,'' Howell says.
''All of us want to stay at home,'' Howell says. "There are times where our needs require [a skilled nursing facility].''
Assisted living facilities can apply to the state for a waiver to allow a resident to remain there. But Floyd says, "Even if the facility wants you to stay and you apply [for a waiver], it's very stressful on the resident and family to be told you're going to have to move out.''
Floyd says nursing homes' concerns are more about market share than safety.
Fred Brown's family has already been affected by current rules. Brown says his mother-in-law, who became non-ambulatory, had to leave another Cobb County assisted living facility and enter a nursing home, where she passed away earlier this year.
The state Department of Community Health says it's proposing revisions to Georgia regulations at the agency's board meeting Nov. 18.
Doug Colburn, director of the Division of Healthcare Facility Regulation, says the changes, devised with input from stakeholders, would allow a trained ''proxy caregiver'' to help manage medications of an assisted living resident.
The proposal would also streamline the process of the facility applying for a waiver. Currently, DCH reviews 10 to 15 waiver requests a week. "We have a huge wave of baby boomers coming on,'' Colburn says. "We're trying to update these rules.''
The non-ambulatory rules may also change, he says. Still, there are safety concerns, Colburn notes. An individual who can't propel a wheelchair may not be able to leave the building in a fire or other emergency, he says.
Is money a factor?
Advocates for new assisted living rules, meanwhile, point out that patients' families generally pay the bills for assisted living, while most nursing home residents in Georgia are covered by the government's Medicaid program.
"It was insane for the state to force people who are private-pay into nursing homes,'' says Stephanie Harbour, executive director at DayBreak Village. Nursing homes charge private-pay patients much more than do assisted living facilities, she adds.
Federal figures in 2009 showed a semi-private room in a nursing home costs an average of about $5,000 a month in Atlanta, versus about $2,700 for assisted living.
But Colburn, the DCH official, says he does not look at who's paying the bills when he makes decisions on waivers.
State Rep. Sharon Cooper (R-Marietta) expects the contentious debate on assisted living to flare again in the General Assembly in January. "People want to age in place,'' Cooper says. But she also notes that patient safety remains a major issue of concern.
Seniors want more of a voice in where they spend their final days, adds Cooper, who chairs the House Health and Human Services Committee.
Other states have updated their laws to allow people to remain in assisted living as long as their needs are being met, says Ginny Helms, a vice president of the Georgia chapter of the Alzheimer's Association.
Barbara Karcher of Marietta, who taught gerontology at Kennesaw State University before retiring, says easing the assisted living rules is "not going to take away Medicaid money [from nursing homes]. And it will give people a choice.''
Right now, that choice isn't available for Betty Brown. Her son Fred says, "She has no need to go to a nursing home. What happened to freedom of choice?"