Adding a new incentive for Georgia teachers and state employees to get vaccinated is among several moves Gov. Brian Kemp announced Monday to combat the recent relentless wave of Covid.
About 325,000 State Health Benefit Plan (SHBP) members are eligible for the incentive, Kemp said at a press conference. It would equate to a $150 Visa gift card or $480 in credits that can be used for various health care expenses such as co-pays and co-insurance.
A state website shows that as of Aug. 16, just 22 percent of SHBP members 12 and older had been vaccinated for the coronavirus. The state's overall vaccination rate is 43 percent.
Kemp also announced at the press conference a new executive order to speed the delivery of oxygen supplies to help hospitals treating Covid patients.
Covid-19 has increased the need for Compressed Medical Gas as some hospitalized patients require help to breathe. Oxygen supplies in some states are as low as 12 hours' worth, Bloomberg News reported.
A rural hospital CEO in Georgia said Monday that "the oxygen shortage is real. And it's scary.'' The CEO requested anonymity.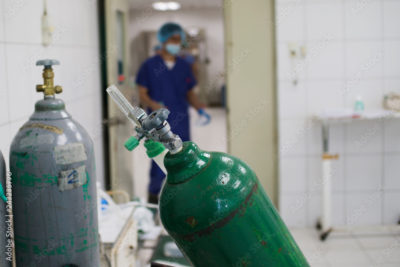 Hospitals in Florida, Mississippi, Georgia, North Carolina, South Carolina and West Virginia are all reaching dangerously low amounts of stored oxygen, with many relying on reserve tanks, Bloomberg News reported.
Kemp's executive order waives the weight and hour limits for trucks delivering oxygen, allowing supplies to reach hospitals more quickly.
Dr. Kathleen Toomey, commissioner of the state's Department of Public Health, said Monday that she does not believe oxygen supplies in Georgia have dwindled to a critical level.
"We are working very diligently to ensure we have adequate supply'' and additional resources, Toomey said.
The financial incentive for vaccination would include SHBP members who have already gotten shots. The deadline for eligibility will be Nov. 30.
Colin Smith, a public health expert at Georgia State University, said the state's vaccination incentive is in line with successful efforts by local governments to get more shots into people's arms.
He cited DeKalb County, which got a huge response Saturday after offering $100 for individuals to get vaccinated. More than 2,500 people took advantage of the offer and turned out at the vaccination event.
Kemp "is working within the limits of what he sees as his authority,'' Smith said.
Case numbers remain high
The Covid statistics in Georgia, meanwhile, continue to be troubling.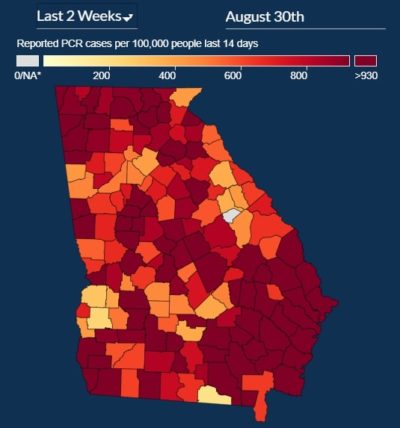 On Saturday, more than 12,000 Covid cases were reported, among the highest daily totals during the pandemic, Toomey said.
The infections include "a significant number of school-based children,'' she added.
"We've seen the highest weekly number of Covid outbreaks,'' with more than half occurring at schools, Toomey said.
She also decried the threats and emailed harassment that health workers have received over their vaccination efforts.
"It shouldn't be happening,'' Toomey said. One local vaccination clinic "had to close down because of harassment and threats'' from people who oppose vaccines.
All cases now appearing in the state are caused by the very contagious Delta variant, Toomey added.
More troops being sent to hospitals
Kemp said he's directing 2,500 more Georgia National Guard troops to aid hospitals in the state.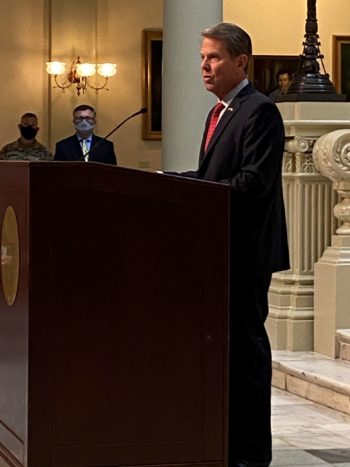 Last week, he announced 105 National Guard members with medical training would be deployed to 10 hospitals across the state. Over the weekend, another 75 "general purpose" soldiers were sent to aid those already deployed.
Georgia will also send an additional $4.5 million to the Georgia Coordinating Center, which provides logistics and coordination to emergency crews and hospital officials regarding bed availability and emergency room capacity at facilities statewide, Kemp said.
Kemp declined to support a proposed mask requirement on Georgia state university campuses. Masks are not required on these campuses this semester.
Last week, one University of Georgia faculty member, 88, a professor emeritus in the psychology department, walked out of his classroom after a student would not wear a mask properly. The retired professor said he would not risk his life by remaining there.
Kemp reiterated his opposition to mandates related to Covid.
"I personally believe that mandates like that are only going to cause division on campus.''