A California hospital executive has been named the next president and CEO of Macon-based Navicent Health.
Delvecchio S. Finley will assume his new role Feb. 1, Navicent announced Thursday.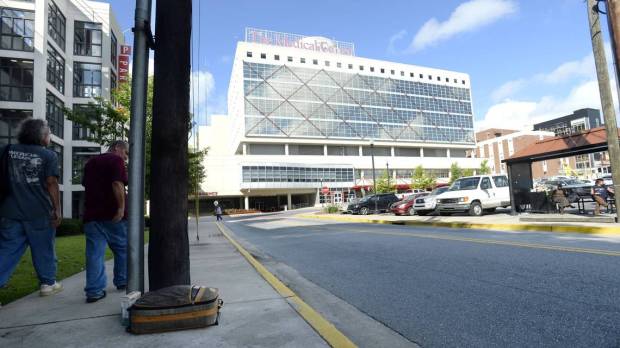 Finley is replacing Ninfa Saunders, who stepped down recently after eight years as president and CEO of Navicent Health. She left those positions in October, with Navicent citing personal and health reasons, and Dr. Thomas Oliver took over on an acting basis.
Next year, the system will be renamed Atrium Health Navicent, reflecting that it is now part of North Carolina-based Atrium Health.
"I am deeply honored to have the opportunity to join and lead Atrium Health Navicent and further its traditions of providing high-quality care for the community, while being part of Atrium Health, one of the nation's leading health systems," said Finley in a statement Thursday.
He has served as CEO of Alameda Health System, based in Oakland, Calif., for the past five years.
"With Atrium Health Navicent being a safety-net health system for Central and South Georgia, I look forward to advancing its many accomplishments and collaborating with partners throughout the community in the future,'' Finley said.
Finley has Georgia roots. He was raised in public housing in Atlanta and earned his bachelor's degree in chemistry from Emory University. He later received his master's degree in public policy from Duke University.
Atrium Health took over Navicent Health last year.
"Delivering on our mission has never been more important than during these unprecedented times, and I am excited about the fresh perspective and depth of experience Mr. Finley is bringing to our team," said Eugene Woods, CEO of Atrium Health, in a statement.
Atrium, which has its headquarters in Charlotte, operates 42 hospitals and more than 1,500 care locations. It is working to increase its presence in Georgia, moving forward on its plan to combine with Floyd Health System, based in Rome.
"We are always open to learning more about potential partners and, if we get to a point of having found additional ones, we will share it at the appropriate time," said Dan Fogleman, an Atrium spokesman.
In Finley's most recent position, he turned around Alameda Health System in his first year, reversing a $60 million operating loss and achieving a $27 million gain, Atrium said.
Alameda Health System is a nine-site system with more than $1 billion in annual revenues. Finley oversaw a $668 million, multi-phase construction project which included a nine-story acute care bed tower at one of the system's hospitals.