An estimated total of $58 million in rebates will be split among 202,000 Georgians who had individual Ambetter policies last year, according to state officials.
The payouts are required under a rule in the Affordable Care Act.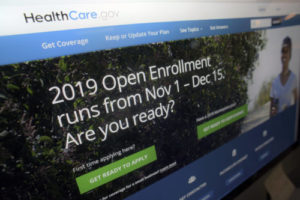 The amount of rebates to Ambetter policyholders would be similar to the payout last year from the insurer, $59.8 million.
The rebates paid this year are expected to go to 202,497 Ambetter members with individual policies in the health insurance exchange. If the rebates are split equally, it would mean roughly $285 apiece under the current estimates.
The total rebate payout for Ambetter is by far the highest for insurers in Georgia, according to estimates provided by the state insurance department.
The agency said Thursday that the final amounts will be calculated by the federal Centers for Medicare and Medicaid Services. The rebate estimates are calculated by each insurer and reported to Georgia insurance officials through required financial submissions.
The Kaiser Family Foundation in April estimated that insurers will be paying a total of about $2.7 billion in rebates nationally, nearly doubling the previous record high of $1.4 billion paid last year.
The Medical Loss Ratio (MLR) requirement of the ACA limits the portion of premium dollars that insurers may use for administration, marketing and profits. Under the ACA, health insurers must publicly report the percentage of premium dollars spent on health care and quality improvement in each state in which they operate.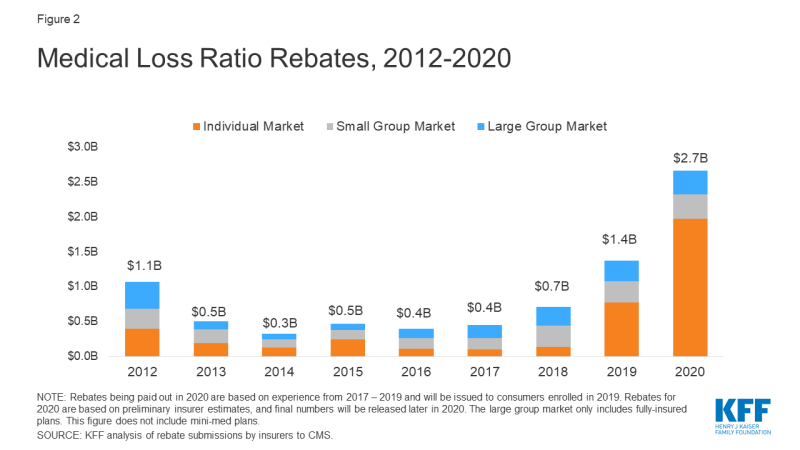 The provision requires insurers to spend at least 80 percent of their premium income on health care claims and quality improvement. (For large group plans, the requirement is 85 percent).
"Paying rebates is an important check on insurers' behavior,'' Bill Custer, a health insurance expert at Georgia State University, said Thursday. The payouts constrain a company from charging premiums far higher than the cost of their medical costs, he added.
Currently, MLR rebates are based on a 3-year average, meaning that 2020 rebates are calculated using insurers' financial data in 2017, 2018 and 2019, according to the Kaiser Foundation.
Insurers may issue rebates in the form of a premium credit or a check payment. In the case of people with employer coverage, the rebate may be shared between the employer and the employee.
Other Georgia health plans with total estimated payouts are:
** Aetna, with about $100,000 in rebates among its small-group customers.
** Anthem Blue Cross and Blue Shield, with $719,599 in the individual market and $3.6 million in the small-group business.
** Nippon Life, with an estimated $870,000 in rebates for its large-group coverage.
** UnitedHealthcare, with about $1 million in the small-group market.
"These annual rebates were built into the Affordable Care Act as one way to hold health insurers accountable to a minimum standard for covering the health needs of consumers and their families,'' Laura Colbert of the consumer group Georgians for a Healthy Future said Thursday. "For Georgians who regularly feel like they are at the mercy of their insurer, a rebate is a modest but welcome reminder that their health is supposed to be their insurer's top priority.''
There are no rebates for workers on self-funded plans, in which an employer or some other plan sponsor pays the cost of employees' health benefits from its own assets. That's because such a plan is not considered an insurer under the terms of the law, and the MLR provision does not apply.

Ambetter is part of St. Louis-based Centene Corp., which also runs Peach State Health Plan for Medicaid and PeachCare in Georgia, and recently acquired WellCare.
Centene officials in St. Louis and Atlanta could not be reached for comment.