A ''data dump'' of prison COVID-19 cases appears to have lifted a southeast Georgia county into the top position nationally on a New York Times hot spot list for the disease.
The county, Wheeler, is home to a large state prison.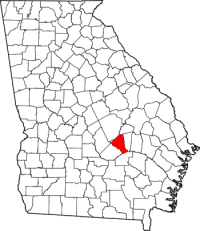 State public health officials said that they became aware of unreported COVID-19 cases at the Wheeler Correctional Facility last week. CoreCivic, a private company that runs the prison, had been reporting the cases to the Department of Corrections but not to the Department of Public Health, which tracks the virus spread in the state.
Some of the prison cases in question dated back several months, though most were from August. The Department of Public Health added those cases to its COVID counts Sept. 10 and 11.
"DPH reports positive COVID-19 cases when we receive test results, so while the cases did not occur in September, they were reported in September on those two days, which is why there was a large increase in case numbers in Wheeler County,'' Nancy Nydam, spokeswoman for Public Health, told GHN. "Residency for inmates of correctional facilities is assigned to the county where the facility is located.''
The state's own map on recent COVID infection rates shows Wheeler as a dark red county, signifying a very high number of recent transmissions. It says that 165 cases have been reported during the last two weeks, more than half of Wheeler's 315 total. A district health official said this week that there has also been community spread of the disease in the county.
The New York Times list of hot-spot counties has Wheeler at No. 1 in terms of recent cases reported per population, with 155 cases in the past seven days.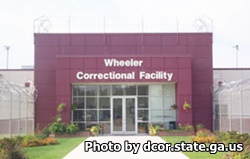 According to a state website, the Wheeler prison has had 169 COVID cases and eight deaths. That's a larger number of infections than any state prison but Coffee (County) Correctional Facility, which has had 204, according to the state Department of Corrections.
Not the first such problem
Another data dump that skewed the state's numbers occurred in August in Central Georgia.
That's when thousands of COVID-19 test results were dumped into the state system from a third-party vendor for Macon-based Navicent Health. Many of the test results were negative and many were duplicates of tests previously counted.
Public Health said it has spoken with officials with CoreCivic and Wheeler Correctional Facility to make sure positive cases are reported directly to the agency.
A spokesman for CoreCivic acknowledged the breakdown in reporting results.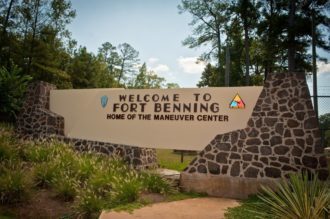 "That issue has been addressed, which resulted in the increase of reported cases in Wheeler County on September 10 and 11,'' said Ryan Gustin, the spokesman. He said the Wheeler Prison "has only reported three positive COVID-19 cases among our inmate population in the month of September.''
The one constant on the New York Times list has been Chattahoochee County. And according to the Times list Wednesday, the west Georgia county is third, with 145 cases in the last week.
The county is home to a large part of the Army's Fort Benning. The fort includes residential and administrative areas, as well as extensive forests and grasslands used in training and maneuvers.
In July, the post's new commander issued an order tightening restrictions on both soldiers and civilian workers.
He ordered them to wear face masks whenever they can't stay six feet from others, on post and off; to limit gatherings to no more than 15 people, with social distancing; and to avoid indoor dining and gym workouts.