A document prepared for the White House coronavirus task force and obtained by the Center for Public Integrity recommends that Georgia and 17 other states in the COVID-19 "red zone" for cases should roll back reopening measures amid the recent spike in infections.
The center, a nonprofit newsroom, reported Thursday that the "red zone" is defined as areas and counties that during the last week reported both new cases above 100 per 100,000 population, and a diagnostic test positivity result above 10 percent.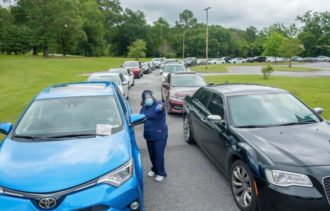 Georgia's rate of positive test results is now at 15.5 percent. And on Friday, the state reported more than 3,900 new cases of COVID-19, the second-highest daily total for Georgia during the pandemic. Hospitalizations for the disease have soared as well, hitting another statewide record Friday.
"Disease trends are moving in the wrong direction in Georgia with record numbers of new cases occurring in urban, suburban and rural areas,'' says the document. "Test positivity continues to increase. The number of tests has increased, but more testing is needed."
Georgia's Public Health commissioner, Dr. Kathleen Toomey, has called the lag in getting test results of up to two weeks "unacceptable.'' State officials are working on having a new testing partner that can process 10,000 tests a day
The document prepared for the White House also recommends a statewide mask mandate, and allowing local governments to pass more restrictive COVID-19 policies.
The report has surfaced as mask wearing in Georgia has exploded as a national topic.
Gov. Brian Kemp on Friday defended his lawsuit against Atlanta Mayor Keisha Lance Bottoms and the City Council over the city's mandate for mask wearing and its restrictions on businesses.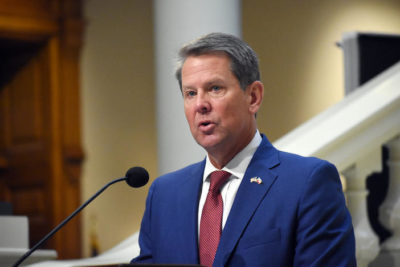 The newest order from Kemp explicitly bans governments from instituting compulsory mask ordinances.
Several cities, including Savannah, Augusta and Athens, have mandated mask wearing in public, despite Kemp's executive order that bans local jurisdictions from adopting stricter COVID-19 regulations than those of the state.
Kemp has strongly encouraged Georgians to wear masks to fight COVID-19, but has said he will not make it a requirement.
The state lawsuit, filed Thursday, also challenges Bottoms' July 10 decision to revert to "Phase One" guidelines that push restaurants to close dining rooms and urge residents to leave home only for essential trips.
Kemp said Bottoms' statements caused the state's Restaurant Association to "freak out." He emphasized that such actions can unsettle already fragile businesses.
"It sends a terrible message," he said. "It creates economic hardship. There's no reason to do that right now."
Kemp said that people in the state don't need a mandate "to do the right thing.''
"Government is not going to be the answer to all people's problems," he said.
Bottoms, meanwhile, told CNN on Friday that she believes "personal retaliation" is behind the Kemp lawsuit.
"I do believe it's personal retaliation and he sued us personally," Bottoms told CNN's Alisyn Camerota on "New Day" Friday morning. "He did not sue the city of Atlanta. He filed suit against myself and our city council personally."
Asked about the task force report, Bottoms told CNN she had not been in touch with the task force.
"I had not heard from them, but again, the people that I'm listening to are the scientists and our health care professionals," she said during an appearance on CNN's "New Day."
Devin O'Malley, spokesman for Vice President Mike Pence and the task force, didn't dispute the document's authenticity, and claimed the report showed "encouraging signs" amid the pandemic, CNN reported.
Kemp also said Friday he prefers resuming in-person classes for Georgia students instead of online, remote learning when the school year begins.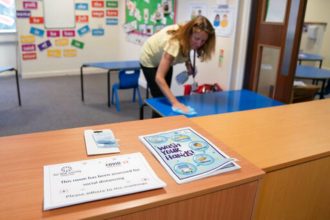 "I am a believer that kids need to be in the classroom," Kemp said. "And we're working with the schools on doing that."
The state's emergency management director, Homer Bryson, said large shipments of masks, sanitizer, wipes and hand-held thermometers have been sent to schools.
Toomey said that a reported infection may trigger different school responses in different situations. "We know there will be some cases'' among students and teachers, she said at the news conference. A single case, she said, does not mean an entire school must shut down.