Four physician groups strongly endorsed a state tobacco tax increase Sunday, a day before a possible vote on the issue in a state Senate committee.
"Georgia having the third-lowest tobacco tax in the country has long been unacceptable to Georgia's medical community," Dr. Jacqueline Fincher, a Thomson physician and a leader of the American College of Physicians, said in a statement Sunday. "But in this time of the coronavirus and its impact on front-line health care workers, the health care budget, and Georgia patients, it has now become irresponsible."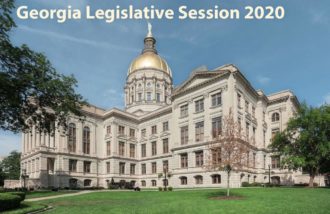 Lawmakers will convene Monday at the state Capitol to resume the 2020 session of the Georgia General Assembly. The session was suspended because of the COVID-19 pandemic.
In an unusual Sunday meeting, a Senate panel approved a bill to curb surprise medical billing. For at least five years, proposals to curb surprise billing have run into deadlocks in the Legislature. There has been a sharp split between health insurers and physicians over how to fix the problem, and lawmakers have tended to line up with one side or the other.
The state Senate Health and Human Services Committee passed a House bill that would set up a process for regulating charges from out-of-network medical providers. It's expected to pass the full Senate this week. The legislation focuses on surprise billing that occurs after elective surgery or emergency care, when the facility itself is in the patient's insurance network but the ER physician, anesthesiologist, radiologist or pathologist is not. In such cases, the patient gets a separate, unexpected bill from that out-of-network doctor, a bill that can reach into the thousands of dollars.
A question of health and budgets
Even holding a vote to raise the state tobacco tax would be significant. Many Republican lawmakers oppose the idea because of their general opposition to tax hikes. Election-year politics may help buttress that opposition.
Still, Georgia is facing a huge revenue shortfall due to the COVID-19 pandemic, and state agencies are under orders to slash their budget for the upcoming fiscal year, which begins July 1. In fact, the biggest issue facing legislators is passing a state budget. The currently proposed budget includes major cuts to health care programs and the furloughing of many state employees.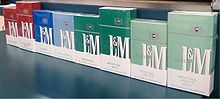 Four physician groups — the Georgia Society of Clinical Oncology, the American College of Physicians, the American Academy of Pediatrics and Georgia Association of Family Physicians — sent out a strong statement Sunday pushing an increase in the state tobacco tax, which is now at 37 cents per pack of cigarettes.
A fiscal note showed that if Georgia increased its tobacco tax to the national average of $1.87 a pack, it would generate between $485 and $515 million per year in new revenue for Georgia. That's more than enough, the doctor groups say, to prevent all proposed cuts to the public health and health care delivery system in Georgia.
According to a recent poll by the American Heart Association, nearly 75 percent of Georgia voters support increasing the state tax on tobacco products.
"This budget proposes to slash public health funding during a public health pandemic while protecting tobacco profits,'' Fincher said. "I don't see any skin in the game here for the tobacco industry, which places a tremendous burden on our health care system. A system that is now further depleted by the pandemic. If you are going to ask your 'health care heroes' to do their part, at least make the tobacco companies do the same.''
The Georgia Academy of Family Physicians noted that a program to reduce the state's high maternal mortality rate is facing a $1.5 million cut. The academy's president, Dr. Jeff Stone, said that "Georgia's state ranking for maternal mortality is one of the few rankings lower than our 47th-out-of-50 tobacco tax ranking. Both are unacceptable. But both are fixable with one bill. Let's support Georgia's new moms, not subsidize tobacco profits."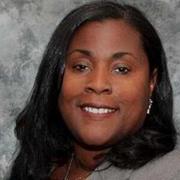 Dr. Terri McFadden, president of the Georgia Chapter of the American Academy of Pediatrics, said Georgia has seen "an unbelievable spike in vaping and e-cigarette use among our adolescent and even pre-adolescent patients.''
"The evidence is quite clear: Increasing taxes on tobacco and nicotine products reduces their use among adolescents,'' McFadden said in a statement. "With our state budget under so much stress, and with so many cuts proposed, raising taxes on tobacco products is a win-win. Furthermore, this is one tax increase that the vast majority of Georgians support."
Last week, a coalition of more than three dozen groups sent Gov. Brian Kemp and lawmakers a letter asking them to support a tobacco tax hike and other measures to offset the impact of budget cuts, the AJC reported.
The coalition, which includes the Georgia Budget and Policy Institute think tank, the Latin American Association, the NAACP, Georgia Conservation Voters, Georgia Equality and the League of Women Voters, said the proposed cuts would hurt schools, family services and "disproportionately harm people of color."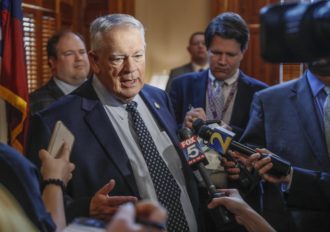 Georgia House Speaker David Ralston (R-Blue Ridge) said recently that he hasn't detected any support among his Republican majority for raising any taxes during the session, the AJC reported. In fact, Ralston backed a move before the session was suspended to cut the state's income tax rate for the second time in two years. "Republicans cut taxes," he said.
Nevertheless, Dr. Suresh Ramalingam, deputy director of Winship Cancer Institute, and president of the Georgia Society of Clinical Oncology, said that tobacco-related cancers ''take a huge toll on Georgians each year. The mortality related to many of these cancers in our state is higher than the national average. It is well known that higher tobacco taxes lead to behavioral changes on the part of smokers, thus contributing to overall improvement in health and reduction in cancer deaths."
He added, "Smoking causes progressive lung injury that can only increase the risk of poor outcomes in patients who are also afflicted by the COVID-19 infections."