Story updated
A former capital city of Georgia, once known for its sprawling state mental hospital as well as its historic sites, now has other care facilities in the spotlight.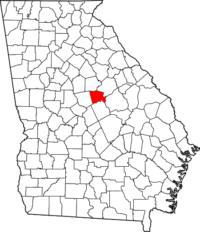 A New York Times data analysis this week lists Milledgeville, in Middle Georgia's Baldwin County, as having the highest COVID-19 death rate among metro areas in the nation over the past two weeks. The chart by the Times also notes "Still Growing'' next to the Milledgeville figures.
Baldwin County's deputy coroner, Ken Garland, on Tuesday pointed to recent deaths occurring at two nursing homes there, one for veterans and the other serving former state prisoners.
The Georgia War Veterans Home, a 550-bed facility run by PruittHealth, has had 32 COVID cases and nine deaths among its residents, according to state data. Among its employees, 28 have tested positive for the virus, but the Department of Community Health reporting doesn't indicate whether any of the staff members have died.
Bostick Nursing Center has had 66 residents with coronavirus, with 11 deaths, and 19 employees testing positive. A 280-bed nursing home, Bostick has reported that 11 residents have died from COVID-19. A total of 66 patients and 19 staff members have tested positive for the virus.
Founded by Dr. Carlo Musso, who owns the state's largest private jail health care company, the Milledgeville facility houses formerly seniors who are likely to be denied admission into other nursing homes due to their criminal records.
Nearly four years after opening its doors, Bostick has earned a one-star Medicare rating, which indicates the care is far below average compared to other facilities. The War Veterans Home does not have a rating from Medicare.
PruittHealth issued a statement Thursday that said "the health and safety of our veterans and staff are top priorities at PruittHealth. Like many skilled nursing centers, Georgia War Veterans Home has been carefully monitoring patients for symptoms of COVID-19. Currently, 22 veterans and 19 staff members are presumptive positive for the virus. Additional COVID-19 testing for all veterans at Georgia War Veterans Home is under way, and results will be posted to PruittHealth.com when they are available. "
Nursing homes and other long-term care facilities, with elderly and medically fragile residents, have been especially vulnerable to COVID-19.
These facilities account for 49 percent of Georgia's COVID-19 deaths. A Forbes analysis says that nationally, 43 percent of virus deaths have come in long-term care facilities.
In Hancock County, which adjoins Baldwin County, a nursing home reported 14 deaths last week.
Since its apex decades ago, the historic Milledgeville state-run mental hospital has been downsized significantly. Central State Hospital in April reported the deaths of two employees from COVID-19.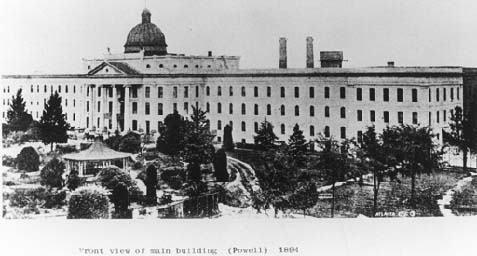 Recent data show Georgia has seen an uptick in confirmed virus cases.
The state as a whole, after gradual declines of weekly cases, saw an increase of positive tests for the seven days ending Sunday, the AJC reported. Whether the increase from nearly 4,170 confirmed cases during the week of May 11 to 5,260 the week of May 18 represents a new wave in the spread of the novel coronavirus remains unclear.
"DPH is closely monitoring the numbers and all possible epidemiologic implications of the positive test results, including increased testing across the state, testing in long-term care facilities, workplace testing as businesses reopen, and testing among farm workers," Public Health spokeswoman Nancy Nydam told the AJC in a written statement. "We know that with increased testing the number of positive cases will also increase."
Nydam said Wednesday of the Milledgeville situation that "we are constantly watching for hotspots around the state, and will continue to watch Baldwin County and Milledgeville."
A recent analysis published by the New York Times placed Clinch County, in South Georgia, ahead of several other counties in the Southeastern region of the nation as most at risk for a major COVID-19 outbreak, based on new cases and prevalence of chronic diseases such as obesity, diabetes, and hypertension.
Since that analysis, the number of Clinch infections rose from 45 to 57 as of Wednesday, according to state data.
Freelance journalist Max Blau contributed to this article.