The coronavirus crisis has put unprecedented focus on materials that health care workers use to protect themselves — and patients — from infection.
Personal protective equipment (PPE) is in short supply across the nation. Health care facilities are scrambling to keep examination gloves, masks, surgical gowns and face shields in stock.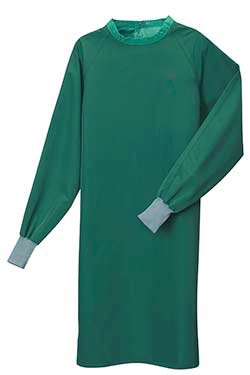 But what about having more medical garb and other materials that can be laundered and reused multiple times? Could that prevent a future PPE shortage?
An Atlanta-based medical laundry company thinks reusables may become more important in the wake of the pandemic.
In the last decade or two, hospitals converted to the use of disposable protective products such as surgical gowns. Most such disposables are made in factories overseas, where labor costs are very low.
Karl Fillip, CEO Emeritus of Novo Health Services, a medical laundry company, says that over time, the firm's hospital customers replaced reusable gowns with disposable ones.
The American health care industry has come to rely on low-cost disposables as part of normal operations. These goods have been delivered on a "just-in-time" basis, allowing hospitals to keep their stocks low and inventory costs down, Fillip says.
Now, the COVID-19 pandemic — which began in China, where so many disposables are made — has put a strain on PPE supplies at medical facilities worldwide.
"We do believe the entire system would be better off in situations like this with a better mix of reusable products," says Fillip's son, Karl II, chief operating officer for Novo. "It simply provides a safer position from a product availability perspective."
"Traditionally, reusables were touted as a more environmentally friendly alternative to disposables, but this latest crisis also reveals the benefits of reusables from a supply chain and continuity perspective," says the younger Karl.
Novo, a privately held company, operates 11 processing facilities from Ohio to Florida, serving about 300 hospitals. It provides reusable health care bed and bath linens and other items to hospitals and outpatient surgical facilities, including sterile (and nonsterile) gowns, drapes and even the sterile covers used in operating rooms.
A big factor in the current shortage is that some PPE is simply not reusable. Gloves, for instance.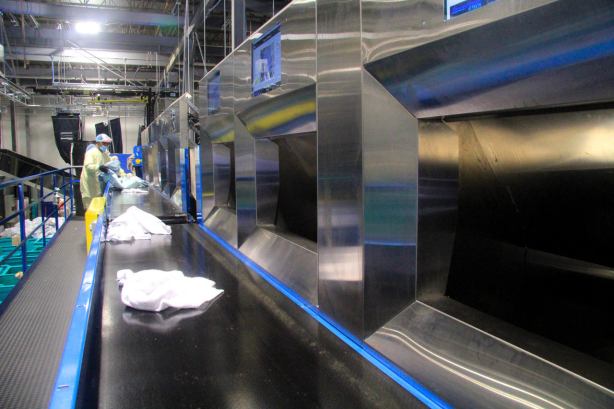 It may be a different story for protective masks such as N95 respirators. Duke Health research and clinical teams have developed a way to use existing vaporized hydrogen peroxide methods to decontaminate the masks so they can be reused.
The process uses specialized equipment to aerosolize hydrogen peroxide, which permeates the layers of the mask to kills germs, including viruses, without degrading the mask material, Duke officials say.
Some hospitals are even making their own PPE out of what's at hand, such as operating room sheets and other hospital materials that provide at least some degree of protection, says the younger Fillip.
"Our immediate focus, however, became determining and planning for disruptions to our own supply chain," Karl II says. "It's hard to say at this point if hospitals will convert in the long term, but we see a short-term focus on sourcing reusables based on a buffer with the assurance of supply meeting demand."
"However, there is a bit of the calm before the storm happening right now for general hospital linen," he adds. "Overall our volumes on general linen are down."
A rapid response
Novo's laundry business has changed in important ways during the pandemic.
The older Karl says that earlier this year, Novo reacted to an "urgent recall'' notification from the FDA, sent to all U.S. health care facilities. The recall referred to disposable surgical gowns distributed by Cardinal Health, a major health care vendor.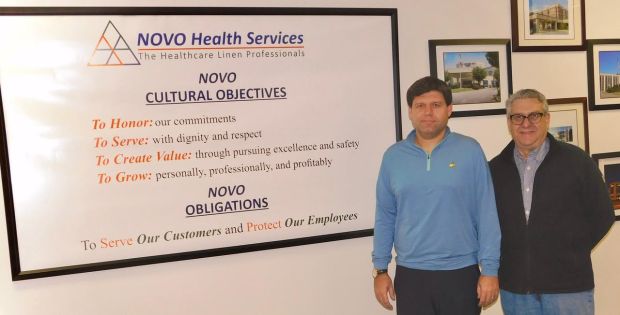 More than 9 million gowns were recalled, according to reports.
"As we saw, the coronavirus situation unfolding in Wuhan, China, our initial concern focused on how that PPE recall and COVID-19 disease combined would impact our business and ability to service our customers," says the younger Karl.
"Our immediate focus, however, became determining and planning for disruptions to our own supply chain," he says. "Novo started ordering and stockpiling extra linen well over a month ago — before the declared pandemic."
Currently, their biggest fear is that 30 percent of the company's reusable products are manufactured in China, with the rest coming from India, Pakistan and other countries. When they realized China production was essentially shut down for four to six weeks, they could foresee a serious problem in the making.
"We already see supply issues on products such as isolation gowns which are critical when dealing with infectious diseases," says Karl II. "We have been actively finding new sources for these products to help fulfill the increased demand."
A different kind of laundry
Novo's reusable products go through tightly controlled washing, pressing and sterilization, a process that meets industry and FDA standards to ensure patient and medical staff safety from pathogens on laundry items.
The company's reusable sterilized products are reprocessed after every use and stay in service for 2 to 4 years. "Therefore, if we are not able to source new products due to supply chain issues, we are able to maintain nearly a 100 percent 'fill rate' for customers for several months," says the older Karl.
"This remains a major competitive advantage of our reusable products compared to disposables," says his son.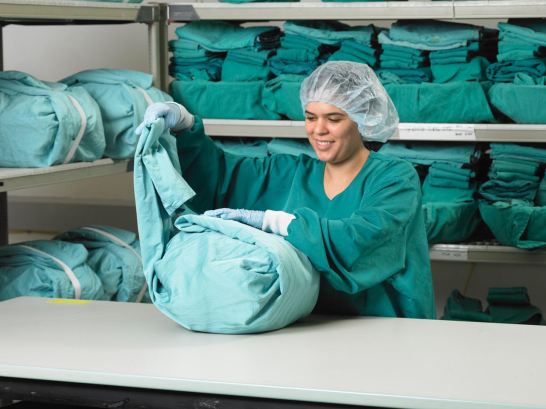 Overall, there is a huge spike in demand for reusables and PPE. But for general hospital linen, as noted earlier, the volume ordered is actually down.
The Fillips say it appears that hospitals are preparing and reserving space for the potential surge in COVID-19 patients. As general volumes decline on the core items, demand is still very high for PPE. As the number of cases accelerates, the volumes on general hospital linens will also go up above normal levels in the next few weeks, the company says.
Novo is working around the clock. "Hospitals suffering right now tell us that obtaining anything disposable is problematic," says the senior Fillip. "We're receiving daily inbound phone calls from people that operate surgery centers, and as of the last week [they] ran out of product."
Some hospitals have called saying, 'We have zero supply,' " says the younger Karl. "The next 30 days will be scary about whether or not the disposable supply chain is going to be able to keep up."
"We do believe this event will cause hospitals to rethink the role of disposables versus reusables as it relates to assurance of supply and making sure they don't run into these types of catastrophic shortages in the future,'' he says.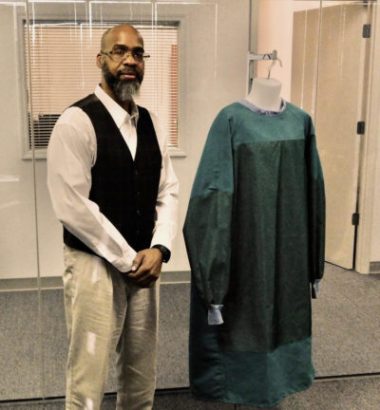 Novo says hospitals using the company's reusable surgical products have not seen any supply chain disruptions.
In addition to helping the health care industry fight the spread of infections, the company also has to focus on the safety of its own workers.
"Even with the amount of automation we have, our underlying concern is keeping our workers safe," says the younger Fillip.
"Some people say the virus survives three to six hours. Some people are still saying it could survive a few days. It depends on the environment," he says.
Hospitals are double-bagging their dirty laundry into a specially colored bag, placing it on a separate cart and informing the Novo drivers that they have a batch of contaminated, soiled linen to load.
"Our supervisors greet that truck at the dock door," says the younger Fillip. "A supervisor escalates it through the process and puts it directly in a washer [extractor], discards his/her PPE just in case the PPE has a droplet on it."
From there, they change into fresh PPE, disinfect the machine, take the cart directly to Novo's "cart wash" and place it in the front of the line. Everything is immediate, not letting dirty carts sit around.
"We're having signs made to put on our trucks and we're taking extra precautions there, too. If needed, we can devote some of our drivers to actually running employee shuttle services if public transport should come to a halt in any of our service regions," says the younger Karl.
"We are considering every option we have or need 24/7."
Judi Kanne, a registered nurse and freelance writer, combines her nursing and journalism backgrounds to write about public health. She lives in Atlanta.