Some Emory patients with COVID-19 are part of a clinical trial of an antiviral drug that has reportedly proved effective among patients in Chicago who have severe illness.
The Emory trial of remdesivir is part of a National Institutes of Health study that's separate from the Chicago drug trial.
There's no FDA-approved treatment for COVID-19 , but remdesivir is getting a lot of positive buzz in scientific circles.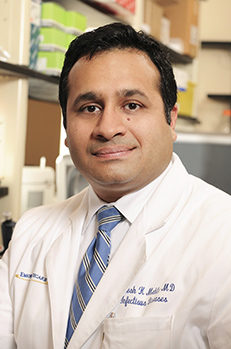 The University of Chicago trial was reported by STAT to show rapid recoveries in fever and respiratory symptoms of COVID-19 patients.
Emory has more than 80 patients involved in its part of the randomized NIH trial. The patients were hospitalized and diagnosed with pneumonia caused by COVID-19, said Dr. Aneesh Mehta, who is Emory's principal investigator.
The Atlanta patients are at four hospitals – Emory University Hospital, Emory University Hospital Midtown, Emory Saint Joseph's Hospital, and Grady Memorial Hospital.
Half are getting an infusion of remdesivir, and half a placebo.
Emory is among 40 U.S. medical centers participating in the trial. ''There doesn't seem to be any safety concerns'' with the drug, Mehta told GHN, citing preliminary results from the drug manufacturer, Gilead Sciences.
Roughly two-thirds of patients given remdesivir on a ''compassionate use'' basis to treat COVID-19 showed clinical improvement, according to those Gilead results, published in the New England Journal of Medicine.
Emory also announced Monday that it has begun enrolling adults over age 55 in the clinical trial of an investigational vaccine designed to prevent COVID-19. A vaccine is not expected to be available till sometime next year at the earliest.
The quest for a treatment
Remdesivir was previously tested in humans with Ebola and has shown promise in animal models for treating Middle East respiratory syndrome (MERS) and severe acute respiratory syndrome (SARS), which are caused by other coronaviruses.
Dr. Anthony Fauci, director of the National Institute of Allergy and Infectious Diseases, said at the start of the NIH trial in February that "we urgently need a safe and effective treatment for COVID-19.''
"Although remdesivir has been administered to some patients with COVID-19, we do not have solid data to indicate it can improve clinical outcomes," said Fauci, whose membership on the White House Task Force on COVID-19 has recently made him a familiar face to many Americans. "A randomized, placebo-controlled trial is the gold standard for determining if an experimental treatment can benefit patients."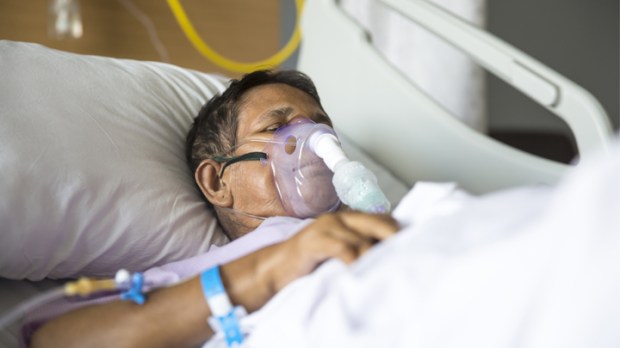 Clinical trials of remdesivir are also ongoing in China, where the new coronavirus was first identified late last year.
University of Chicago Medicine recruited 125 people with COVID-19 into Gilead's two Phase 3 clinical trials. Of those people, 113 had severe disease. All the patients have been treated with daily infusions of remdesivir, STAT reported.
"The best news is that most of our patients have already been discharged, which is great. We've only had two patients perish," said Kathleen Mullane, the University of Chicago infectious disease specialist overseeing the remdesivir studies for the hospital, according to STAT.
Another drug has received attention in the pursuit of an effective treatment for the disease.
The drug company Novartis said Monday it would conduct a 450-person study to determine if hydroxychloroquine, the malaria drug touted by President Trump, can effectively treat COVID-19.
The Ebola experience
As at other Georgia hospitals, Emory's clinical staff has been treating COVID-19 patients for several weeks now.
"It has been extremely challenging, and mentally and emotionally exhausting,'' Mehta said. But he added, "I have seen health care providers come together to help these patients.''
He said Emory has been preparing for years for such outbreaks, and cited the experience with Ebola.
Emory University Hospital medical team in 2014 successfully treated the first patients with Ebola virus disease in the United States. The university's Serious Communicable Diseases Unit created protocols that are standard for deadly infections.
There are several ongoing trials of experimental vaccines for the new coronavirus. The trial that Emory has joined began in March.
Investigators are now expanding Phase 1 of the trial to enroll an additional 60 participants: 30 people who are 56 to 70 years old and 30 others who are 71 or older.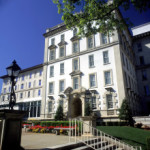 Enrolling older volunteers will help investigators better understand vaccination outcomes among older people, who face a higher risk of complications from COVID-19 than younger individuals, Emory said. Study investigators have not identified any significant safety issues among younger volunteers. Regular safety reviews will continue as older adults are enrolled.
"Older adults are at a higher risk of suffering serious complications and needing hospitalization if they develop a COVID-19 infection," Dr. Evan Anderson, principal investigator of the vaccine study at Emory, said in a statement. "Since many older adults don't develop as strong an immune response to vaccines, it's critically important for us to evaluate this vaccine candidate in older adults as well."
The vaccine, called mRNA-1273, was developed by scientists at the NIH's Vaccine Research Center and the biotechnology company Moderna.