The new coronavirus has struck a southwest Georgia hospital with hurricane-like force.
Just hours after Gov. Brian Kemp declared a public health emergency Saturday over the virus, Phoebe Putney Memorial Hospital officials were notified that seven of its patients tested positive for COVID-19.
The Albany hospital already had been treating another individual who tested positive.
Five of the eight are hospitalized there, and three are at home.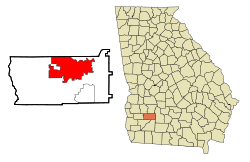 The state's reported total of coronavirus patients stood at 99 on Sunday, up from 64 the day before.
Besides the current individuals with positive tests, Phoebe is awaiting coronavirus test results on 41 other patients in the hospital. Each has symptoms of the disease – typically fever and signs of acute respiratory illness, such as cough and difficulty breathing.
About 30 Phoebe staff members – from doctors and nurses to housekeepers – are self-quarantining at their homes, having had contact with coronavirus patients and showing mild symptoms, said Scott Steiner, CEO of Phoebe Putney Health System.
"It's uncharted waters,'' Steiner told GHN on Sunday morning. "We're all working 14 to 16 hours a day.''
"Our employees and doctors have done an incredible job,'' Steiner said. But they are also "stressed out,'' he said. "There is emotional fatigue. We are providing emotional support.''
Supplies are getting low, Steiner said. For personal protective equipment – surgical gowns, masks, gloves, face masks and goggles – "we went through six months' worth in five days,'' he said. "We don't have much left.'' (Here's a recent GHN article on a shortage of protective gear.)
Besides current hospital patients awaiting test results, 21 other Albany area residents are also awaiting results, but are still in their residences, Steiner said.
There's a 4- to 6-day lag in getting test results, which adds to the staff workload, he said.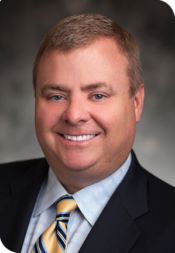 The coronavirus impact on Phoebe Putney began about a week ago, when a patient who eventually tested positive was visiting the Albany area, apparently for a funeral. That patient was eventually transferred at his request from Phoebe to a metro Atlanta hospital, Phoebe officials said. The individual was not tested in Albany.
The seven individuals diagnosed Saturday "are community-acquired infections, and there is evidence that a number of these patients had contact with each other before being hospitalized,'' said Dr. Steve Kitchen, Phoebe chief medical officer, on Saturday. "We have been working with the Department of Public Health to investigate the connections between these patients so DPH can work to notify others who may be at risk."
Hospitals across the state are seeing a deluge of patients coming to their ERs, wanting to get tested for coronavirus even if they don't have symptoms, the Georgia Hospital Association said Sunday.
"ER staff are having to screen them and rule them out,'' said Anna Adams, a GHA vice president. "It's not dissimilar from the run on grocery stores.''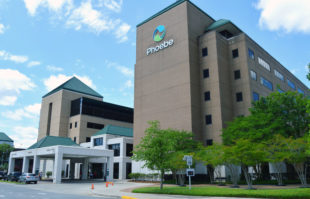 Patients who are experiencing mild symptoms of COVID-19 should call their medical provider first instead of going to an emergency room, Adams said.
Hospitals across the state are running low on supplies of personal protective equipment. Adams said Sunday. GHA is asking for help on supplies from the state and from the Georgia Emergency Management Agency, she added.
While metro Atlanta hospitals can share the patient load, Phoebe Putney is the only hospital in the Albany area. Neighboring Lee County recently received a certificate of need from state regulators to build a new hospital, but the project has not gotten off the ground.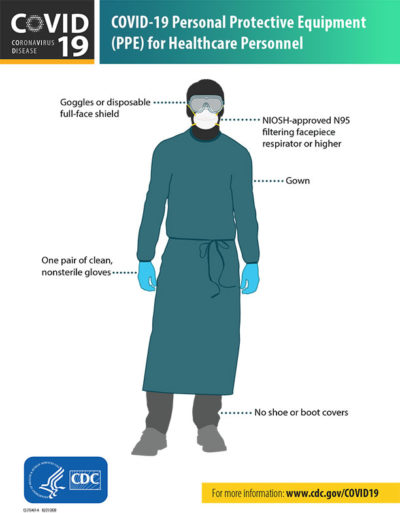 Phoebe has been in touch with the Governor's Office, Public Health officials, state lawmakers and other hospitals. Other South Georgia hospital officials have asked how they can help, Steiner said.
Phoebe Putney is delaying some elective surgeries and has temporarily banned visitors. Every person, including employees, entering the hospital is getting a temperature check.
Steiner said that hospital staff are using cleaning procedures "that meet or exceed CDC disinfection guidelines for COVID. We stood up a Coronavirus Task Force weeks ago, and our Incident Command Center has been in operation since Tuesday.''
On Sunday afternoon, Phoebe said it's expanding its coronavirus hotline and opening a drive-through screening facility. Anyone who wants to be tested at the temporary screening site must first call the hotline, officials said.
"COVID-19 test kits remain in limited supply, so only people who are experiencing symptoms should be tested. Symptomatic individuals who pass an initial phone screening will be given an appointment and instructed where to go for in-person screening," said Dr. Suresh Lakhanpal, Phoebe Physicians chief executive officer.
Dr. Charles Ruis, director of the southwest Georgia public health district, said Saturday that "while we all need to be concerned and vigilant, today's positive tests should not induce undue alarm. We expected more positive cases, and we know additional cases will be confirmed in communities across the state."
What happens if more patients need hospitalization?
Steiner said Phoebe still has available beds. "We're going to have more cases. We've prepared well.''
"We're curious if any other hospital had a similar day as ours yesterday,'' he said.