Brenda Goodman is a senior news writer for WebMD. Andy Miller is editor and CEO of Georgia Health News.
Georgia is poised to become the second U.S. state to force the shutdown of a commercial sterilization facility after air testing found high levels of toxic ethylene oxide gas in nearby neighborhoods.
Georgia Attorney General Chris Carr filed a motion Monday for a temporary restraining order against Becton Dickinson, or BD, which sterilizes medical equipment at a plant in Covington, 30 miles east of Atlanta. The motion names Richard Dunn, Georgia Environmental Protection Division director, as plaintiff.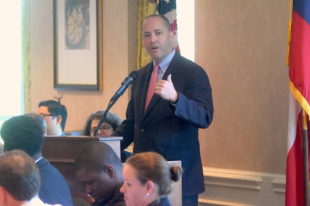 The state's legal move — which seeks to pressure BD to reduce its toxic releases before reopening the Covington facility — stunned environmental advocates.
Over two decades of working on environmental issues in Georgia, "I've never seen this happen," said Kurt Ebersbach, a senior attorney at the Southern Environmental Law Center.
In February, Illinois Gov. JB Pritzker sealed a Sterigenics facility in the Chicago suburb of Willowbrook, after tests showed high levels of the cancer-causing gas in outdoor air. That facility was later permitted by the state to reopen, but the company's landlord declined to renew its lease. In response, Sterigenics, which had been under intense pressure from local grass-roots activists for a year and was the defendant in dozens of lawsuits, said it had made a business decision not to return.
Pritzker is a Democrat and the governor of a state that has voted Democratic in recent presidential elections. Georgia Gov. Brian Kemp, who is behind the closure move, is the Republican governor of a state that has voted for GOP candidates in recent presidential elections.
Georgia is also known for its business-friendly regulatory climate. BD employs more than 900 people at its Covington facility, making it the third-largest employer in Newton County.
BD called the state's legal action "an unnecessary move.''
"We will vigorously defend the company and patients' ability to access critical medical devices using science-based evidence to ensure that patients are not harmed from unnecessary decisions by the State of Georgia that are not based on sound legal or scientific grounds,'' the company said in a statement Monday evening.
The company said Kemp, the state Environmental Protection Division (EPD) and Covington Mayor Ronnie Johnston "are ignoring science and facts and may be creating a risk to the health and safety of patients." The company says a reduction in medical equipment sterilizations could create a shortage of sterile equipment in the health care industry.
The EPD "has aided consistent misunderstanding and misplaced public hysteria about ethylene oxide," BD said in its statement.
BD said it sterilizes 250 million medical devices annually at its facilities in Covington and in the nearby Morgan County town of Madison.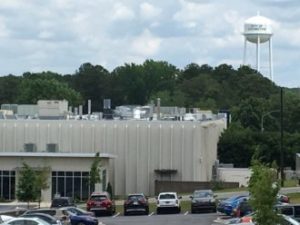 "There is not enough capacity in the North American sterilization network industry-wide to make up for the loss of BD facilities in Georgia. This is not something that can be simply ignored as if it does not affect Georgians, because it certainly would,'' the company said in an Oct. 17 letter to Kemp.
After WebMD and Georgia Health News published a story in July that highlighted potential pollution problems around the Covington plant and elevated cancer rates in the area, some city and state officials initially expressed skepticism.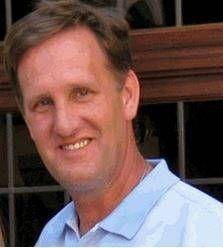 But last week, after receiving full results of air testing around the facility, Covington Mayor Johnston asked BD to shut down the plant until it installs and tests new pollution controls for the toxic gas. The company refused, citing a "fundamental misunderstanding on how to interpret air monitoring results."
"There are absolutely no short- or long-term risks that would necessitate any reduction in operations at the site," BD said in a letter to Mayor Johnston and reporters.
Monday night, the news of the state's petition drew applause and cheers from those attending a City Council meeting.
"I am thrilled that we have gotten the support of the entire state. We no longer are fighting by ourselves," Johnston said. "We are going to work with Bard or BD to truly get a great solution for this community."
Ethylene oxide is a toxic gas that causes cancer by damaging DNA. In 2016, the EPA said that breathing even tiny amounts of the gas over a long period of time could increase a person's risk of certain types of cancer, particularly breast cancer and blood cancers like leukemia and lymphoma. It can also irritate the eyes, skin, nose, throat and lungs. It also harms the brain and nervous system leading to symptoms like headaches, numbness and memory loss.
For decades, the chemical has been used to sterilize medical supplies, drugs and even spices, with little public notice.
In 2018, an EPA report flagged 109 census tracts across the nation where toxic air pollution created higher-than-acceptable cancer risks. Most of that risk was driven by just one chemical: ethylene oxide.
Three of those census tracts are in metro Atlanta. Two are in Fulton County northwest of Atlanta, near the Cobb County town of Smyrna, which has a sterilization plant run by Sterigenics. The third census tract is in Covington near the BD facility.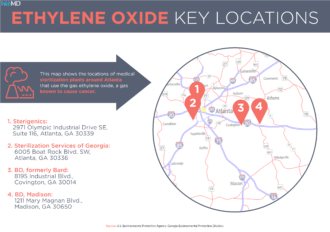 Air testing results released last week showed high levels of ethylene oxide in two neighborhoods close to BD — Settler's Grove and Covington Mill. The average concentration measured in Settler's Grove over a week in September was 4.08 micrograms per cubic meter, 204 times the EPA's level of concern. In Covington Mill, the average level of ethylene oxide measured over the same week was 6.45 micrograms per cubic meter, 323 times as high as the EPA's level of concern.
Experts agree that a week of testing isn't long enough to fully gauge health risks to residents. The EPD plans to do tests in the area for several more months.
The state's complaint, filed in Newton County Court, asks for an injunction on the BD plant to cease operations until certain conditions are met, including the company installing pollution control equipment to improve the capture of emissions of ethylene oxide.
Atlanta also has a third commercial sterilization facility, in south Fulton County — run by Sterilization Services of Georgia. That company stopped reporting its emissions to the federal government in 2002. As a result, it was not included in the EPA's latest report. Fulton County and the EPD are currently conducting air tests in neighborhoods around Sterilization Services.
Sterigenics entered into a consent order with Georgia environmental regulators in August. Its Smyrna facility closed for construction later that same month to install new pollution controls. It remains shut down while the company works to comply with fire and building codes from Cobb County.
Last week, attorneys general from 15 states and the District of Columbia signed a letter to the EPA urging the agency to "promptly propose and finalize" stricter standards for ethylene oxide emissions in the U.S. Those standards, which were expected over the summer, have been delayed following intense lobbying by the medical device and sterilizing industries.
At the Monday night meeting, audience members thanked the mayor and City Council for taking action to reduce emissions.
Gene Wills, who lives in Newton County, told the council members that "I believe we're at the point we can't trust [BD]. I believe it's time for BD to find a new home."