About 60,000 metro Atlantans who are covered by the military health care system will now have the option to get medical services from Kaiser Permanente.
TRICARE is a program that provides civilian health care benefits to uniformed service members, military retirees and their families. (The program exists because of limited availability of military medical facilities.)
Kaiser's TRICARE coverage option will apply to military retirees, dependents of retirees or dependents of active-duty military personnel, beginning in January. These beneficiaries can also choose Humana Military, which will provide eligibility, enrollment and benefits administration for all TRICARE members.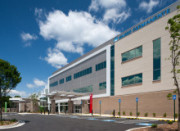 Active-duty service members who use TRICARE in metro Atlanta will remain in the Humana plan.
"We are proud to be a part of the future of military health care in metro Atlanta," Jim Simpson, regional president of Kaiser Permanente Georgia, said in a recent statement. "Our integrated, value-based care model will deliver high-quality care at a lower cost for TRICARE beneficiaries."
Separately, Kaiser Permanente Georgia is the state's highest-rated health plan for providing care and service to its Medicare members – and the only Georgia plan with a 5-star rating.
Only 20 plans nationwide were given a 5-star rating by CMS.
Kaiser Permanente provides care to nearly 1.7 million Medicare members in eight states and the District of Columbia.
"We are committed to providing our Medicare members the very best in care," said Kaiser's Simpson. "It's a privilege to support the health of our members and the communities we serve, and we are honored by this exciting news."
Health plans are scored in several categories for care and service, including staying healthy, member satisfaction, managing chronic conditions, customer service and pharmacy services.