A new van that will deliver health care to Georgia children continues a trend of bringing medical services to schools.
Peach State Health Plan is partnering with Kids'-Doc-On-Wheels, a pediatric organization, to run the new mobile health clinic. It will offer well-child exams, asthma and allergy monitoring, immunizations and behavioral health care, along with other services.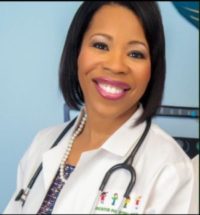 "The goal is delivering health care and meeting students where they are,'' said Dr. Melinda Willingham, co-medical director of Kids'-Doc-On-Wheels, at a ribbon-cutting Tuesday for the mobile clinic. "A lot of children are not accessing medical care.''
Kids'-Doc-On-Wheels already operates another van, which served more than 1,000 DeKalb County children during the past school year.
Peach State, a unit of St. Louis-based Centene, contributed $200,000 to fund the new mobile van, which has two exam rooms, a lab and a waiting area. The mobile clinic will be staffed by a nurse practitioner, medical assistant and physicians.
Schools have long had nurses on site to handle medical problems that arise, but recently there has been a trend toward taking health care to school in a more comprehensive way.
Georgia now has at least 48 school-based clinics, which can provide a range of health care services to children and can include dental care and behavioral health.
Research has shown that these health centers are effective in improving the health of children, reducing absenteeism, increasing access to medical care and lowering Medicaid expenditures, according to Dr. Veda Johnson of Emory University.
And mobile clinics offer a new option.
Children's Healthcare of Atlanta medical staffers see children in a Care Mobile van, provided by the Ronald McDonald House in partnership with the Atlanta pediatric system. The 40-foot van targets children with asthma in Atlanta public schools.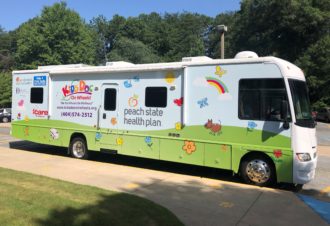 A mobile health clinic at a school will be helpful to parents who are working, said state Rep. Sharon Cooper, a Marietta Republican who attended the ceremony at a Lithonia school. "They still want to do the best for their children.''
"If we can make sure [students] are healthy, they will learn better,'' added Cooper, who is chairman of the House Health and Human Services Committee.
Parents must give written permission for their children to get a medical visit.
The mobile unit will provide back-to-school services in Macon on Thursday.
"Peach State Health Plan is dedicated to deliver innovative health care solutions that address the unique needs of the communities we serve," Pam Shipley, interim president and CEO of Peach State Health Plan, said in a statement. "By meeting families directly in their community, we can provide a trustworthy and convenient health care experience and empower patients to take charge of their health."