Newly released state figures on Legionnaires' cases linked to an Atlanta hotel suggest that the outbreak could become among the biggest in U.S. history.
The Georgia Department of Public Health said that in addition to the 11 confirmed Legionnaires' disease cases, there are 55 "probable'' cases.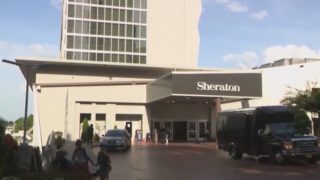 The latter represent people who had illness consistent with Legionnaires' disease, including pneumonia diagnosed by a clinician or chest X-ray, but have not received laboratory confirmation, Public Health said Monday. The number of probable cases can change based on additional testing and lab results.
No one has died from the outbreak linked to the Sheraton Atlanta, which remains closed.
Investigators have yet to determine whether the hotel is indeed the source of the outbreak, but so far the team is not conducting testing at any other location, the AJC reported.
Since the first cases of Legionnaires' disease were confirmed two weeks ago, epidemiologists have been reviewing hundreds of survey responses from individuals who stayed at or visited the Sheraton Atlanta between June 12 and July 15.
Earlier this year, GHN reported that cases of Legionnaires' disease have quadrupled in Georgia over the past 10 years.
That increase mirrors a national trend, with U.S. cases up fivefold since 2000. About 80 percent of Georgia outbreaks have occurred in health care facilities, Cherie Drenzek, state epidemiologist, said in February.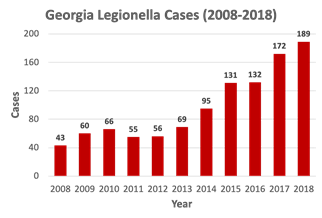 Legionella bacteria live in water, and are found naturally in lakes and streams. But they can be potentially lethal when they grow in man-made water systems, eventually finding their way into showerheads and sink faucets, where they become aerosolized.
Legionellosis, a respiratory condition, occurs after people breathe in water vapor containing the water-borne bacteria. It can cause a milder infection, Pontiac fever. In more serious cases, it can lead to the pneumonia called Legionnaires' disease.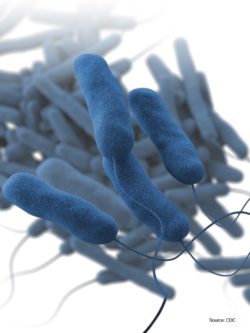 Neither illness is spread person to person, but people over age 50 and those with weakened immune systems are more susceptible to developing the disease.
The bacterium and the disease got their names after a severe outbreak of pneumonia among attendees at an American Legion convention in Philadelphia in the summer of 1976. That health crisis led to the first scientific identification of the disease and the pathogen, though researchers later determined that they were not new. Scores of people became ill in the Philadelphia outbreak, and at least 29 died. The source eventually was traced to the hotel where the Legionnaires had stayed.
Public Health officials in Georgia are working with the Sheraton Atlanta owners on sampling, testing and remediation. Testing environmental samples takes up to 14 days, and results are pending.
Symptoms of Legionnaires' disease include fever, chills, coughing and shortness of breath. Legionnaires' disease requires treatment with antibiotics, and most cases of this illness are treated successfully.
"We are not certain why there is a rise in Legionnaires' disease cases," Atlanta's Chris Edens, epidemiologist on CDC's Legionella team, told GHN earlier this year.
The rise is likely related to a combination of factors, Edens said. He cited the aging population (because the disease is somewhat less common among younger people), changes in diagnostic testing practices, and the increased age of buildings and infrastructure as potential causes.
"Possibly increased Legionella in the environment is another concern," he added.