Former Democratic gubernatorial candidate Stacey Abrams told reporters Wednesday that Georgia's proposed health care waivers are "shortsighted'' and will leave hundreds of thousands without health insurance.
During last year's gubernatorial campaign, Abrams pushed for the state to adopt full expansion of Medicaid under the Affordable Care Act. She was narrowly defeated by Brian Kemp, who sided with fellow Republicans saying such a step would be too costly.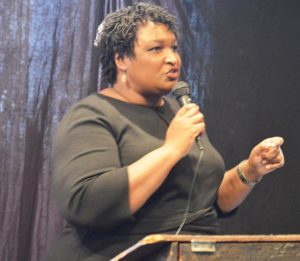 In the recent General Assembly session, Gov. Kemp successfully pushed a bill to have the state pursue a federal waiver that could add more Georgians to the Medicaid rolls. But that enrollment growth, as projected, would not be nearly as much as would come under full expansion.
Kemp and Republican Lt. Gov. Geoff Duncan "are essentially not picking winners and losers, they're picking life and death,'' Abrams said.
"I absolutely understand the doctors and nurses and facilities saying, 'Give us half a loaf.' "
But with the waiver effort, "We're going to let the other half of the loaf mold,'' she said. "It is wasteful, it is economically inefficient, and it is morally suspect.''
Financially struggling rural hospitals, she said, "will not be saved by a partial acceptance of Medicaid.''
Abrams' talk with health care journalists gathered in Atlanta contrasted sharply with what Duncan said when he spoke with the same group the day before. Duncan supports Gov. Kemp's proposals for federal waivers that presumably could increase Medicaid coverage and potentially change the rules for the state health insurance exchange.
Abrams, formerly the Georgia House minority leader, said she learned the complexities of health care by her work as a tax attorney with hospital clients. Health care is a key driver for economic development and educational outcomes, she said.
"My deep fear is that [the waiver plan] is going to be an expensive endeavor" that still is not going to meet the health care needs of Georgia, she said.
Those challenges, she said, include a widespread doctor shortage, the highest maternal mortality rate in the nation, and a high infant mortality rates.
Georgia is typically ranked in the 40s among the states on health care performance measures, Abrams added.
She said she opposes work requirements for newly eligible Medicaid recipients, as pushed by Republican leaders. Such rules in some other states have been struck down by a federal judge.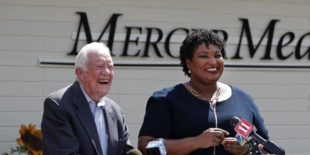 Abrams said a newly opened primary care clinic in Plains — aided by the support of former President Jimmy Carter, who is from the town — "is a model'' for medical services. That type of funding can be obtained through Medicaid expansion, she said.
She pointed to the thousands of poor and elderly Georgians recently dropped from Medicaid coverage because their coverage renewals weren't made.
"I find it a bit suspect that 30,000 people just forgot to respond'' to notices for renewal, she said. "It demonstrates that for populations we know are vulnerable, a lack of renewal notices could have put 30,000 people into extraordinary health care jeopardy.'' State officials recently said they would allow reinstatement of thousands of these Medicaid recipients.
Georgia's new abortion law will hurt business development in the state as well as discourage ob/gyns from practicing here, Abrams said. Georgia is already facing challenges in attracting and retaining graduate medical students, she added.
Though their approaches are very different, Abrams did agree with Duncan on Georgia's potential to make great strides in health care.
"Georgia is exceptionally well-positioned to be the leader'' on health care, she said, adding that more investment in medical services is needed.