Gov. Brian Kemp has asked Insurance Commissioner Jim Beck to resign in the wake of the latter's federal indictment Tuesday on wire fraud, mail fraud and money laundering charges.
"Your indictment severely undermines your ability to fulfill your official obligations to the people of Georgia,'' Kemp said in a letter to Beck dated Wednesday.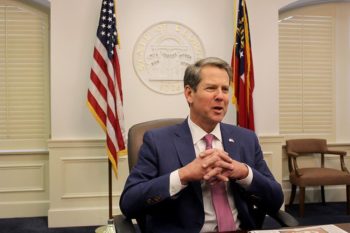 Kemp pointed to the 38-count indictment, which alleges that Beck committed crimes during his tenure as general manager of operations for the Georgia Underwriting Association (GUA).
"Now, as insurance commissioner, you hold significant legal authority – including appointment powers – over GUA and its governing board,'' Kemp wrote.
"In light of this connection and the possibility of new revelations, it would be highly inappropriate for you to continue to hold public office,'' the letter continued. "I ask that you do what is right for our state and step down immediately.''
Beck, a Republican, was elected insurance commissioner in November and took office in January.
An insurance department spokesman could not immediately be reached for comment Wednesday about the governor's letter. On Tuesday, the agency said that Beck "maintains his innocence and he is entitled to the same presumption of innocence that every citizen of Georgia walks into a courtroom with when accused of a crime.''
Beck surrendered to authorities Wednesday, WAGA reported. He then made his first appearance in federal court, pleading not guilty to the charges.
Georgia law states that in the event of a vacancy in the office of the commissioner or in his absence or disability for any reason, ''the chief deputy shall perform all the duties of the commissioner.''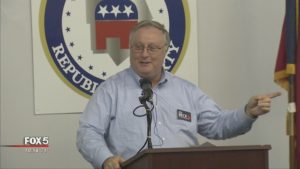 If Beck steps down or is suspended, a likely candidate to replace him, at least temporarily, is Deputy Commissioner Drew Lane. But Lane served as staff attorney for GUA prior to his being named to the state post.
"As a former prosecutor and leader of the Department of Insurance's Fraud Unit, Drew Lane has the right skill set to begin leading the operations of the Department [on] Day One," Beck said in January when appointing Lane.
The indictment alleges Beck stole more than $2 million through ''an elaborate invoicing scheme,'' BJay Pack, U.S. Attorney for the Northern District of Georgia, said Tuesday at a news conference in Atlanta.
The indictment says the scheme lasted for five years, until last August, after Beck won the Republican primary for insurance commissioner. Pak said none of the alleged fraudulent activity occurred since Beck took office.
Thousands of dollars of the alleged fraudulent payments went to Beck's campaign fund, Pak said. Other money went to personal expenditures, investments and the payment of taxes, he added.
The Underwriting Association provides high-risk property coverage to Georgia homeowners.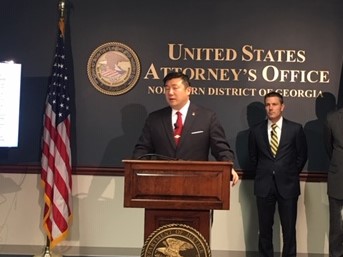 Under the relevant state law, if Beck does not resign or ask to be suspended, after a 14-day waiting period Kemp would appoint a three-person commission to look into the charges against Beck.
If the commission finds that the charges relate to Beck's duties, the governor must suspend Beck and name a temporary replacement.
Beck has hired William "Bill" Thomas, a former federal prosecutor, and Douglas Chalmers, who has represented several GOP politicians in ethics cases, to represent him.
Thomas issued a statement to WAGA on Tuesday saying, "Jim strongly denies these charges, and we intend to mount a vigorous defense. Jim is justifiably proud of the work that he did at the Georgia Underwriting Association. Any accusation that he defrauded GUA is false."
Since taking office, Beck has pursued an aggressive policy on consumer insurance issues. His office published a report card on 2018 complaints against health and other insurers.