The urgent care center diagnosed her condition as a bladder infection. But the pain in Diane Conine's stomach soon became unbearable.
"The pain got so bad, I was throwing up,'' says Conine, 64. Her urine was filled with blood.
She needed to go to the emergency room, her daughter decided. The daughter picked up Conine at her rural Coweta County home and drove her to the nearest ER, at Piedmont Newnan Hospital. Conine rode in the passenger seat, vomiting into a trash can in her lap.
The ER doctors at the hospital ordered a CT scan, and a doctor came back with a terrifying result. The scan showed a five-centimeter tumor on her kidney.
"I was just devastated," Conine says. Three years before, her husband of 31 years, Bill, had died of a rare cancer, osteosarcoma of the spine.
Soon after her diagnosis, she went into surgery at the hospital.
The January health crisis that landed her in the Newnan hospital has thrust Conine into a medical battle for her life — one that continues today.
But cancer isn't her only fear. She faces enormous financial peril as well.
At the time of her hospital care, Conine had coverage through an Anthem Blue Cross and Blue Shield plan, sold through the state insurance exchange. It's the same plan, though, that has caused a considerable outcry in Cobb County and elsewhere over its provider network.
Late last year, during Open Enrollment for 2019 insurance plans, the online information for consumers showed WellStar Health System hospitals and doctors as part of Anthem's Pathway health plan. But enrollees say they didn't realize during the sign-up period that the Anthem-WellStar contract for that plan was scheduled to end in February.
That contract termination – and the ensuing furor over patients having to switch doctors and hospitals — led to recent litigation against Anthem, based in Indianapolis.
Contradictory information
The state insurance commissioner has asked federal health officials to grant a new enrollment period for people who have Pathway coverage. The feds are reviewing that request. Lawyers involved in the litigation, The Doss Firm, are also asking for a special enrollment window for all Georgia members of the Anthem Pathway plan.
The company, the largest health insurer in Georgia, has declined to comment on the litigation related to its network.
Conine says she was one of the people misled during the sign-up period for coverage. She says she looked on the Anthem Blue Cross and Blue Shield website, and that it showed Piedmont Newnan Hospital as part of the Anthem network. Piedmont operates the only general hospital in her area.
"It's more rural out here, and you have to have a plan with a hospital in Newnan in it,'' Conine says. Nearby doctors are also listed as taking Anthem, she adds.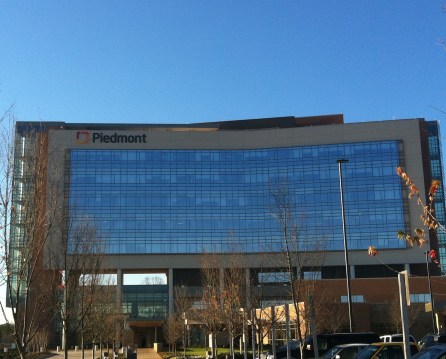 Piedmont and Anthem each say they have not had a contract for that Pathway health plan, though Piedmont is part of other Anthem plans.
A Piedmont spokesman said the Atlanta-based health care system has nothing to do with the Anthem website/portal.
"We do not have the ability to explain why the hospital in question may have been listed as in-network for this particular product. In fact, the hospital in question has never been in-network for this particular product,'' said the spokesman, John Manasso. "Nonetheless, Piedmont advises patients impacted by such circumstances to print out the information from their portal and to take it to the payor in order to rectify the problem.''
The insurer says Conine's care, from the emergency room through surgery and hospitalization, and doctors' fees, is out of network.
In a denial-of-coverage letter, Anthem said it would not have been unsafe for Conine to be transferred to a network hospital. "We can only approve care outside of your network when you need this for an emergency,'' the denial letter says. Services that are not medically necessary are not covered, the letter adds.
As a result, the paperwork lying on a table in Conine's timber frame home shows an overwhelming amount owed to Piedmont Newnan Hospital and doctors: $87,000.
Conine and her patient advocate, Cindi Gatton, cite a Piedmont doctor saying she was in a life-threatening situation.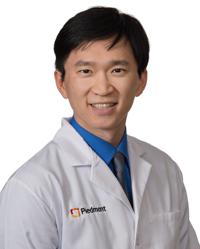 That physician, Dr. Roger Chen, a urologist, told GHN this week that in setting up the surgery, "I made a medical decision based on helping her.''
Such a mass on a kidney ''is a cancer until proven otherwise,'' Chen says.
When Conine was brought in, she was bleeding internally from the mass, and the blood was going into the drainage system of the kidney, Chen says. She was also in great pain, he says. He determined surgery to be medically necessary.
After Conine's hospital admission, and Chen's visit and evaluation, surgery was scheduled for the following day. Conine recalls now that she was heavily medicated because of pain during this time.
A Piedmont administrative official came to her room and told her that the hospital did not accept her Pathway plan, Conine says.
"I said, 'They're going to be operating on me,' '' Conine remembers telling the official. "I was in a lot of pain and medicated."
She says the official replied that the hospital would not refuse to treat Conine.
The surgery was successful. The tumor and kidney were removed. It was indeed cancer. Dr. Chen says the surgery accomplished all three goals: removing the mass, reducing the pain and stopping the bleeding.
The bills came the next month.
Not a unique case
The network coverage is a complicated issue. Just last Friday, Conine showed a reporter how when she plugged her name and password into the Anthem Blue Cross website, Piedmont Newnan popped up on the screen as a network hospital.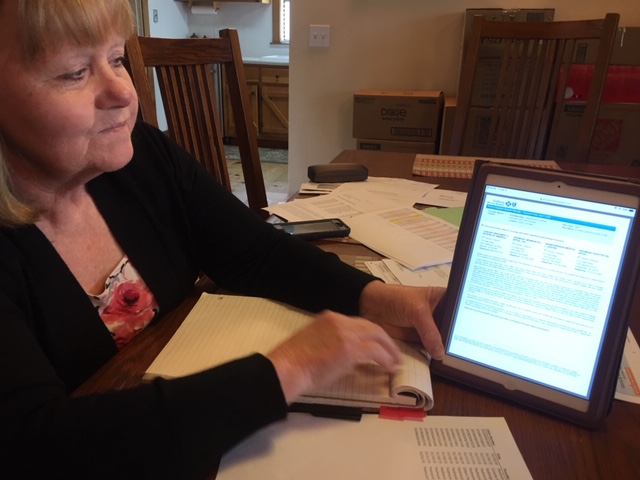 An Anthem spokeswoman recently asked GHN for any evidence that the online information was wrong, and was sent a screenshot taken from Conine's computer after she logged in. The Anthem spokeswoman, Christina Gaines, has not given GHN an explanation for the website contradiction, saying company officials are looking into the matter.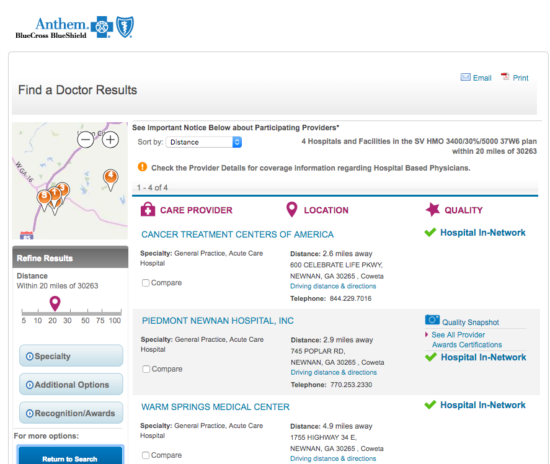 Conine hired insurance counselor Gatton to be her patient advocate, to help her navigate the financial rapids while she focuses on her health. They are appealing Anthem Blue Cross' decision on the denial of coverage.
Chen, the urologist, says he is supporting their appeal. On Conine's financial crisis, he says, "I feel terrible for her.''
Gatton says she sees many patients in the same situation as Conine, with insurance that doesn't cover major bills. "They have significant financial problems to go with significant medical problems."
Conine recalls a feeling of panic when she first got a look at the bills she was expected to pay. "I'm retired and on Social Security. It's a fixed income,'' she points out.
She asked Gatton at that time, "Does this mean I'm going to lose my house?"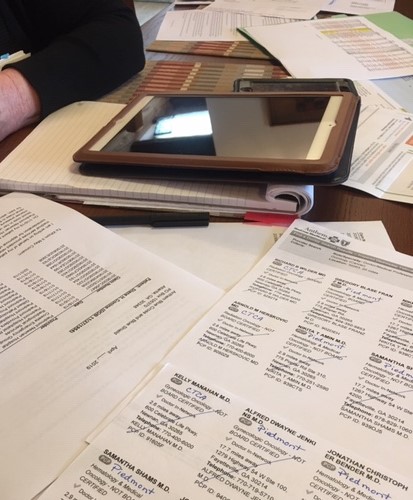 Conine, a retired paralegal, has kept extensive financial and insurance records. The documents almost cover a large table in her home.
Her recent scans showed no tumors, but "I have a very high risk of recurrence,'' she says in her quiet voice. Her doctors, at Tanner Medical Center in Carrollton, suggested she enter a clinical drug trial, and she started the drug infusions this week.
"I'm feeling better, I'm recovering from the surgery part,'' she says.
Her cancer challenge brings back memories of her husband's battle with the disease.
Bill "was the most amazing man I've ever met. We were crazy about each other,'' she says. He received care at MD Anderson in Texas for his osteosarcoma of the spine. He underwent surgeries, chemo and radiation.
He lived for four years after his diagnosis. "That was unheard of," Conine says. "Osteosarcoma is so aggressive.''
Currently she drives 45 minutes to see the doctors at Tanner Medical who are covered by her health plan. But she wonders where she would go if she had another emergency. Could she manage that 45-minute drive under such circumstances?
"Where would I go?'' she asks.